29 Apr 2023 By AWAY IN STYLE
Tai Kwun Contemporary's BOOKED: Hong Kong Art Book Fair 2023 is returning for its fifth edition
BOOKED: HONG KONG ART BOOK FAIR WELCOMES INTERNATIONAL EXHIBITORS BACK TO TAI KWUN CONTEMPORARY WITH NEW PROJECT "SOUNDS LIKE PRINT" (28 Apr to 1 May 2023)
Hong Kong's premier large-scale art book fair features artists' books and explores the intersection of "sound" and "print" as a theme
Tickets will be available on KLOOK from 3 April, HK$40 for Adults and HK$30 for Concession; limited numbers of tickets will be available on site.
Highlighted participants this year include:
Printed Matter (New York)
–           Founded in 1976, Printed Matter, Inc. is the world's leading non-profit organisation dedicated to the dissemination, understanding and appreciation of artists' books and related publications.
onestar press / Three Star Books (Paris)
–           Onestar press / Three Star Books has produced over 300 books, 300 multiples and artists' films since 2000, allowing for collaboration among international artists on a variety of projects. This has enabled them to access and use new technologies.
David Zwirner Books (New York)
–           David Zwirner Books is a publishing house dedicated to publishing the highest quality art publications. It focuses on projects that are artist led or inspired, and commissions texts by novelists, poets, and journalists. It was founded in 2014 and publishes over 25 titles a year, available worldwide in museum stores, independent bookstores, online, and in all gallery locations.
Jakarta Art Book Fair (Jakarta)
–           Further Reading Press is an independent multi-format publishing platform with a production and distribution unit, that seeks to engage in discourse within design practices by exploring the wider contexts through various programmed experiences, such as online publication, printed periodicals, pop-ups, and residency.
–           The Jakarta Art Book Fair showcases a range of Indonesian independent publishing.
Jiazazhi (Ningbo/Shanghai)
–           Hailing from Shanghai, Jiazazhi is a photo art publisher devoted to exploring the possibilities of photo work presentation.
Reading Room (Guangzhou)
–           Reading Room offers publications from an active network of art collectives and cultural commons, and is a part of the "lumbung" presentation by BOLOHO (in documenta 15). Based in Guangzhou, they share a regional perspective as a member of Lumbung Publishers.
Self Publish Be Happy (London)
–           Self Publish Be Happy is dedicated to shaping contemporary photography and visual culture through publishing, online and offline events, and education programmes. 
Nieves (Zurich)
–           A one-man publishing house, founded in 2001, Nieves focuses on producing artist publications and zines.
Case Publishing & shashasha (Tokyo)
–           Case Publishing is a Tokyo-based publisher founded in 2015. For nearly a decade they have spotlighted Japan's artistic culture showcasing contemporary art, photography and design.
P_PAL (Beijing)
 –           Beijing's latest up-and-coming magazine focused on artists' books and independent publishing.
abc (art books in China fair) (Beijing) 
–           One of the largest art book fairs in the Mainland, abc hosts fairs in metropolitan Chinese cities such as Shanghai, Beijing, and beyond.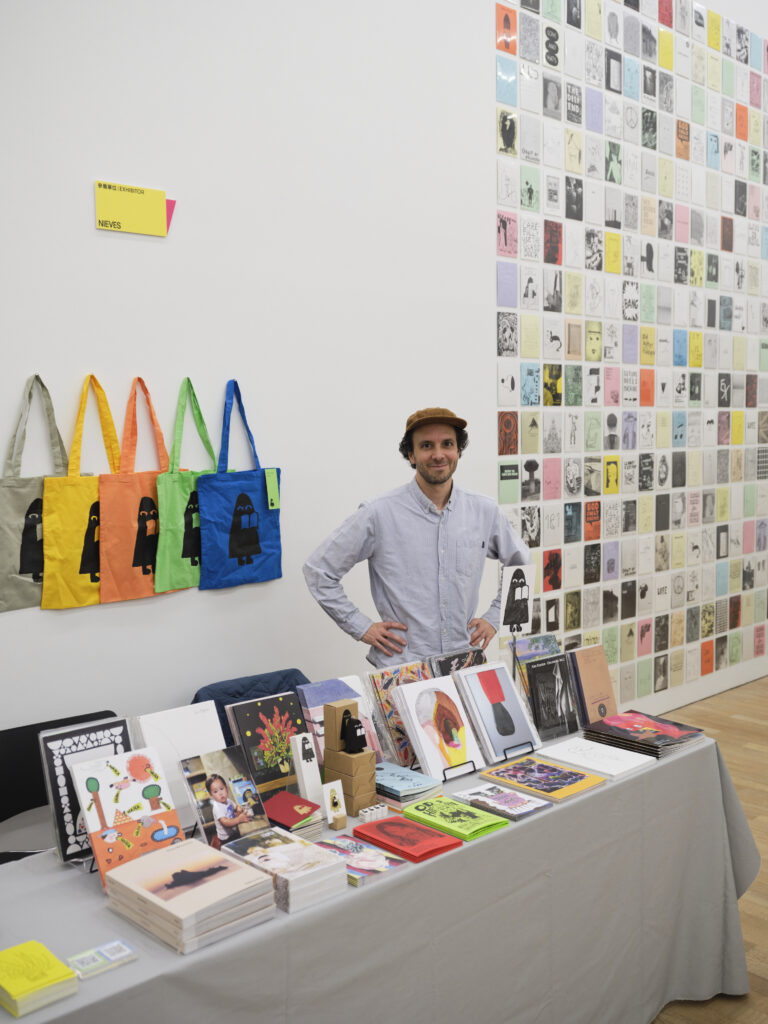 Highlighted Local Exhibitors 
mini press @ Tiana Cloudland
–           Small Book Publishing is a publishing project of Tianyou Yunshuyi Studio, which advocates publishing independent publications in limited editions, mini-sizes and hand-binding.
This Bakery
–           A fantastic, mystical world of stories including but not limited to comics, storytelling and illustration.
YeP YeP
–           Featuring works by emerging local artists, YeP YeP is an experimental fashion and art magazine published in Hong Kong.
ACO Books
–           An independent bookshop located in Hong Kong, ACO Books believes in freedom of expression and the sharing of knowledge. It is a space for connecting art practitioners, cultivating humanity and sensibility through art and cultural collaboration activities.
Kan Tai Wong
–           Kan Tai Wong began a long career as a photojournalist when he joined the Hong Kong Press in the late 1970s, after attending the Tokyo Institute of Polytechnics to study photography.
Asia Art Archive
–           Asia Art Archive is a catalyst for new ideas that enrich our understanding of the world through the collection, creation, and sharing of knowledge around recent art in Asia. An independent non-profit, the archive documents the multiple and recent histories of art in Asia, with a valuable collection of art.
For more information, please visit https://www.taikwun.hk/en/programme/detail/booked-hong-kong-art-book-fair/1193.
#BOOKEDHK2023 #BOOKEDHK