26 Aug 2021 By AWAY IN STYLE
Man Ho Chinese Restaurant introduce the seasonal Yunnan wild mushroom delicacies
The MICHELIN-starred Man Ho Chinese Restaurant at JW Marriott Hotel Hong Kong is pleased to introduce the seasonal Yunnan wild mushroom delicacies, available from now to 16 September 2021. Please find the attached press release and photos for your reference.
SEASONAL YUNNAN WILD MUSHROOM DELICACIES AT MAN HO CHINESE RESTAURANT
The beginning of summer means reuniting with the wild mushrooms from the Yunnan province. Yunnan is a mountainous region with rainy season every year from late June till October, which provides a rich ground for wild mushrooms. Mushrooms are famously known for their woody and earthy scent and taste, and are packed with protein, vitamins, minerals and antioxidants. Jayson Tang, Executive Chinese Chef of JW Marriott Hotel Hong Kong, has been pursuing one of his core food philosophies: to source, select and promote seasonal fresh produce, and thoughtfully created an array of seasonal mushroom dishes featuring his picks of the rare delicacy, inviting discerning diners to savour the original, naturally pleasing flavours of these fresh wild ingredients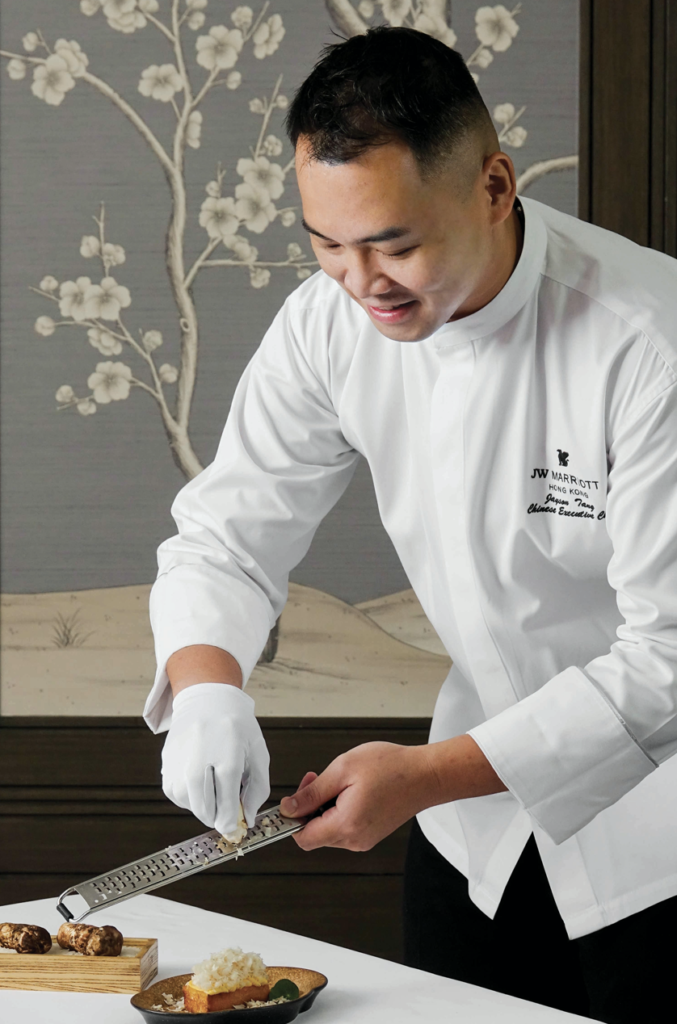 Matsutake mushrooms, the highly-prized delicacy, are naturally grown beneath pine duff and have quite a piney note to them. Diners will indulge in the unique taste and scent of Matsutake mushrooms in brioche toast with sliced matsutake mushrooms and buttered sweet corn. Fresh matsutake mushrooms are safe to eat raw, and Chef Jayson shaves fresh matsutake mushrooms on top of a toasted brioche with buttered sweet corn paste. Having raw fresh matsutake mushrooms is the best way to truly experience their full rich flavour, meaty texture and sweet aroma. Double-boiled matsutake mushroom soup with crab meat, egg and telosma cordata has also made the most of the season, as it complements with fresh crab meat, egg and fish maw, uncovering the unmistakable aroma of matsutake mushroom with a hint of cypress and sweet cinnamon. Dried matsutake mushrooms are also commonly used and the chef creates steamed pork dumpling with matsutake mushrooms to change up the traditional dim sum, Xiaolongbao. The hot, flavourful soup enveloped in the paper thin wrapper is made with dried matsutake mushrooms and chicken soup, which diners can taste the rich piney scent of the dried mushroom and the essence of the chicken broth.
Chanterelle mushrooms are known for their rarity and can only be foraged in the wild. Braised codfish fillet with chanterelle mushrooms in chicken stock by Chef Jayson brings out the earthy flavour of this gold-orange mushroom. The chef pairs fresh chanterelle mushrooms with savoury codfish fillet and egg yolk, which spoils diners in the chewy texture and woodsy, earthy flavour with hints of mild pepper of chanterelle mushrooms. Chef Jayson sources fine pork tendon and termite mushrooms, and creates braised pork tendon with termite mushrooms and minced eggplant. Termite mushrooms are nutritious and grown at rock hard, high termite hills. The mushrooms are in thick, silky white texture, and are paired with the soft tendered pork thorns and eggplant paste to accentuate the distinctive and tantalising flavours. Morel mushrooms are as luxury as caviar and truffles, and the exquisite braised sea cucumber with morel mushrooms will certainly nourish diners in its earthy and nutty flavour. With minced shrimp, bombay duck and chicken liver stuffed in fried dried morel mushrooms, the mushrooms fully absorb the seafood flavours and deliver a rich and deep taste in every bite. The fried stuffed mushrooms are also served with sea cucumber braised with morel mushrooms, pampering diners in their strong woodsy and toasted note.
The above a la carte dishes will be available from now until 16 September 2021.  The price, ingredients and menu items are subject to change based on seasonality and availability.
For enquiry and reservation, call +852.2810.8366 or email jwmarriott.hk@marriotthotels.com