Looking locally for inspiration @ Art Fair 2021
Fantastic response on the first day with a host of enthusiastic and highly engaged visitors returning to the fair
Not to be missed exhibitions from 44 participating galleries, both local and international
Over 200 artworks sold to be proudly displayed in homes across Hong Kong and treasured by all the family
Looking to the future by supporting the rising stars of Hong Kong's art scene via the Young Talent program
Making lasting family memories as all ages come together to appreciate art via engaging with interactive installations and through active participation in workshops
The eighth edition of the Affordable Art Fair officially opened its doors to an eager audience of art enthusiasts on Thursday 26th August. The first day saw an overwhelmingly positive response to the fair being back once again at Hong Kong Convention and Exhibition Centre, with a vibrant buzzing atmosphere of visitors poring over works from over 40 local and international galleries. With 80% of galleries selling over 200 artworks on day one, it was evident that the newly instated Crossing Borders initiative and abundance of local talent was a hit with Hong Kong's art loving community who decided to take a piece of the fair home with them to treasure forever. Highlights of the fair that proved hugely popular included the eye-catching entrance mural, depicting a bustling vibrant Hong Kong cityscape, which was part of Young Soy Gallery's Fragrant Harbour series. Special projects from Sky Yukata and Angel Hui's Thousand's Handsproved immensely engaging, with many visitors interacting with the pieces and capturing their own photos and making lasting memories. Running until 29 August, here is what not to miss at this year's event: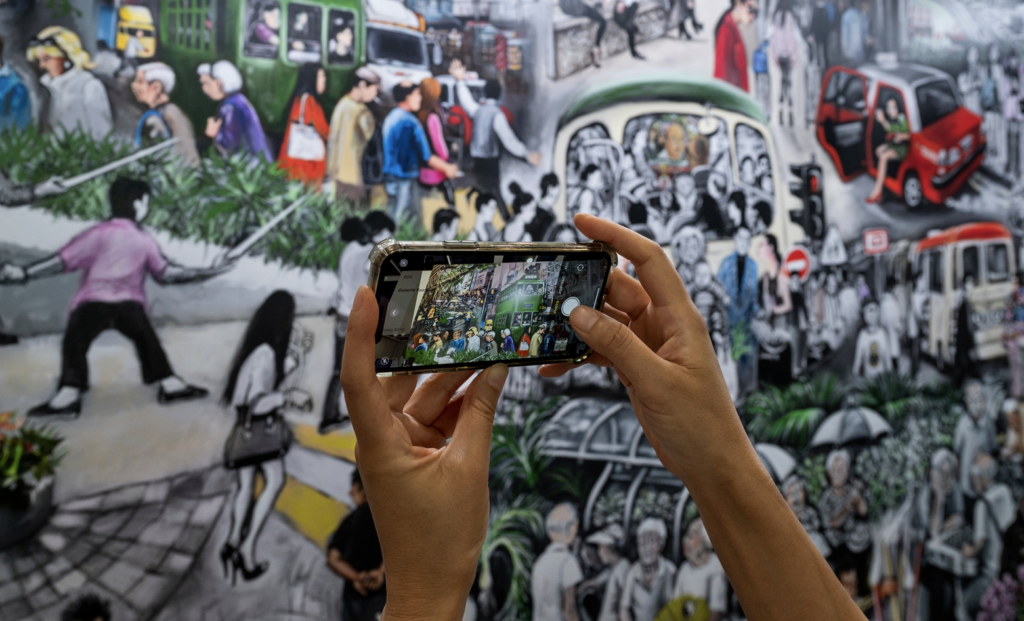 EXPERIENCE ESCAPISM WITH CROSSING BORDERS
Affordable Art Fair's passion to present quality contemporary art has broken through travel limitations with the introduction of the Crossing Borders initiatives. A new key feature of this year's event, 8 international galleries are exhibiting as a selection in Crossing Borders, a dedicated exhibition space curated by the Fair's team, showcasing individual artworks than have been shipped to Hong Kong especially for this year's fair.  Not to be missed, check out works from Marine House at Beer, established in 1998, the UK based gallery focusses on original paintings, ceramics, and studio glass, with selections of work by over 100 artists always available;  Australia based Van Rensburg Galleries share Affordable Art Fair's mission of supporting globally emerging and emerged artists, by connecting artists and collectors in an authentic way through making their work accessible to the widest possible audience via online, art fairs, and our galleries; Utterly Art is a leading gallery exhibiting Singaporean and SE Asian art, alongside being one of Singapore's most active art spaces, changing shows with alarming regularity to enable a wide spectrum of artists a chance to exhibit.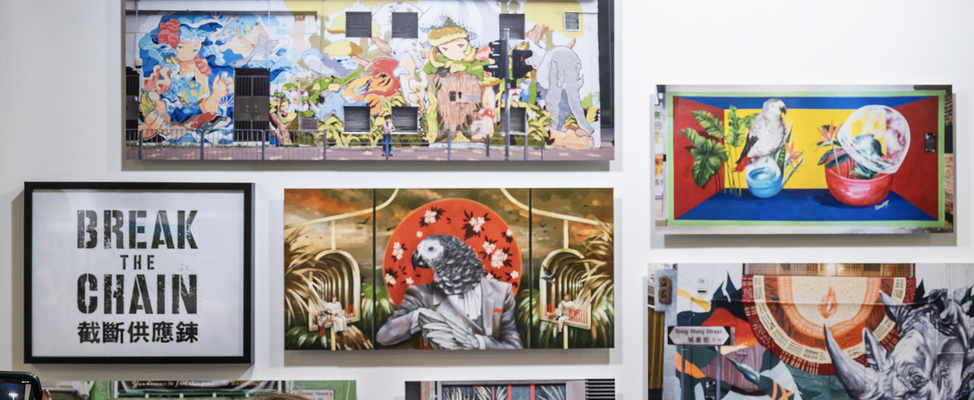 LOOKING LOCALLY FOR INSPIRATION
Being somewhat cut off from the rest of the world has given Affordable Art Fair's curation team an even greater appreciation for the abundance of talent we have right here in Hong Kong. Approaching this as an opportunity to shine a light on the community, of the 16 new galleries joining the fair for the first time this year, 13 are local to Hong Kong. One local group show not to be missed is Fragrant Harbour by Young Soy Gallery. The show features works from various artists and their interpretation of Hong Kong, our fragrant harbour, the way they see and experience it. For some, Hong Kong has always been home; for others, Hong Kong has become home. Still, each artist uses their art to broadcast their personal experiences of the city outwards. Fragrant Harbour serves as a visual ode to Hong Kong from its most devoted residents, both local and foreign.
THE ART STARS OF TOMORROW
Inspiring future artists everywhere, Young Talent Hong Kong returns to Affordable Art Fair with a host of works on display from of emerging homegrown talent, curated especially by the fair team. Lam Tak Shun, Alex frequently incorporates the vivid colours and imagery of California, England's delight for literature and individuality, and Hong Kong's distinctive energy and pace, into his artworks; University of Art London graduate, Ho Shuk Mei, Corn produces works often inspired by the psychological, showcasing atmospheric and melancholic paintings which delve into deeper levels of human innermost states of mind; Emerging artist Hui Hoi Kui, Angel is fascinated in daily objects, often discovering new meaning in them by twisting traditional art form and appropriating common materials to become part of her artwork.
MAKING MEMORIES WITH THE WHOLE FAMILY
Art has no age limits, which was made more evident by seeing the array of families engaging with artworks and choosing together which pieces to bring into their homes. Whether you are a seasoned fair goer or experiencing art for the very first time, there is something for all ages to enjoy at this year's event.  Proving hugely popular with adults and children alike were the interactive special projects, such as Sky Yukata's Leave Your Mark | Intangible Space – a mixed media structure with a digital interface which brings people together through shared experience of exploring our perception of natural landscape in the digital era, and re-imagines the connections between people and the digital landscape saturated with ubiquitous mobile devices. Mandy Ma's In the Presence of You, an installation made from kids wool fabrics, saw children physically exploring the artwork through play, which was joyous to see. For the Instagram generation, a content making moment was to be found at Angel Hui's Thousand Hands LED installation, providing the perfect photo backdrop. More family memories are to be made across the weekend with a program of educational and engaging workshops aim to inspire future generations to realise the importance of the arts, provided by Hong Kong Association of Art Therapists, Sovereign Art Foundation and Art Loop –  Don't miss booking your slot by registering in advance for sessions.