FRED, Force 10 Winch men's jewelry collection
For its 55th anniversary, the Force 10 bracelet is drawing on its creative energy to infuse Force 10 Winch, a jewellery line for men inspired by the iconic cable and which shows a new take on the original's two-tone signature in steel and gold.
It is a story of strength and masculinity. A story of heritage, too. Marked by the creative audacity that distinguishes the FRED style, Force 10 Winch is inspired by its older sibling's characteristic codes, reinterpreting them in a line of 18 pieces. Imbued with all of Force 10's versatility, they represent a fresh departure for men's jewellery.
The sea breeze blows naturally over Force 10 Winch, a stylistic variation of Force 10 created in the 1980s. It is named after a feature found on the bridge of every yacht: essential to any sailor, the winch provides a means of increasing the pull on the rigging that hoists, adjusts and manipulates the sails. Cable forms the basis of its design, enhanced by a new graphic emphasis. Unmistakable and unprecedented when Force 10 was born in 1966, the two-tone, twin-material marriage of steel and yellow gold has been joined by a new duo: matt-black titanium and steel.
An eight-sided figure also adorns the screw heads of each jewellery piece. This motif is inspired by the socket into which the winch handle fits to help sailors with their manoeuvres, underlining the sporting character of Force 10 Winch. As the focal pieces of the collection, an asymmetrical necklace and bracelet partner an XL-sized cable slipped into a yellow-gold rail on the one hand, and on the other a curb chain with broad links in yellow gold. With their ultra-contemporary look, they evoke a strong urban aesthetic blended with a new vision of sportswear.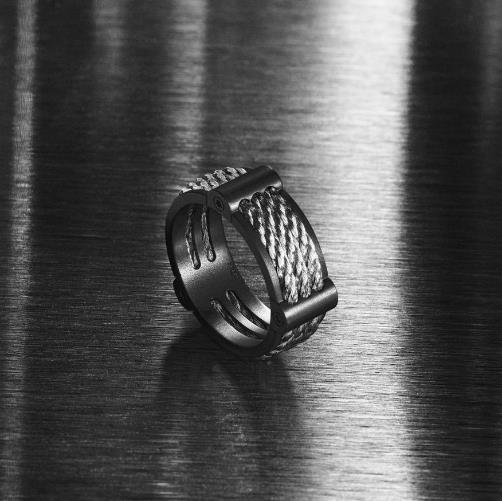 The interplays and combinations are endless. Five pendants make up this line: an identity tag with gold on one side and steel on the other, or all in black titanium and steel, engravable for personalisation, or in openwork like a tag framed by a cable, or completely covered with decorative cables. Two small winches in yellow gold and steel or titanium and steel add a nautical note. Worn together or mixing and matching the contrasting designs and different sizes. Rolled up in one loop or three, the steel cable slips between two rails of gold or black titanium to form four different designs of ring, to be worn likewise in combination or turned into pendants by sliding them on to a chain. Finally, two single earrings in yellow gold or black titanium underlined by a small steel cable provide the finishing touch to this bold, assertive collection.
Hong Kong talents Alfred Hui, Terrance Lau and Kenny Wong take the lead to interpret the line-up. Like the pulsing of the waves, ever-changing in the face of the wind and the sea, rhythm permeates all the stars, with Alfred letting rhythm dictate not only his music but his life; Terrance let's dance do the talking as the rhythm pulses through his body; whilst Kenny lets rhythm carry him through the highs and lows of every cherished moment he lives through.
The new Force 10 Winch line blends the sporting values and powerful personality of Force 10 with confident, contemporary, masculine cues. A style manifesto free from inhibitions and marked by creative daring/audacity that knows no bounds.