4 Sensational Nights of Valentine's Romance at BIFTECK
"Sois Ma Valentine" (Be My Valentine) – Four Nights of Devotion
Love lingers long and with intensity at BIFTECK over the approach to Valentine's Day. Sweethearts or dear friends can savour Chef Kwok's decadent 5-course "Sois Ma Valentine" (Be My Valentine) (HK$1,080 per person) featuring sumptuous beef and succulent seafood from 11 February to 14 February 2023, between 6 p.m. to 10 p.m. Artfully crafted wine pairings (4 glasses for HK$368 per person) are on hand to heighten the romantic mood further.
A la carte will be available to diners on the first three evenings (from 11 to 13 February 2023) – Valentine's Day itself is exclusively devoted to this decadent menu
The lovers' feast spans the chef's most beloved ingredients and pairings as well as innovations to tempt and tease. It begins with a sensational hors d'oeuvre trio of Toro Mini Tart; Uni & Potato Mille-Feuille; and Japanese Red Crab Meat & Sweet Corn Puff, before a captivating top-grade Carpaccio of Slow Cooked Miyazaki A5 Rump. Diners will then delight in a noodle course with a Japanese ramen twist – Boston Lobster Tsukemen teamed with Shrimp Bisque.
An optional entrée of Spanish Red Prawn Kadaif (add HK$398) sees the superior scarlet crustaceans swaddled in light, crispy Middle Eastern-inspired filo dough. The main options are the bold BIFTECK signature union of two marvellous beef cuts, Dry Aged 60 Days Ribeye vs Australian Full Blood Wagyu,and Roasted Seabream, Manila Clam & Tomato Dashi presented as a delectable seafood substitute.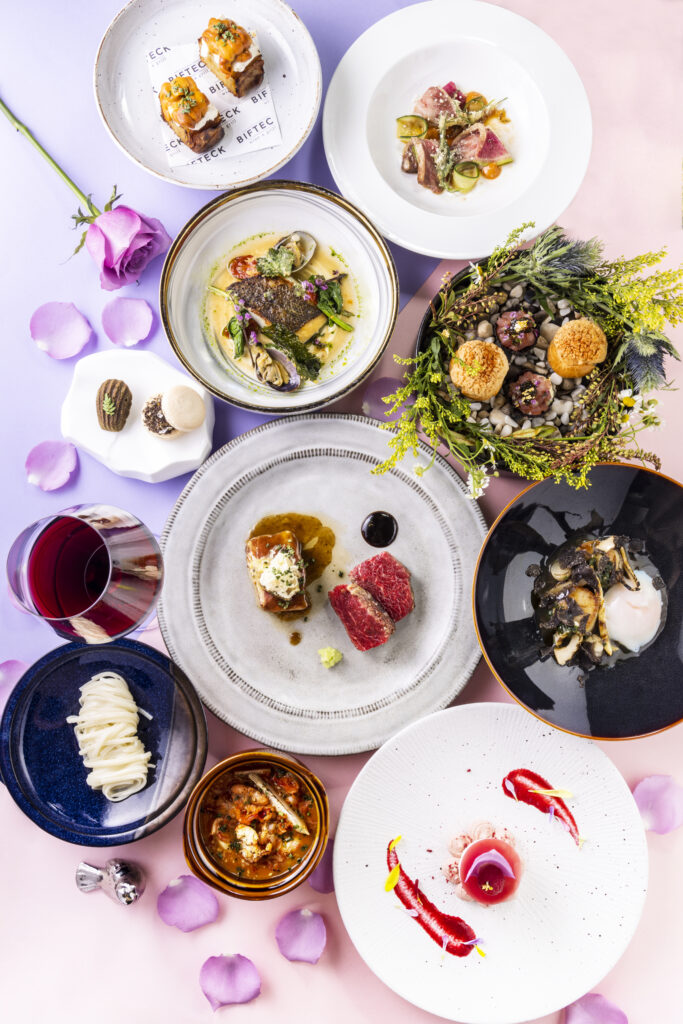 The sweetest moment is a glorious Dessert Surprise, then come intriguing mignardises to savour late into the night.
For more information or enquiries, please visit www.bifteck.com.hk, email reservation@bifteck.com.hk or call (852) 2246-8805.
Like and connect with BIFTECK:
Facebook: www.facebook.com/bifteck.hk
Instagram: www.instagram.com/bifteckhk