Hyatt TST – Hugo's Winter Tasting Menu
Fuel this chilly season with the warm and comforting Winter Tasting Menu from Hugo's. The five-course dinner menu features seasonal ingredients as well as classic and supreme winter recipes to satisfy guests' winter appetites.
Kick-off the dining experience with Five-spiced foie gras terrine. The use of cinnamon, cloves, nutmeg, black pepper and coriander seeds makes a perfect marriage with this classic French starter. It is served with fig jam and a toasted brioche.
Perfect for winter, Gratinated French onion soup is a rich and soul-warming specialty, topped with shaved French black winter truffle with a charming earthy aroma.
Savour Pan-seared New Zealand John Dory, known for its delicate texture and subtly sweet flavour. Alongside is poached salsify, an excellent winter harvest with a slightly earthy aroma and a hint of oyster flavour, as well as ox tongue jus.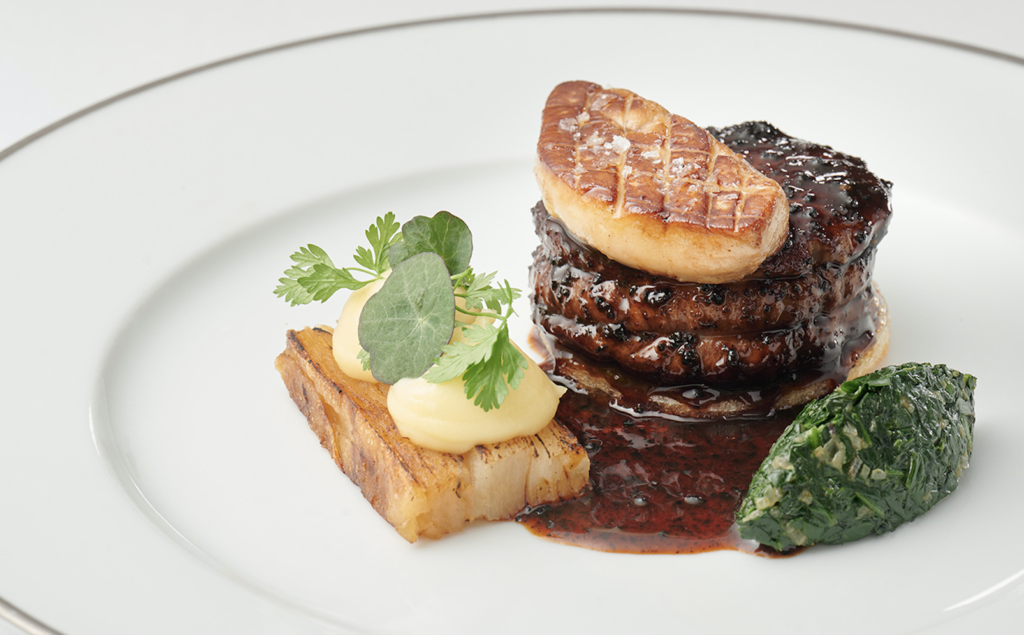 Take it to the next level with a rich and decadent main course. Roasted US beef Tournedos Rossini is one of the classic dishes in French haute cuisine. The roasted tenderloin is served on a crouton and is topped with a slice of foie gras. It is served with spinach and potato terrine and garnished with truffle madeira sauce, an essential component of French cuisine.
Impress the night with an elegant and delicate holiday dessert. Spiced red wine poached pear is fruity and aromatic, infused with cinnamon, anise, vanilla bean, lemon peel and orange peel. It comes with homemade vanilla bean ice cream and caramelised pecan nuts.
Priced at HK$1,250 for five courses with an additional five-glass wine pairing for HK$580 per person, Hugo's Winter Tasting Menu is available from now until 28 February 2022.