A black sign with white text Description automatically generated Regent Seven Seas Cruises® Reveals New Spa Experiences On Seven Seas Grandeur™
Exclusive Serene Spa & Wellness™ Treatments Will Elevate Relaxation on the Ship that Embodies A Heritage of Perfection
Regent Seven Seas Cruises, the world's leading luxury ocean cruise line, has revealed new and exclusive spa treatments that will debut on board Seven Seas Grandeur™, setting sail November 2023. The ship's Serene Spa & Wellness™ experience will enhance relaxation at sea with an indulgent treatment menu that integrates best-in-class techniques and luxury ingredients from around the world, including new treatments utilising the restorative power of an amber and quartz crystal bed, and an advanced treatment table for a Zero Gravity Wellness Massage.
In addition, a new treatment – the Tahitian Hydration Ritual – has been created exclusively for those staying in the palatial, 4,443 square foot Regent Suite, which can be enjoyed in the suite's very own private spa. Regent also revealed new details about the ship's Serene Spa & Wellness features and design, including a new relaxation room.
"We are thrilled to expand our Serene Spa & Wellness offerings exclusively for our valued guests on board Seven Seas Grandeur," said Andrea DeMarco, President of Regent Seven Seas Cruises. "Not only can guests enjoy the relaxation of Serene Spa & Wellness services already found across the world's most luxurious fleet, but they can now be pampered with new, innovative treatments, making their unrivalled experience even more lavish and indulgent."
New and Innovative Serene Spa & Wellness Treatments for Seven Seas Grandeur
Exclusively for Seven Seas Grandeur's Serene Spa & Wellness, two groundbreaking treatments harness the power of a pioneering amber and quartz crystal bed.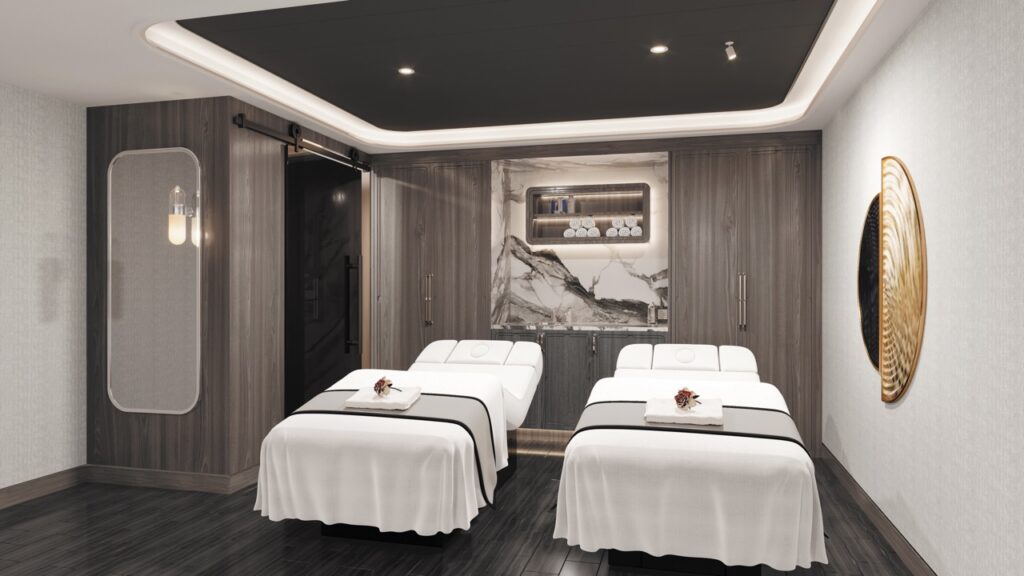 Guests seeking complete rejuvenation can book a Hot Mineral Body Boost to alleviate muscular pain and remove toxins by stimulating every cell in the body, while the Poultice-Powered Muscle Release works away sore, aching muscles with an invigorating treatment that targets tension areas with vibrational energy, finishing with a restorative facial massage. A nourishing amber balm used in the Hot Mineral Body Boost and the unique eucalyptus, juniper, amber and quartz poultice utilised in the Poultice-Powered Muscle Release works with the extraordinary amber and quartz crystal bed, energising tired bodies and elasticising the skin.
For a completely unique experience, the Zero Gravity Wellness Massage is the next generation of innovative wellness. Producing a zero-gravity effect, the body is suspended on an advanced treatment table that allows for ergonomic workflows and a seamless series of sophisticated techniques. Eight table positions enable effective and precise reach of every muscle group in a choreographed massage, focusing on the back and main muscles to release tension and improve body mechanics.
All three new treatments on board Seven Seas Grandeur are 75 minutes long and priced at US$299 per guest.
For the ultimate in-suite spa experience, guests staying in The Most Exclusive Address at Sea™, the Regent Suite, will have access to a lavish new treatment. The Tahitian Hydration Ritual is a 75-minute treatment that transports guests to the South Pacific. Warmed monoi oil infuses frangipani flowers with pure coconut oil, and melts into the skin during the body wrap treatment. Elevating the standard of relaxing ambiance, Seven Seas Grandeur's Regent Suite features an impeccably designed master bathroom complete with personal sauna, steam room, treatment area and unlimited complimentary treatments.
For more information, please visit RSSC.com/ships/Seven_Seas_Grandeur, call Singapore +65 31 651 679/ Hong Kong and Rest of Asia +852 800-930222, or contact a professional travel advisor.