A Celebration of Unrivalled Mastery: No. 3 London Dry Gin & Globe-Trotter Unveil Exclusive Limited-Edition Martini Case and Travel-Inspired Cocktails in Hong Kong
No. 3 London Dry Gin, in partnership with renowned luxury British luggage brand Globe-Trotter, announces the eagerly anticipated Hong Kong launch of the limited-edition Martini Case, the embodiment of elegance, craftsmanship, and the pursuit of perfection.
In celebration of this launch, No.3 Gin has teamed up with three award-winning Hong Kong-based mixologists – Lorenzo Antinori from Bar Leone, Antonio Lai from Quinary, and Beckaly Franks from Artifact for this campaign. Each will create a special "perfect martini" using multiple-award winning No. 3 London Dry Gin, inspired by the theme of travel.
The Martini Case: An Unrivalled Luxury Experience
Designed as the ultimate definition of the unrivalled travelling Martini experience, the limited-edition Martini Case, with only 100 individually numbered cases available globally, sets a new benchmark for luxury for those on the road or for the ultimate centrepiece for those wishing to design a home experience that blends the pursuit of perfect entertaining with beautiful tools to craft the finest cocktails.  
Darius Alavi-Ellis, Marketing Director of Globe-Trotter, expressed, "This collaboration with No. 3 London Dry Gin reflects our shared passion for creating contemporary products using traditional crafts and the finest materials."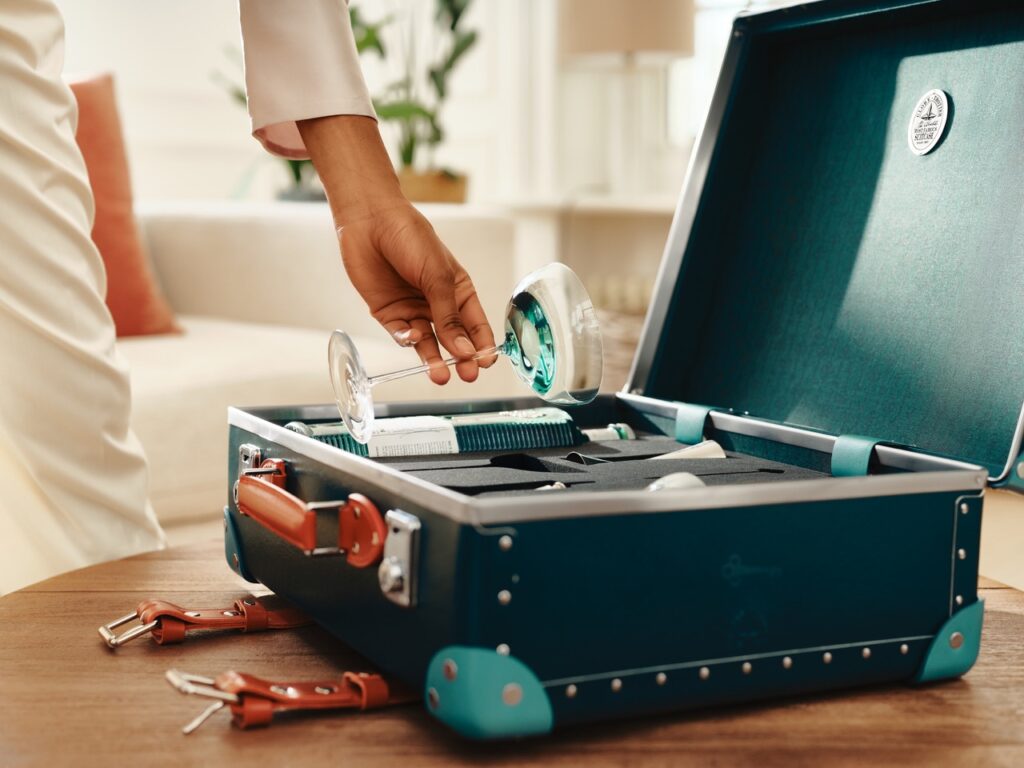 Hand-crafted by expert artisans at Globe-Trotter, the Martini Case features a beautiful teal and tan leather exterior, and includes two bespoke No. 3 Gin x Nude Martini glasses, designed to maintain the ideal temperature for the perfect martini. The case also features a limited edition Vermouth bottle endorsed by master mixologist Alessandro Palazzi, No. 3 Gin branded jigger, leather embossed coasters, two No. 3 Gin Martini picks, and of course a 70cl bottle of No. 3 London Dry Gin.
About No. 3 London Dry Gin
No. 3 London Dry Gin was created by Berry Bros. & Rudd in 2010 and is the only gin ever to win 'World's Best' four times at the International Spirits Challenge, and the first gin ever to win the prestigious Supreme Champion Spirit. Born from the pursuit of perfection, No.3 was painstakingly crafted through the collaboration of top mixologists and Dr David Clutton – the only person to hold a PhD in gin.
Nose: Bright, crisp and fresh, with an uplifting welcome of juniper
Palate: Juniper at the fore, supported by floral, summery notes and spicy, warm flavours of cardamom. Plenty of citrus 'zing' complemented by the gingery spiciness of coriander
Finish: Earthy dryness of angelica
The Signature Travel-Inspired Martinis