A Gastronomic Journey on Father's Day at JW Marriott Hotel Hong Kong
Fathers deserve as much love and appreciation as mothers do. This Father's Day, impress the man of the family with an unrivalled gastronomic journey at JW Marriott Hotel Hong Kong. Dedicated experiences from an exquisite Father's Day cake, refined cocktails at Bar Q88, a Tomahawk Steak Dinner at Flint, and Michelin-starred Cantonese fare at Man Ho Chinese Restaurant, to extravagant buffets at JW Café and The Lounge, guarantee to make Father's Day extra special.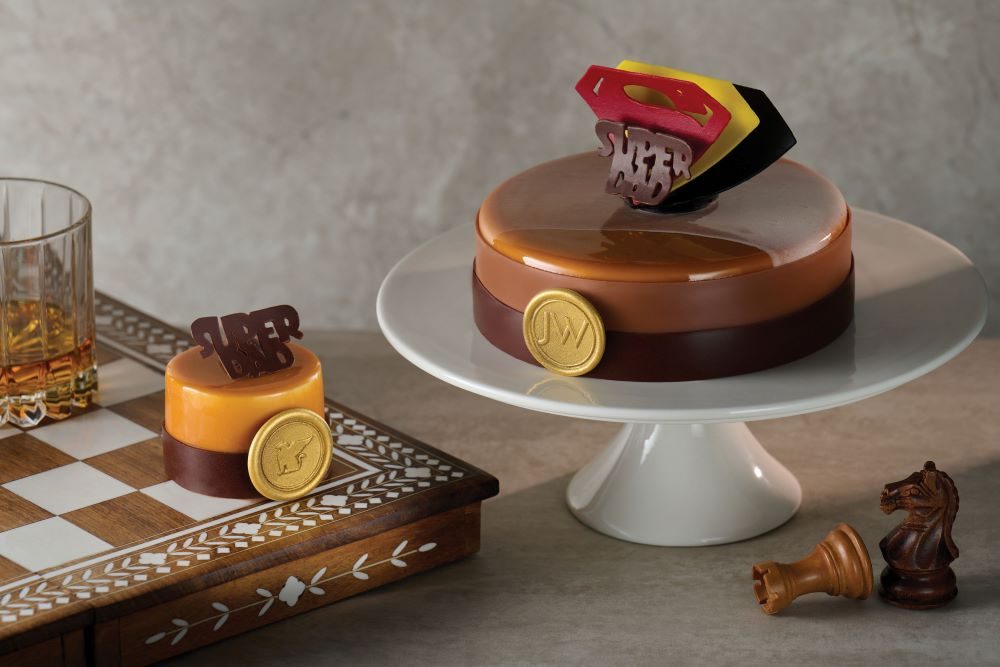 Decadent Father's Day Special Cake
Surprise your superhero with the luscious and bittersweet Grand Marnier Chocolate Cake (HK$468) from Dolce 88. Blending the distinctive flavour of cognac and orange-flavoured liqueur, the Grand Marnier crème balances perfectly with the zesty grapefruit juice, mascarpone mousse, and pistachio biscuit. Share the delicate sweetness with Dad and melt his heart on this special occasion. Pre-order on the JW eShop.


Innovative Cocktails at Bar Q88
Raise a glass and say cheers to Dad at Bar Q88, an intimate haven offering a cosy respite from the hustle of daily life, for an extraordinary celebration. Unwind with live music in the evening, tantalising bar bites and an extensive beverage selection from premium spirits and liqueurs, champagnes and whisky to craft beer and cocktails. A drink to intrigue the bold cocktail lovers, "Black Diamond" combines espresso, tequila, Carpano Classico, Campari, black truffle honey and more. The bittersweet flavour is elevated by the 80% dark chocolate on the side. For light and refreshing cocktails, sip on the dark rum-based "The Favourite Punch", which exudes tropical notes with watermelon juice and lime juice, or the pink gin-based "My Fairy Lady" composed of blackberry jam, red dates and Pernod. The cocktails above are priced at HK$150 per glass.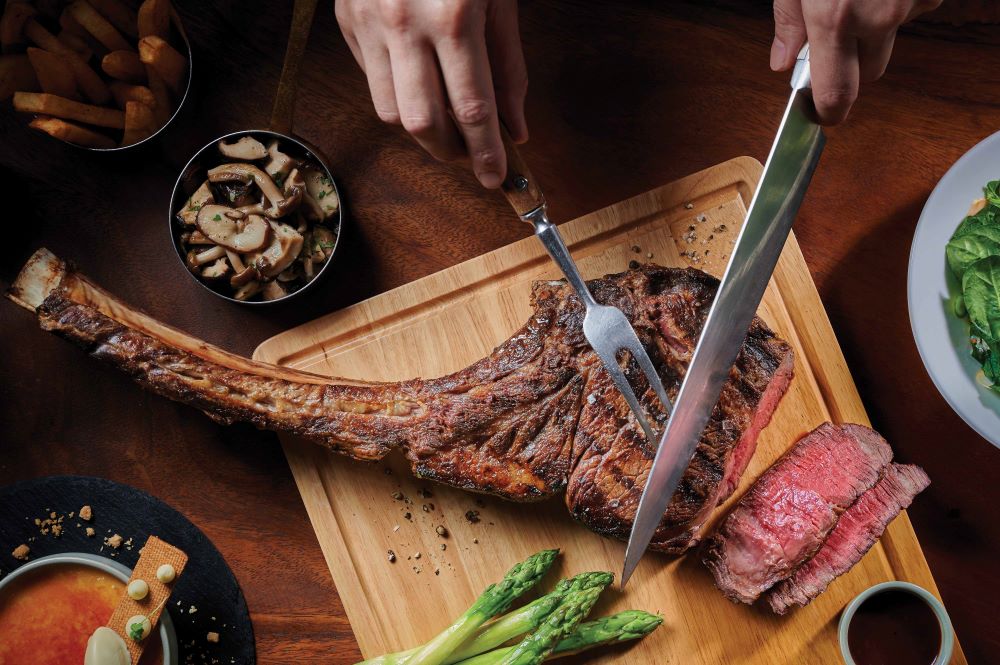 Delectable Tomahawk Steak Dinner at Flint
Relish a steak night with your beloved meat-loving Dad at Flint and dive into a four-course Tomahawk steak dinner. Stimulate your palate with your choice of a refreshing starter and hearty soup, then satisfy the steak craving with the massive and scrumptious main course – Australian Stockyard Black Angus Beef Tomahawk. Grilled to perfection, the premium cut is irresistibly tender, juicy and flavourful. The delicacy is served with fried chips, English asparagus, fricassée of wild mushrooms and truffle jus, ideal for two to share. Wrap up the feast on a sweet note with a handcrafted dessert. A set dinner with other main courses is also available, spotlighting USDA Nebraska Ribeye, Roasted Lamb Rack with Ratatouille Roll, and Roasted Iberico Pork with Pumpkin Gnocchi.
4-course Tomahawk Steak Dinner at Flint is priced at HK$1,900 for two persons. Reserve now on the JW eShop.


Michelin-starred Cantonese Fine Dining at Man Ho
Immerse yourself in modern elegance at the Michelin-starred Man Ho Chinese Restaurant and spoil Dad who has a penchant for Cantonese cuisine with a one-of-a-kind dining experience. The thoughtfully crafted 8-course lunch menu features signature dim sums, Crispy Roasted Suckling Pig, Deep-fried Lobster Claw with Shrimp Mousse, and Double-boiled Conch with Maca and Bamboo Pith. The resplendent 8-course dinner menu entices discerning fathers with lavish dishes crafted with luxurious ingredients. Chilled Lobster Fillet and Salmon Roe with Mayonnaise freshens up the palate; Double-boiled Kanto Sea Cucumber Soup with Conch and Maca is comforting and nourishing; Braised South African Dried Abalone with Goose Web is rich in umami flavours; Braised Tiger Prawn with Cognac and Seaweed Sauce has a remarkably complex flavour profile.
The Father's Day 8-course Lunch Menu is priced at HK$688 per person (minimum 4 persons) and the 8-course Dinner Menu is priced at HK$1,288 per person (minimum 4 persons). Both menus are available on 18 June 2023 at Man Ho Chinese Restaurant. Reserve the lunch menu and dinner menu now on the JW eShop.
Popular Dinner Buffet with International Specialties at JW Café
Ideal for families and large-group celebrations, the sought-after dinner buffet at JW Café will enchant every appetite. The epicurean feast on Father's Day begins with unlimited top-notch seafood such as fresh lobster, brown crab, red crab or blue crab, sea whelk, and fresh sashimi including 5 to 6 head South African abalone, scallops, akagai, amberjack, botan shrimp and more. An expansive spread of international hot entrées offers the signature Braised Fish Maw, Abalone and Sea Cucumber; Braised Goose Web with Pomelo Skin; Typhoon Shelter-style Fried Mud Crab; Wok-fried Potato Garoupa; Wok-fried Scallops and Squid in XO Sauce; Double-boiled Fish Maw and Sea Whelk Soup with Young Coconut; Roasted US Prime Rib and Herb-crusted Lamb Rack. Do not miss the homemade cakes and sweet treats on the dessert table.
Father's Day Dinner Buffet is available on 17 and 18 June, priced at HK$968 per adult and HK$678 per child. Reservation is available on the JW eShop.
Delightful Dinner Buffet in a Cosy Ambience at The Lounge
The floor-to-ceiling windows with panoramic city views and spacious dining area at The Lounge create a relaxing ambience for a cosy Father's Day celebration. The dinner buffet presents a plethora of gastronomic delights, from flown-in seafood such as fresh lobsters and snow crab legs, sumptuous cheeses and cold cuts, to a sashimi station serving scallops, akagai, amberjack, hamachi, and amaebi, as well as made-to-order maki rolls with sesame salmon or spicy tuna. Asian food staples include Braised South African Abalone and Fish Maw, Siu Mei such as Peking Duck, Barbecued Pork and Roasted Pigeon, Wok-fried Crab with Spring Onion and Ginger, Steamed Scallop with Golden Garlic, Clams Poached in Sake, and Poached Rice in Seafood Broth with Shrimp and Giant Grouper. Western favourites highlight Braised Beef Cheek with Red Wine, Roasted Ribeye, Roasted Lamb Rack and Sous-vide Salmon. Complete the dinner with a myriad of desserts and ice cream.
Father's Day Dinner Buffet is available on 18 June, priced at HK$638 per adult and HK$438 per child. Reserve now on the JW eShop.