A New Executive Lunch Menu Takes Centrestage at Chilli Fagara
The Sichuan Mainstay Spices Up
Central's Lunch Scene
with a Four-Course Set Lunch
Available Daily
Hong Kong's Michelin recommended Sichuan eatery, Chilli Fagara, presents a brand-new Executive Lunch Menu (HK$348 per person; minimum two persons) that celebrates Chef Chan's most-loved signature dishes and the season's finest produce, jet-fresh seafood and premium cuts of meat. Now available every day from 11:30am-2:30pm and 4-6pm, the exceptional four-course set menu is an upscale edition, complementing the existing two-course lunch menu, and is sure to impress both spice-loving carnivores and vegetarians alike – the perfect business meal to seal the deal or weekend treat with the family.
Famed for her masterful interpretation of the Sichuan concept for Ma (numbing), La (burning) and Tang (neutral) flavours, Chef Chan has crafted delectable Ma La Tang Samplers to start the meal and introduce diners to the different spice levels and tastes of Sichuan cuisine. The exquisite array of appetisers features Chilli Fagara's signature Pork & Vegetable Dumplings (Ma) with a numbing twist, while the tender, fiery Shredded Chicken in Spicy Peanut Sauce (La) and neutral-spiced, flavourful Karana Lettuce Wraps (Tang) made with jackfruit-derived whole-plant 'meat', add a contemporary touch to the meal.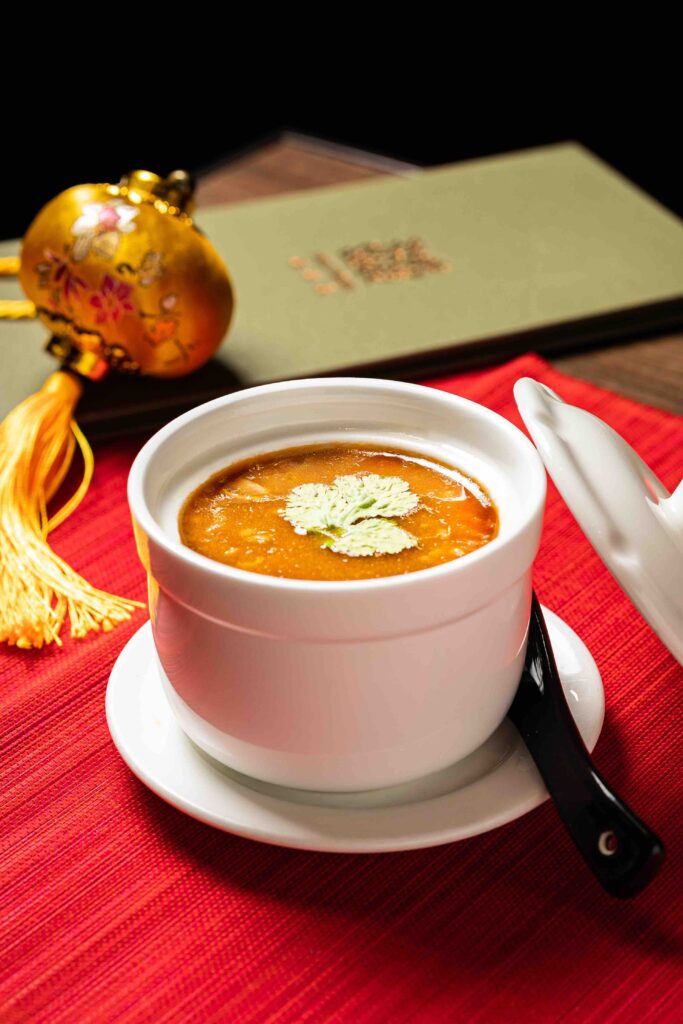 The scrumptious starters are followed by a choice of heart-warming Chilli Fagara Signature Beef Soup or delicate Chicken and Matsutake Soup – the ultimate winter warmers that seamlessly segue to the main event, with six main courses to choose from.
Guests can opt for the celebrated, tender Sizzling Beef Slices, stir-fried with fresh Chinese leeks and dressed with an aromatic garlic soy sauce, Fragrant Crispy Fried Sole Fishmasterfully seasoned with fresh Sichuan peppercorn, garlic and dried chilli pepper, or Fragrant Spareribs, cooked to perfection and complemented by a bounty of Jasmine tea leaves and spices. Catering to all discerning diners, the plant-based Stir-fried Mock Chickenis prepared with a house blend of dried chillis and spices, and the sumptuous, hot Spice-Infused Broth with Fresh Mushrooms is made with hearty potato noodles, market-fresh bean sprouts, Chinese leeks and cloves, and garnished with hot chillis – the ideal plant-based delight. For an elevated Executive Lunch experience, guests can choose the all-time favourite stir-fried Emperor's Prawns for an additional HK$100/3 pieces, perfected with Chef Chan's exceptional house blend of dried chillis and Sichuan spices.
To conclude the decadent meal, diners can opt for a light and sweet midday treat – the iconic ice jelly, Sichuan Bing Fen with Roselle – a cooling end to the hot and spicy Sichuan feast. Alternatively, guests can wash down the tingly heat with the popular Handmade Chinese Flower Tea made of delicate Chinese green tea and globe amaranth.
With the new chef-curated Executive Lunch Menu joining the restaurant's repertoire of classic Sichuan cuisine, Chef Chan welcomes diners to discuss business or catch up with friends and family, assured of an elegant Sichuan feast showcasing the culinary excellence unique to Chilli Fagara – available daily, from 11:30am-2:30pm and 4-6pm.