Collaboration Between Saicho and Grand Hyatt and Valentine's Day at Home with Saicho Sparkles
A Sparkling Valentine's Day Courtesy of Saicho
Saicho, the prestigious single-origin sparkling tea brand, offers a refined, elegant selection of premium teas, perfect for Valentine's Day gifting, and collaborates with Grand Hyatt Hong Kong to create the ultimate sparkling Valentine's Day Afternoon Tea Set at Tiffin (HK$418 per person) and Valentine's Set Menu (HK$2,088 per couple) at celebrated One Harbour Road.
Afternoon Tea at Tiffin
Exclusively available on 14 February, the elegant afternoon tea set, served between 3:30-5:00pm will feature two of Saicho's luxurious sparkling teas: Jasmine and Hojicha (add HK$70/glass). A delectable selection of confectionaries including the delicate Coconut Profiterole, Spiced Pumpkin Homemade Foie Gras Mousse, and irresistible Sponge Cherry Mousse are best paired with the savoury profile of nori seaweed, roasted hazelnut and dry, woody tannins found in Saicho's exceptional Hojicha. Floral aromas with notes of apple, lychee and vanilla can be found in Saicho's Jasmine flavour, which forms an unparalleled match with items such as the piquant Pomegranate Gel Pastrami and Mortadella Sub and scrumptious Smoked Salmon Quiche alongside other delicacies on the menu. Guests can enjoy the exquisite afternoon tea offering starting at HK$418 per person.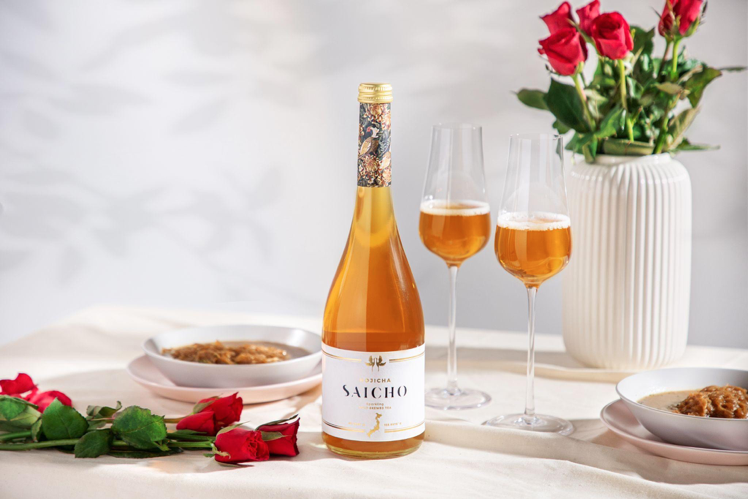 One Harbour Road's Valentine's Set Menu
Saicho's flavour complexity lends it a unique versatility to be paired with both Eastern and Western cuisines. For lovers looking to pair their bubbles with an oriental menu, Grand Hyatt's award-winning Cantonese restaurant, One Harbour Road, will offer a special Valentine's Set Menu on 14 February. For HK$2,088 per couple, The feast begins with One Harbour Road Deluxe Appetisers, featuring pan-fried scallops, and crispy French quail leg, alongside a nonalcoholic choice of two complimentary glasses of Saicho's three original sparkling tea flavours: Hojicha, Darjeeling or Jasmine. Other key features include Braised Wagyu Beef Cheek, luxurious Steamed Patagonian Toothfish, and a heart-warming Double Boiled Almond Soup.
Valentine's Day at Home with Saicho Sparkles
Saicho invites all lovers to toast their loved ones with four sought-after sparkling tea flavours. Boasting a collection of cold-brewed sparkling teas masterfully crafted to be as nuanced as the finest champagnes, Saicho's creations make for an excellent pour to pair with a romantic candlelit dinner at home.The Darjeeling features tea from the Himalayas and is best enjoyed with meats, boasting notes of fresh mandarin, ginger, wood spice and gentle, dry tannins. The exceptional Hojicha features roasted Sencha hailing from Japan and promotes an umami-rich profile, whilst the exquisite Jasmine is brewed with green tea from the Fujian province, characterised by its delicate floral and slightly fruity aroma – the finest tipples to pair with classic desserts such as panna cotta. Saicho's newest flavour, the Eight Immortals, pays homage to ancient Chinese scriptures and is the rarest edition in Saicho's collection. Boasting notes of nectarine, ginger, sweet baking spices and confit peach with an underlying earthiness. The tea's subtle savouriness and lightly tannic finish make it ideal for pairing with a romantic charcuterie board with soft cheeses.
Saicho

Online Shop: www.saichodrinks.com

Instagram: @saichodrinks

Facebook: @saichodrinks

Pricing:

Hojicha, Jasmine, Darjeeling: case of 24 x 200ml bottles for HK$980
Hojicha, Jasmine, Darjeeling: case of 6 x 750ml bottles for HK$1,100
Eight Immortals (limited-edition): 750ml bottle for HK$488

Tiffin at Grand Hyatt Hong Kong

Address: Mezzanine Floor, Grand Hyatt Hong Kong, 1 Harbour Road, Wan Chai

Telephone: (852) 2584 7722

Reservation: www.hongkong.grand.hyattrestaurants.com/tiffin

Website: www.hyatt.com/hongkong