23 Nov 2021 By Betty Chung
About Time. Thank You "Bloody Women"
New 'Bloody Women' Brew Serves-Up
Awareness of Domestic Abuse in Hong Kong
 Bloody Women – the Beer that's Crafted to Start A Conversation
About Domestic Violence against Women
 Bar and Campaign Marks November 25, UN's International Day
for Elimination of Domestic Violence against Women
Domestic violence against women is still a major problem in Hong Kong, with studies showing that as many of 15% of women in Hong Kong1 – and quite possibly more than that – having suffered from domestic violence. COVID may have matters worse, with global research suggesting that incidents of domestic violence have increased since COVID outbreaks.
The blame for domestic violence lies squarely with an abusive partner. However, according to World Health Organisation research2, in more than 50% of cases alcohol can be found somewhere in the picture. As a group of Hong Kong-based women working in the beer industry, Pink Boots Society wondered if alcohol could also be part of the solution.
For the issue of domestic violence to be tackled, it needs to be talked about. That's why on November 25 – the International Day for Elimination of Domestic Violence against Women – Pink Boots is launching a new alcohol brand in Hong Kong, crafted specifically to stimulate conversation about the issue.
Called Bloody Women, this specially-brewed beer line features unique packaging, and a unique recipe, crafted to get people talking about the issue of domestic violence.
The design of Bloody Women cans tells stories of women's experiences of domestic violence, with a focus on their journey to escape their abusive situations and heal from them. It also features a link to the Bloody Women website, where readers can find a directory of NGO and professionals that help women to escape and heal from the trauma of domestic violences.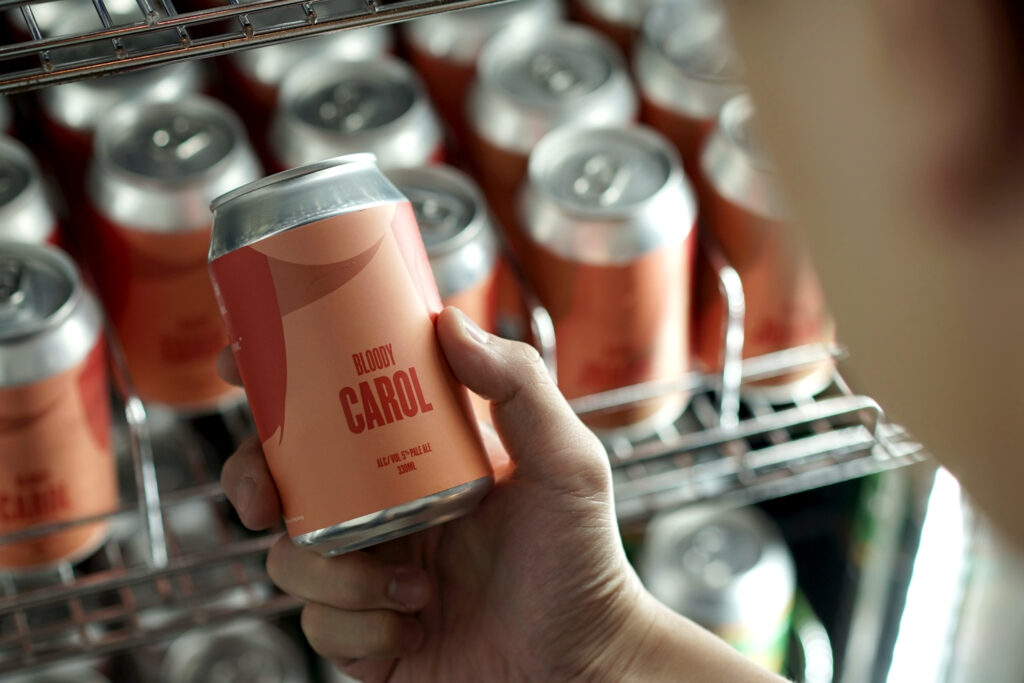 Inside the can, the unique 'Bloody Mary' drink inspired beer has been lovingly brewed from a special recipe devised by Pink Boots members in conjunction with Hong Kong-based Young Master Brewery.
"The issue of domestic abuse is one that often remains a nasty secret, hidden in the shadows." explained Pink Boots Chapter Lead Stella Lo. "It's a shocking statistic that approximately 1 in 7 women in Hong Kong – and perhaps even more than that – have suffered from the trauma of domestic violence. Even more alarmingly statistics indicate that, on a global level, the prevalence of domestic violence could be as high at 1 in 3 women.3
"Every day across Hong Kong, countless women are still suffering silently from domestic – often unsure or uncertain who to turn to and how to cope. The question could be asked, isn't alcohol the primary cause of abuse and why are we brewing beer?
"Alcohol is not the cause of domestic abuse, but there is no denying it can be a contributing factor.  We believe that to really tackle the issue of domestic violence against women, we actually need to talk about it openly. And so, we wanted to make alcohol a part of the solution and use it to get people talking about the problem."
Bars and F&B outlets across Hong Kong are helping to launch the "Bloody Women' beer brand by featuring the campaign in bar-top promotions marking the UN's International Day for Elimination of Domestic Violence against Women on November 25. 'Bloody Women' Campaign promotional materials on prominent display highlighting the issue of Domestic Abuse.
A high-profile marketing campaign, featuring print and online advertising and specially created social media content, has been developed by Hong Kong 4A's advertising agency DDB Group Hong Kong in close partnership with Omnicom sister digital agency BlueCurrent Hong Kong. The campaign is designed to not only raise awareness of the issue and encourage conversation, but also direct those in need to the right help and those who want to help to the Hong Kong organisations providing support.
"The creative industries of advertising and marketing are heavily represented by women professionals. At DDB we found it particularly alarming when we realised the statistics suggested that we may have colleagues sitting right next to us who were potential silent victims of abuse." explained DDB Creative Director Christel Chong.  "We felt, as communications creatives, we had a responsibility to bring our skill-sets to the table and bring our own professional support to the campaign."
Pink Boots is providing education about the issue, and raising donations for charities and organisations that provide support and hope for victims of domestic violence against women.  The campaign ultimately aims to raise funds which will be donated to the NGO/s of Pink Boots Society's choosing.
To find out more about the campaign and where to seek advice on the problem of domestic abuse, visit the dedicated site for the campaign: www.bloodywomen.co.