Aesop and Rick Owens
A meeting of uncompromising minds
Two steadfast sensibilities, in collaboration: what might first appear a contradiction is soon revealed as a story of shared philosophies—a desire for serenity, a dedication to simplicity and an appreciation of considerate, nonconformist design.
This synergy between Aesop and Rick Owens is embodied in the intriguing forms and fragrances of a limited-edition collection, which includes an Aromatique Candle (available in three sizes) and a Travel Kit—featuring a quartet of body and hair care products, a jersey wrap, and the specially created Stoic Eau de Toilette with accompanying ceramic beads.
Aesop and Rick Owens have long expressed their mutual admiration for each other's distinct approach to design, with Owens having used Aesop's hair and body care products exclusively for years. 'I am not sure if it was my body responding positively to the alchemy of the unguents they produce or my head responding to the quiet and gentle aesthetics of their ethos as a company, but Aesop's balms represented a soothing mood that I wanted to continue seamlessly throughout my home life and my travel life,' says Owens. This wish is realised by the Travel Kit and its carefully curated contents. Including Owens's favoured formulations—Coriander Seed Body Cleanser, Resolute Hydrating Body Balm, Classic Shampoo and Classic Conditioner—the Kit also holds a captivating fragrance, to be experienced in a variety of ways.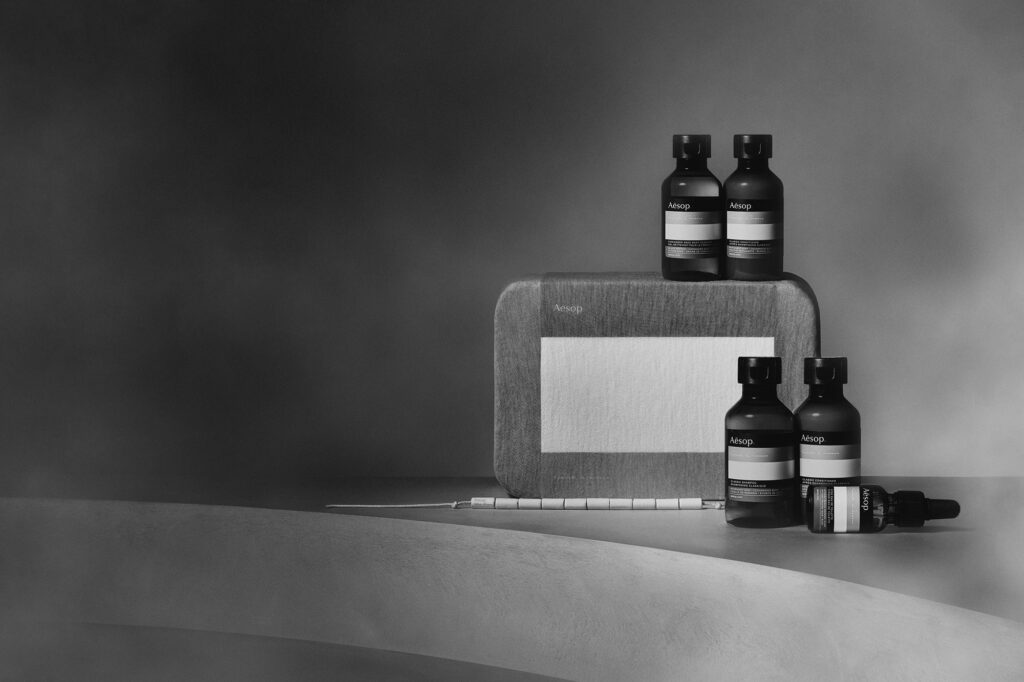 Alongside the Travel Kit, the Stoic Aromatique Candle, which is available in three sizes, offers further serenity at journey's end. Following the same design principles as Owens's furniture collection—particularly the blending of the futuristic and the ancient—the ceramic vessels are inspired by the sculptures of Constantin Brancusi and Dadaist Hans Arp.
Once the flame is lit, the scent of Stoic is released amid a muted dance of light and shadow, imbuing the home with an aroma that speaks of benevolent strength.Written in the margins, though often referenced by the mainstream, the stories of Aesop and Rick Owens are chaptered by defiance—of fleeting trends, inauthentic expressions, and careless creation. In this collection, that steadfastness is distilled for all who see beauty in the shadows.
The limited-edition collection will be available at aesop.com and select Aesop stores from 1 April 2022.
Rick Owens Signature Travel Gift Kit, containing a quartet of containing a quartet of Rick's most-loved formulations in convenient travel-ready 100mL sizes, along with a unique fragrance and a string of 10 ceramic beads to apply fragrance.
RRPs: HKD1,350
Three aromatique vegetal-wax based candles sharing one signature aroma developed in partnership with Aesop & Barnabe Fillion, housed in a ceramic vessel designed in collaboration with Rick Owens.
RRP: HKD330 (65g); HKD720 (240g); HKD1,650 (620g)
Aesop & Rick Owens Travel Kit