Aesop Othertopias Six fragrant doorways to the undiscovered
Aesop's Othertopias fragrances are inspired by worlds that transcend our immediate perception—physical places that are also portals of the mind; spaces that are simultaneously real and imagined. Unorthodox in nature, each aroma has been developed in collaboration with Aesop's long-term partner Barnabé Fillion. The collection features six Eaux de Parfum: Miraceti, Karst, Erémia, Eidesis, Gloam, and Ouranon. The first three launched in 2021, Eidesis Eau de Parfum came the following year, and the final two in 2023. Each was created with curious noses in mind, and those seeking aromas that defy expectations.
'Collaborations with Aesop are always steered by science and wonder,' says Fillion, 'manifesting in this instance as a journey through spaces. A smell, whether in the air, on our skin, or on our clothes, transports us elsewhere to worlds both real and imagined. A window into nature, so to speak, one that invites a dialogue with the surroundings we inhabit but often overlook.'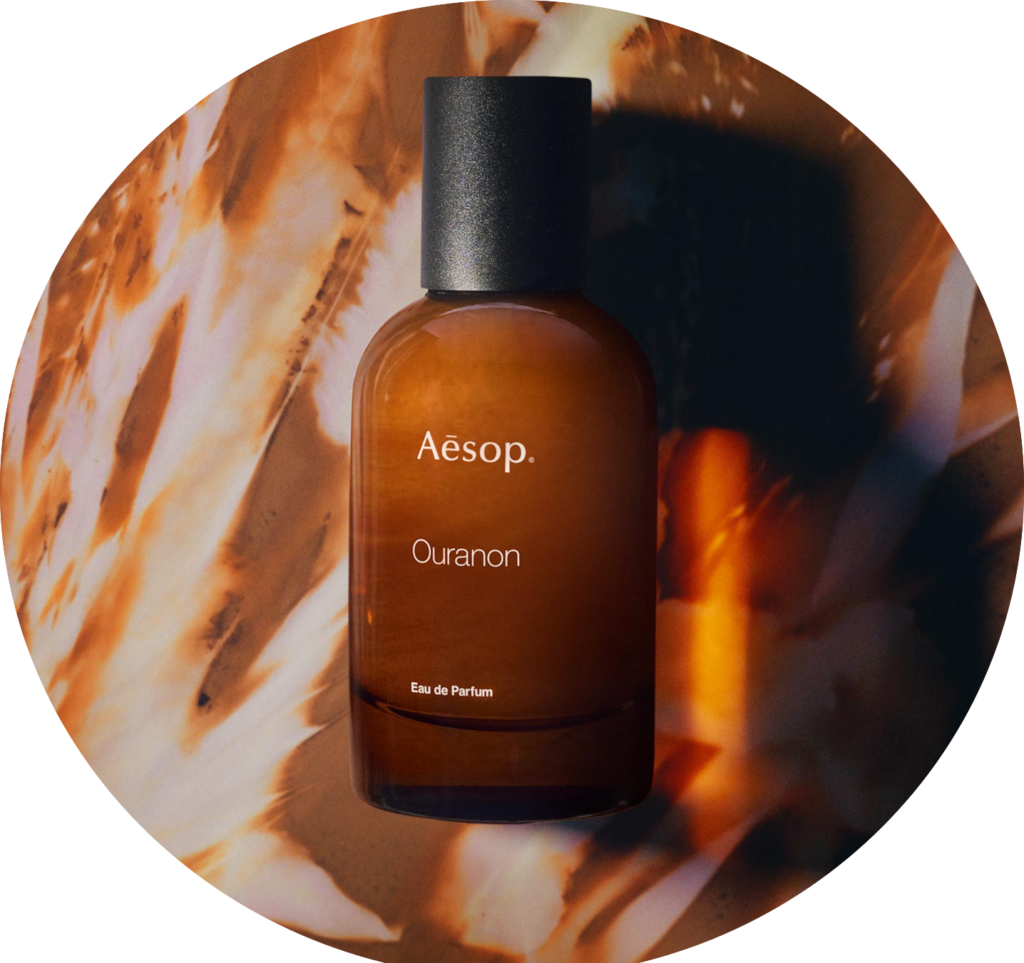 The liminal space of the boat is distilled in Miraceti Eau de Parfum, with its resinous, woody and spicy notes—from Labdanum, Ambrette and Styrax—evoking ocean-worn timber and a salty breeze. Karst Eau de Parfum is inspired by a rugged shoreline, where the tide comes and goes, shaping the landscape. Herbaceous and fresh, with a metallic edge, it contains Juniper, Cumin and Sandalwood. Erémia Eau de Parfum conjures a verdant wasteland via a vibrant and fresh aroma, exuding green floral and citrus accords through Galbanum, Iris and Yuzu.
Eidesis Eau de Parfum invites introspection, recalling the imaginary world beyond the surface of a mirror—Black Pepper, Frankincense and Sandalwood make for a warm, spicy and woody scent. In Gloam Eau de Parfum, quietude prevails—pollen-like Mimosa, aromatic Saffron and earthy Iris together capture the self-reflection experienced when the body is at rest on a divan. Ouranon Eau de Parfum, the collection's closing chapter, is inspired by the enduring stature of a monolith. It draws on the ambience of a stone circle at night, lit by unfurling embers, whose aroma commingles with those of Frankincense, Hay and Myrrh.
The Othertopias Eaux de Parfum are each packaged in a 50mL glass bottle and encased in a carton featuring unique artwork by Belfast-based painter Jack Coulter.
The collection is part of Aesop's wider Fragrance range, which also includes Marrakech Intense, Tacit, Hwyl and Rōzu Eaux de Parfum—all of them complex, unconventional aromas that know no gender boundarie.
RRP as follow:
Miraceti Eau de Parfum 50 mL, HKD / MOP 1,500
Karst Eau de Parfum 50 mL, HKD / MOP 1,500
Erémia Eau de Parfum 50 mL, HKD / MOP 1,500
Eidesis Eau de Parfum 50 mL, HKD / MOP 1,500
Gloam Eau de Parfum 50 mL, HKD / MOP 1,500
Ouranon Eau de Parfum 50 mL, HKD / MOP 1,500