Aesop ronze Incense Holder
The serene curves of Aesop's Bronze Incense Holder bring subtle, understated gravitas to any place setting, hearth or bookshelf, and enable the enjoyment of incense as a moment of calm and quietude. Crafted in Germany and cast from solid bronze, which will take on a natural patina over time, it joins the Brass Oil Burner as the second design object in Aesop's Home range. It was designed by Vogel Studio as the bearer of choice for Aesop's Aromatique Incenses—Murasaki, Kagerou and Sarashina, all available separately.
The Bronze Incense Holder holds a single stick of standard-size incense over a concave dish that catches the fluttering, falling ash as the aroma unfurls—a platform afforded unique character by its asymmetrical composition. The substantial, palpable weight of its base contrasts with the delicate skyward stance of its burden. This holder complements the Brass Oil Burner in both shape and shimmer, as it too will naturally burnish over time, oxidising with age to give each individual piece its own singular appearance. Alternatively, the original finish can be restored regularly through gentle cleaning and polishing.
As designer Fabio Vogel explains, 'I wanted to give the ashes a stage, slightly raised from the table. Ashes are a sign of destruction and death, but also a sign of a new beginning and life. In an abstract way, the shape resembles a giving or supporting hand.'
The Bronze Incense Holder is packaged in a protective, recyclable carton.
Bronze Incense Holder RRP: HKD/MOP 1,200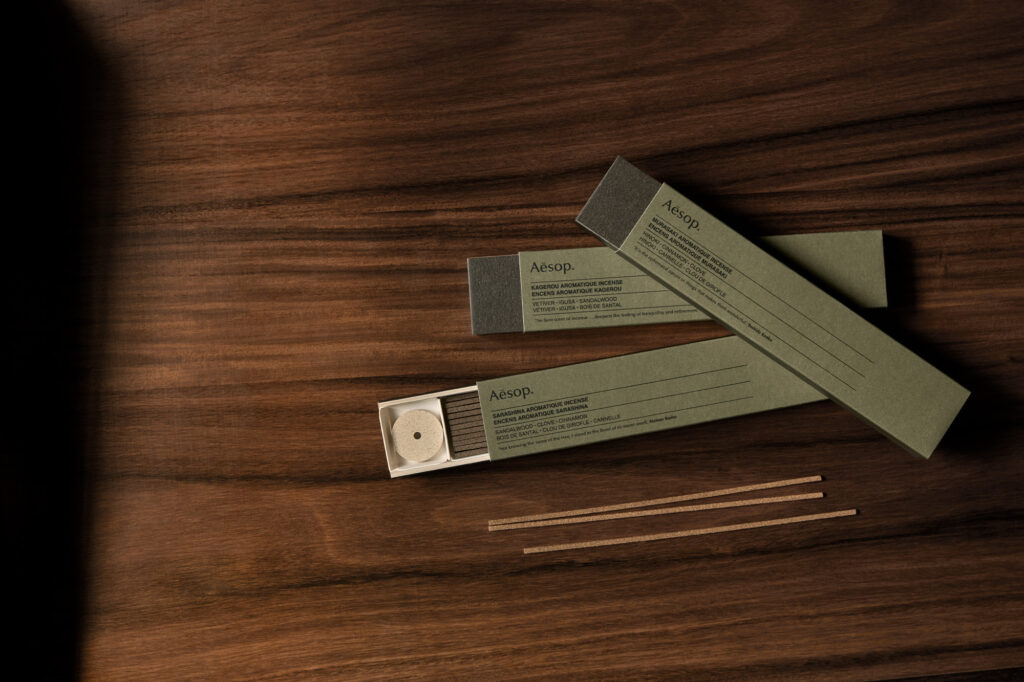 Murasaki, Kagerou and Sarashina Aromatique Incense offer customers an alternative way to imbue their treasured interiors with complex, unconventional Aesop aromas. The aromatic effect of each fills a space gently, then lingers awhile after lighting. Long associated with spiritual, religious and cleansing ceremonies, the act of burning incense instils an air of studious serenity, steadily permeating the atmosphere through the unfurling of its delicate ribbons of aroma.
Developed with long-term fragrance partner Barnabé Fillion and manufactured by a revered Japanese incense atelier, this triptych has been crafted with assiduous attention to detail, using traditional blending techniques paired with modern processing equipment.
Murasaki Aromatique Incense
Kagerou Aromatique Incense
Sarashina Aromatique Incense
Murasaki, Kagerou and Sarashina Aromatique Incense are offered individually and packaged in a robust, protective carton—made from recycled materials—each containing 33 sticks. These are composed of 100% incense, with a square profile and no bamboo core—visually setting them apart from traditional incense. Each has a burn time of approximately 30 minutes. Also enclosed in the carton is a small disc of Kanuma pumice, which serves as a simple mount for a single incense stick. Each Aromatique Incense may also be used with Aesop's Bronze Incense Holder, sold separately.
To use, simply light the tip of the incense stick and gently fan out the flame. Place in a preferred holder in a well-ventilated area and allow to smoulder, ensuring that surfaces are protected from falling ash.
Murasaki Aromatique Incense RRP: HKD/MOP 310
Kagerou Aromatique Incense RRP: HKD/MOP 310
Sarashina Aromatique Incense RRP: HKD/MOP 310