Alila Villas Uluwatu Closes the Loop on Waste with Its Own Circular Economy
As a pioneer of sustainability in the hospitality industry, Alila Villas Uluwatu has always aligned its core values with the elimination of waste and pollution, the first principle of a circular economy. However, since 2019, the resort has been proactive in tackling the other two principles of a circular economy: to circulate products and materials at their highest value, and regenerate nature.
Through its on-site Sustainability Lab initiative, the centrepiece of its zero-waste commitment, the resort has been able to close the loop on most of the materials it has not yet been able to prevent from becoming waste by creating new value.


At the Sustainability Lab, discarded glass bottles find new purpose. The bottles are upcycled to create drinking glasses for the resort's Indonesian restaurant The Warung, for in-house use, as well as gifts for purchase at the Alila Boutique. They are also crafted into candleholders for use as decorations during special events, contributing to new stories and memorable moments.
In addition, styrofoam and the plastic layers of slippers provided in-room for guests are recycled to fill bean bags in the staff resting area and for other Alila properties in Bali.
Waste materials also create value in other ways, whether sold to recycling companies or returned to suppliers, helping to preserve existing materials and resources for as long as possible while saving costs. Other items are put back into circulation via the resort's brand new "Pick and Swap Shop", where staff can take home items that are not in perfect condition for guests but are still good enough to be enjoyed, like beach bags, beach hats, slippers, and hangers.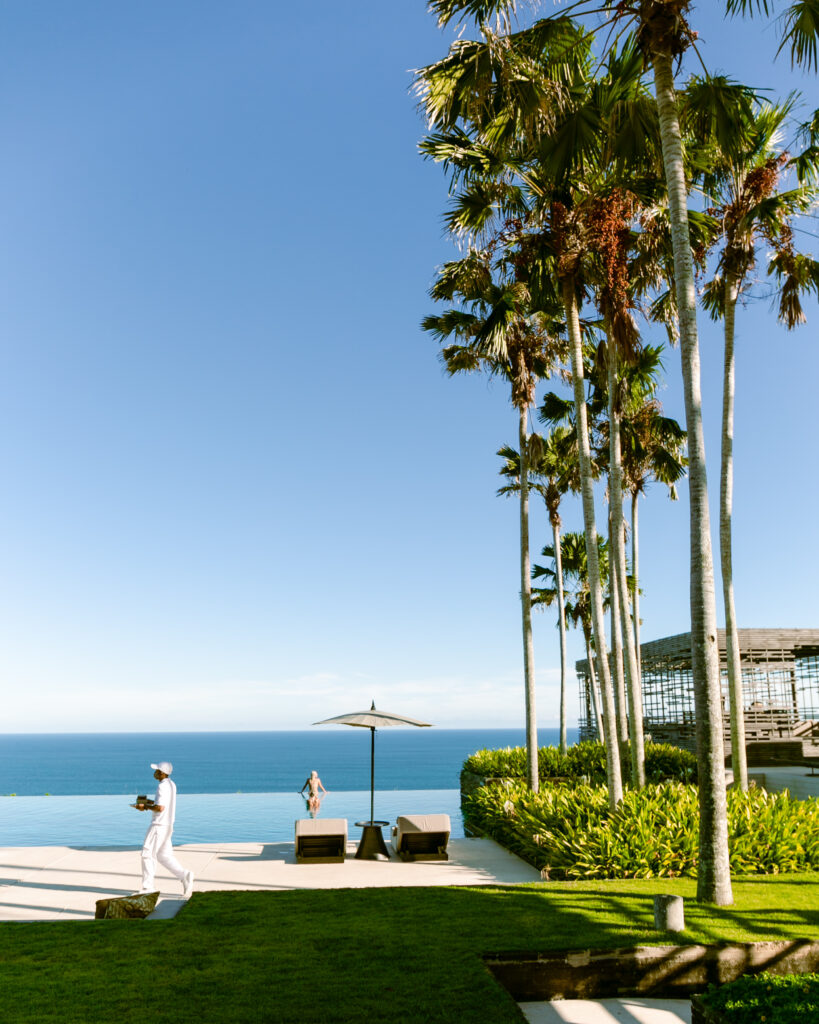 Alila Villas Uluwatu also nurtures collaborations that blossom into unique and useful products. For instance, cigarette butts become furniture thanks to the expertise of Parongpong Recycling Waste Lab. Buggy tires become coasters at the resort's Sunset Cabana Bar as well as sandals created by Indosole, the most environmentally responsible footwear company in the world. And discarded umbrellas become tote bags thanks to the creativity of our team and the dedication of Mountain Mamas, a local social enterprise led by women.
Last but not least, the resort creates its own compost from landscaping waste that is used to regenerate the soil in its organic chili garden and the gardens around the resort's 14-hectare clifftop property.
At Alila Villas Uluwatu, nothing goes to waste. Every item of potential waste is an opportunity to create new value and leave a lasting positive impact – helping to keep Bali's rice fields, beaches, forests, rivers and oceans clean and advance regenerative tourism for the long-term benefit of people, communities and the planet.
To learn more about sustainability and green initiatives at Alila Villas Uluwatu, please visit www.alilahotels.com/uluwatu or email us at uluwatu@alilahotels.com.