Aman Indonesia Reawakening
Amankila, Bali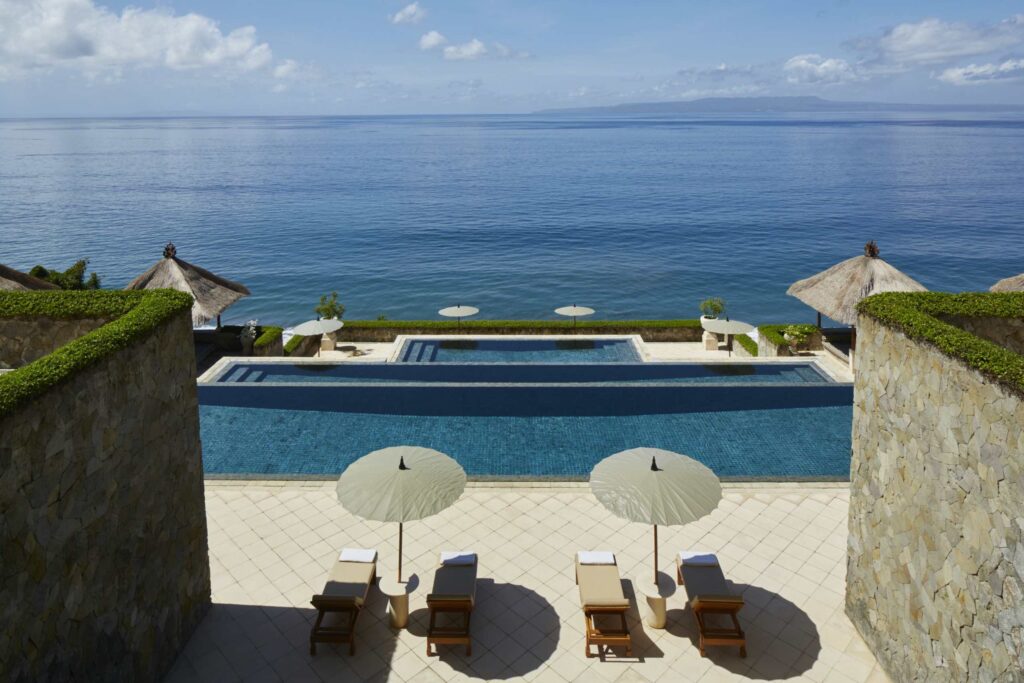 Claiming a breathtaking stretch of coastline on the Lombok Strait, Amankila rests beneath sacred Mount Agung. Connected by treetop walkways, stilted suites offer spectacular ocean views, while a three-tier pool cascades down the hillside, and private Beach Club and black-sand shores offer tranquil spaces to make the most of the great outdoors.
With the new experience this year, guest can embark on a peaceful Sunrise Cruise on board one of the resort's traditional Jukung-styled outrigger boats. Depart before dawn and watch from the water as the island is painted in colour by the sun's first rays. A delicious Aman breakfast is served at anchor, before an opportunity to snorkel and relax in a nearby secluded bay. Moreover, Guests of the resort can also enjoy a Permaculture Tour and Cooking Class this season and become fully acquainted with the island's landscape. The tour begins with the picking of fresh ingredients in the resort's permaculture garden, before a culinary workshop offering step-by-step guidance by an expert chef in the creation of multiple Balinese and Indonesian dishes.
Amandari, Bali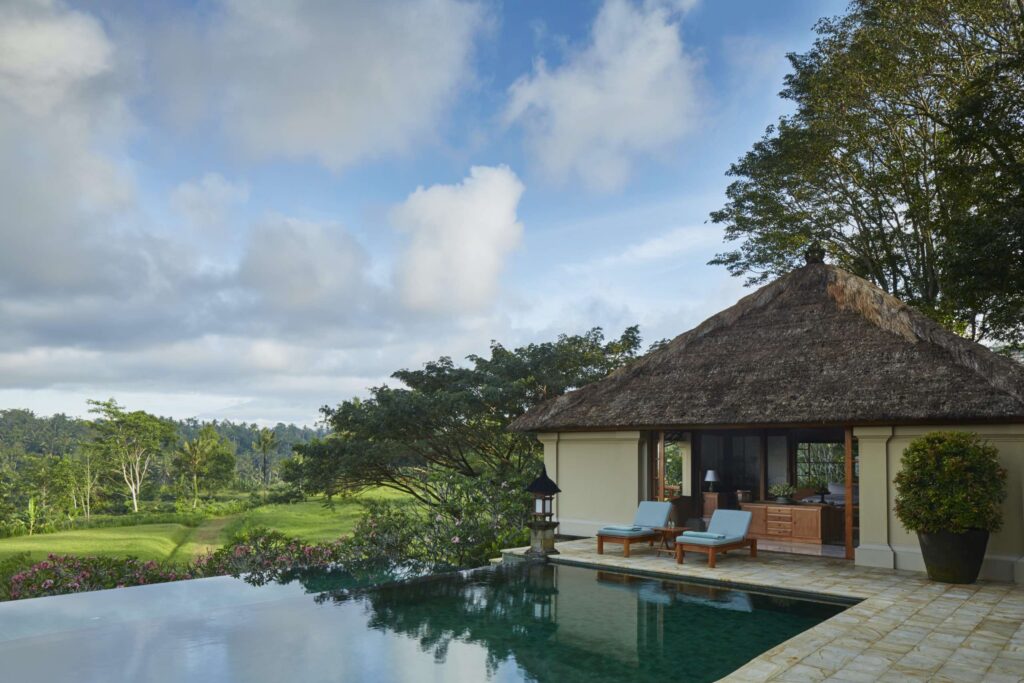 Presided over by a sacred stone tiger, Amandari was designed after a traditional Balinese village and rests on the lip of the Ayung River Gorge. Free-standing suites are reached via winding pathways, while the curving swimming pool mimics the rice paddies below. Close to the artistic centre of Ubud, the resort's setting invites both reflection and the exploration of Bali's cultural heart.
This year, guests can enjoy a new Regenerative Farming experience in partnership with Astungkara Way, a non-profit organisation with the goal to bring Balinese youth back to farming their lands. The experience takes place in the rice paddies and community garden of Subak Uma Lambing, just a 20-minute drive from Amandari, offering an in-depth insight into regenerative farming methods aimed to restore depleted soil to a healthy state and nurture biodiversity. On the other hand, Guests are also able to learn traditions of old by taking part in a Balinese Script Writing class. Also known as Aksara Bali, Balinese script is believed to have descended from ancient India dating back to the 11th century. At Amandari, guests are invited learn the basics of reading and writing in an informative yet therapeutic session, accompanied by light refreshments.
Aman Villas at Nusa Dua, Bali
Embracing serene garden views on Bali's southernmost peninsula, famed for its golden beaches, Aman Villas at Nusa Dua rest poolside in verdant tropical gardens. Each Villa is an Eden-like retreat serviced by two butlers and a private chef and providing easy access to a private Beach Club.
The Villa's location is a perfect starting point for a journey through Indonesia connecting Amandari, Amankila and Aman Villas at Nusa Dua. The Aman Bali Breakexclusively invites those staying four nights at one or more of Aman's Balinese properties to enjoy complimentary activities, daily breakfast and inter-resort transfers. From trekking or cycling through the jungle to exploring local markets or discovering Uluwatu Temple, guests will discover the magic of Bali in the highland arts centre of Ubud, the once-royal regency of Karangasem and the fabled peninsula of Nusa Dua.
Amanjiwo, Java
Named 'Peaceful Soul' for the serenity of its setting in Central Java's cultural heartland, Amanjiwo overlooks the Unesco World Heritage Site of Borobudur. Perfectly placed for exploring the region's historic and natural attractions, or for simply relaxing in blissful surroundings, the resort cascades from a lofty rotunda down the hillside to a magnificent pool.
Celebrating its 25th anniversary later this year, the resort will continue to offer its unique Journey through Java experience aboard the regal Kereta Api Wisata train. Departing from Jakarta, guests will embark on a seven-hour journey through spectacular scenery joined by Amanjiwo's resident anthropologist, Patrick Vanhoebrouck, who will share insights into Javanese culture along the way. There are also new opportunities to become immersed in local culture. Often referred to as Hanacaraka, Aksara Jawa (Javanese Script) holds a philosophy that can be used for pitutur luhur (verbal wisdom) and guidance to address various phenomena that occur in the future. It has a long, rich history, having been used by court scribes in Surakarta and Yogyakarta. Alternatively, for those looking for a cleansing spiritual reinvigoration, Amanjiwo will offer a Tolak Balak ritual. Performed by a Javanese priest, the purification custom is one of several ancestral protection and purification practices in Java.
Amandira, Indonesia
A private yacht travelling under sail and motor with five spacious cabins, Amandira combines the ancient romance of the spice trade with contemporary amenities. Inspired by the Phinisi sailing vessels of old, twin masted Amandira was custom designed then handcrafted from local hardwoods by Konjo artisans.
Combining Amankila, Amandira and Amanwana, Aman invites guests to discover Indonesia's hidden beaches, distinct wildlife and experience world-class diving with Amandira's Journey Across the Sea. The journey starts at Amankila, where guests can indulge in a stay at the stunning cliff-side beach resort overlooking the Lombok Strait. It continues with an unforgettable journey by sea to Amanwana onboard Amandira.
Amanwana, Moyo Island
A natural paradise, Amanwana is the only resort on the beautiful island of Moyo. Overlooking the turquoise waters of the Flores Sea, the wilderness hideaway offers full-board accommodation in just 12 luxury guest tents and unparalleled access to some of the best scuba diving and snorkelling in Indonesia.
Amanwana will offer A Camp of Your Own experience for those wishing to book the camp on an exclusive basis. Guests can enjoy a four- or six-night journey, with three- or five-nights spent at Amanwana and one night in a private villa at Aman Villas at Nusa Dua on Bali's southernmost peninsula. With unrestricted access to the entire island once at Amanwana, each Camp of Your Own stay includes all meals, as well as a group beach barbeque dinner for an authentic island experience, daily snorkelling trips and complimentary laundry to ensure a seamless return. To make group stays extra-special, visitors are also invited on a waterfall excursion to Barry's Falls, where a cascading limestone waterfall appears through the forest in an unmissable fairy-tale experience and a guided cave trek, highlighting another of Moyo Island's hidden gems.