4 Apr 2023 By AWAY IN STYLE
AUOR, INNOVATIVE FRENCH RESTAURANT BY CHEF EDWARD VOON, UNVEILS NEW SEASONAL LUNCH AND DINNER TASTING MENU EXPERIENCE WITH SOUTHEAST ASIAN INFLUENCES AND FLAVOURS
Hong Kong>> Award-winning Singaporean chef Edward Voon, the mastermind of innovative French fine-dining restaurant Auor (pronounced "hour") in the heart of Wan Chai, welcomes the spring season by unveiling an exciting new lunch and dinner experience. Six additional caviar-based appetiser courses begin the evening's culinary adventures, followed by a new Six Rounds dinner menu. Auor is now also serving a three- or four-course wine-paired Menu du Jour lunch menu from Wednesday to Friday, and five courses on Saturday.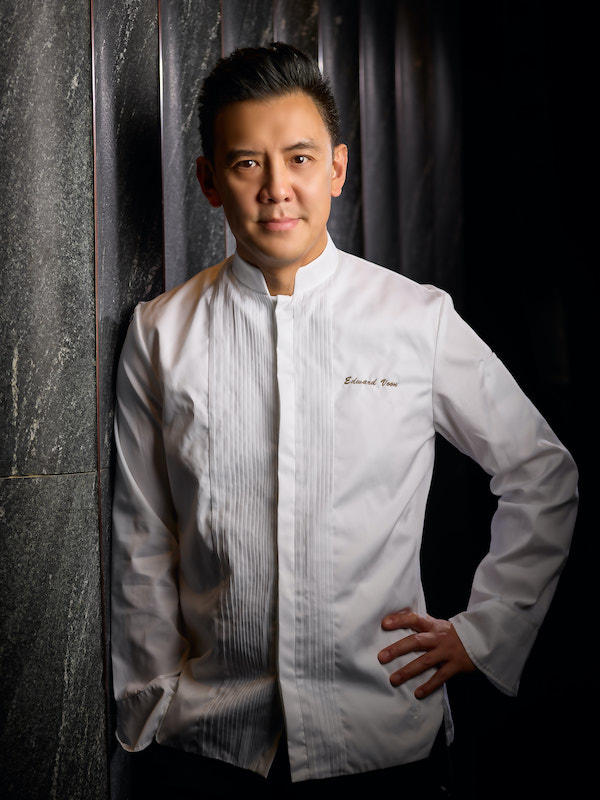 Auor's imaginative signature dinner experience of the Six Rounds (six servings of caviar + six courses at HK$1,680 per person) is a procession of layered tastes that respect the seasons. The menu has been given a luxurious boost with the addition of six rounds of caviar-headlined vegetable canapés ­– a "Caviar Carnaval" that whets the appetite for the main event of six innovative courses inspired by the circle of life.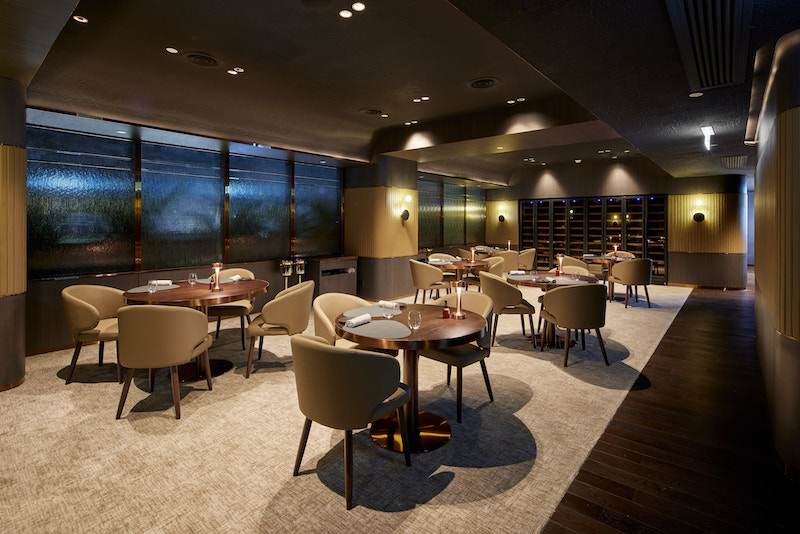 Chef Voon's culinary philosophy at Auor revolves around time and showcases the diversity of nature. While honouring French fine-dining traditions, he is steered by the vast and vibrant flavours of Asia – his homeland, and the place that holds his fondest memories.
CAVIAR CARNAVAL: SIX ROUNDS OF CAVIAR 
Six types of caviar derived from different breeds of sustainably farmed sturgeon are presented in turn atop a parade of intricate Asian-inspired canapés, each one devoted to a vegetable. The caviar rounds begin with nutty, mellow Royal Oscietra Caviar in a mini tart of red cabbage in two textures – braised with red wines and spices, and pickled then creamed. Its radiant cap is gel made from the pickled cabbage water. The strong, creamy and buttery flavours of Royal Cristal Caviar, a hybrid of Russian sturgeon and kaluga from the Amur River basin, are bedded on potato cooked three ways – puréed with haddock and cream, curried with masala, and fried in tiny shoestrings.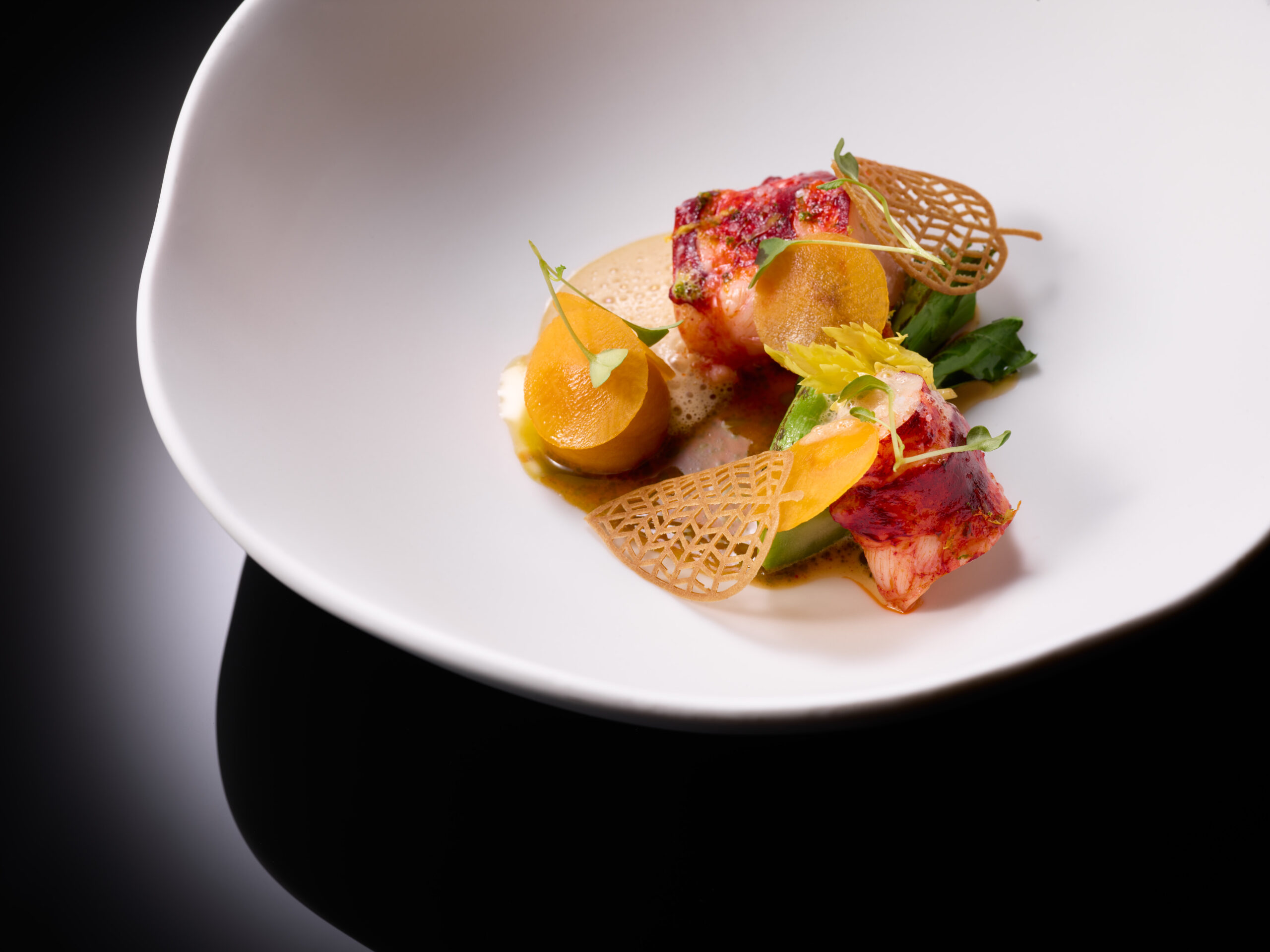 Exuding rich umami notes, Baerii Caviar is teamed with carrot and presented as a flower ringed with droplets of rojak essence. The vegetable is reimagined as chutney, purée with lemongrass and gossamer sheets of pickled carrot. Imperial Oscietra Caviar's glossy roe and clean, nutty flavours are paired with an onion tart decorated with spheres of hard gel made from smoked onion and bak kut teh stock. Mild, buttery Superior Sturgeon Caviar comes atop an 'Asian'-style lentille du Puy croquette, where the famous lentils of France are cooked with vegetables, breaded and deep-fried.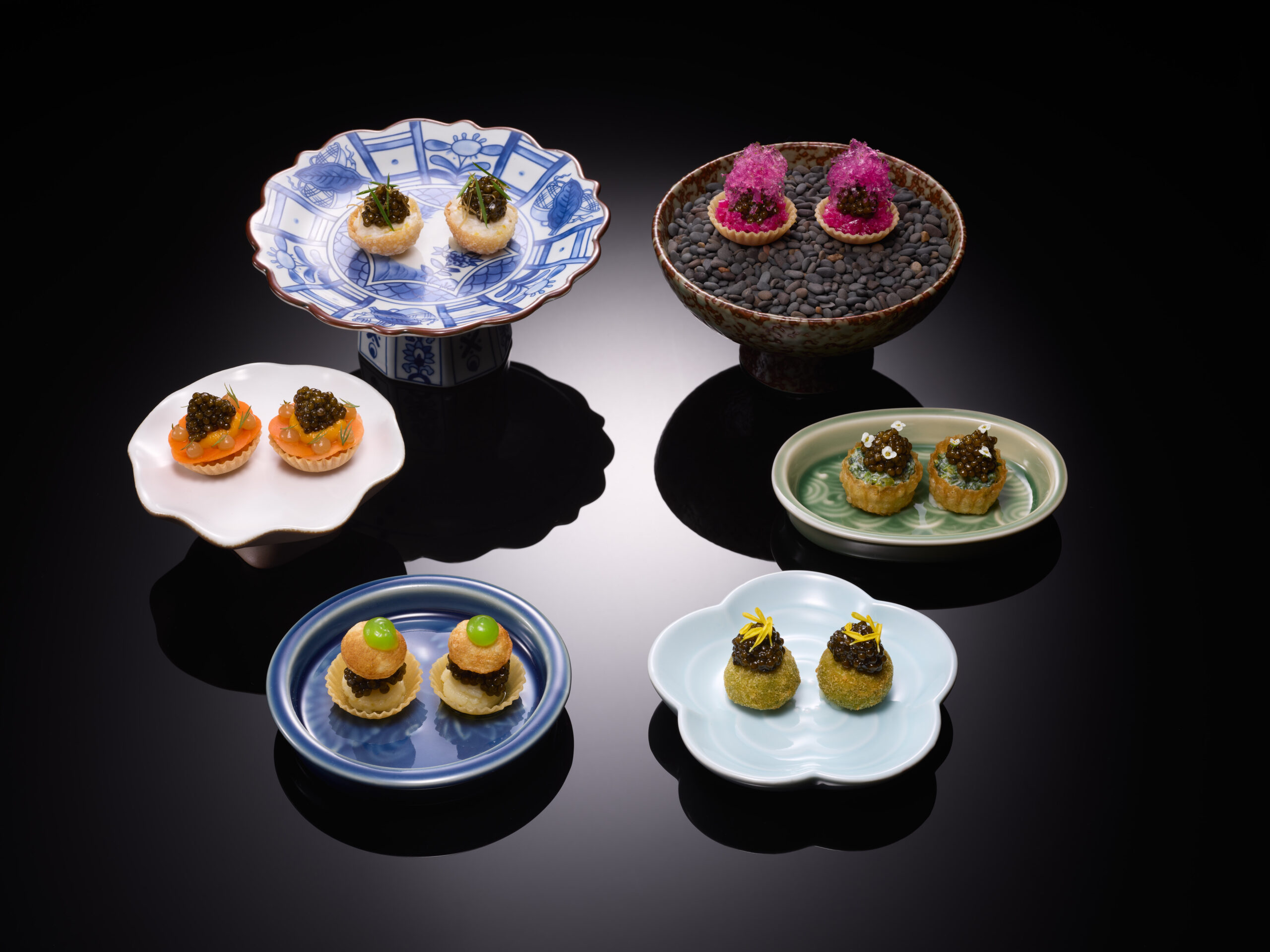 The Caviar Carnaval concludes with Amur Oscietra Caviar, bursting with powerful walnut flavours, in a crisp shell of finely chopped morning glory. The market greens have been wok-fried Thai-style with fish sauce, yellow bean sauce, chillies and garlic, then blended with yoghurt, mint leaves and lime, and sprinkled with crushed nuts.
THE SIX ROUNDS – CELEBRATING LIFE'S MOST HEARTFELT MOMENTS
Radiating goodness, the six-course tasting menu bows to nature's largesse and follows the rhythms of the seasons. Named for key stages in the enduring cycle of time – and meaningful moments in the chef's journey through life – each 'Round' realises a perfect balance of ritual and avant-garde flair. Dishes embody French techniques, as well as Asian diversity, and are populated by the fruits of the sea.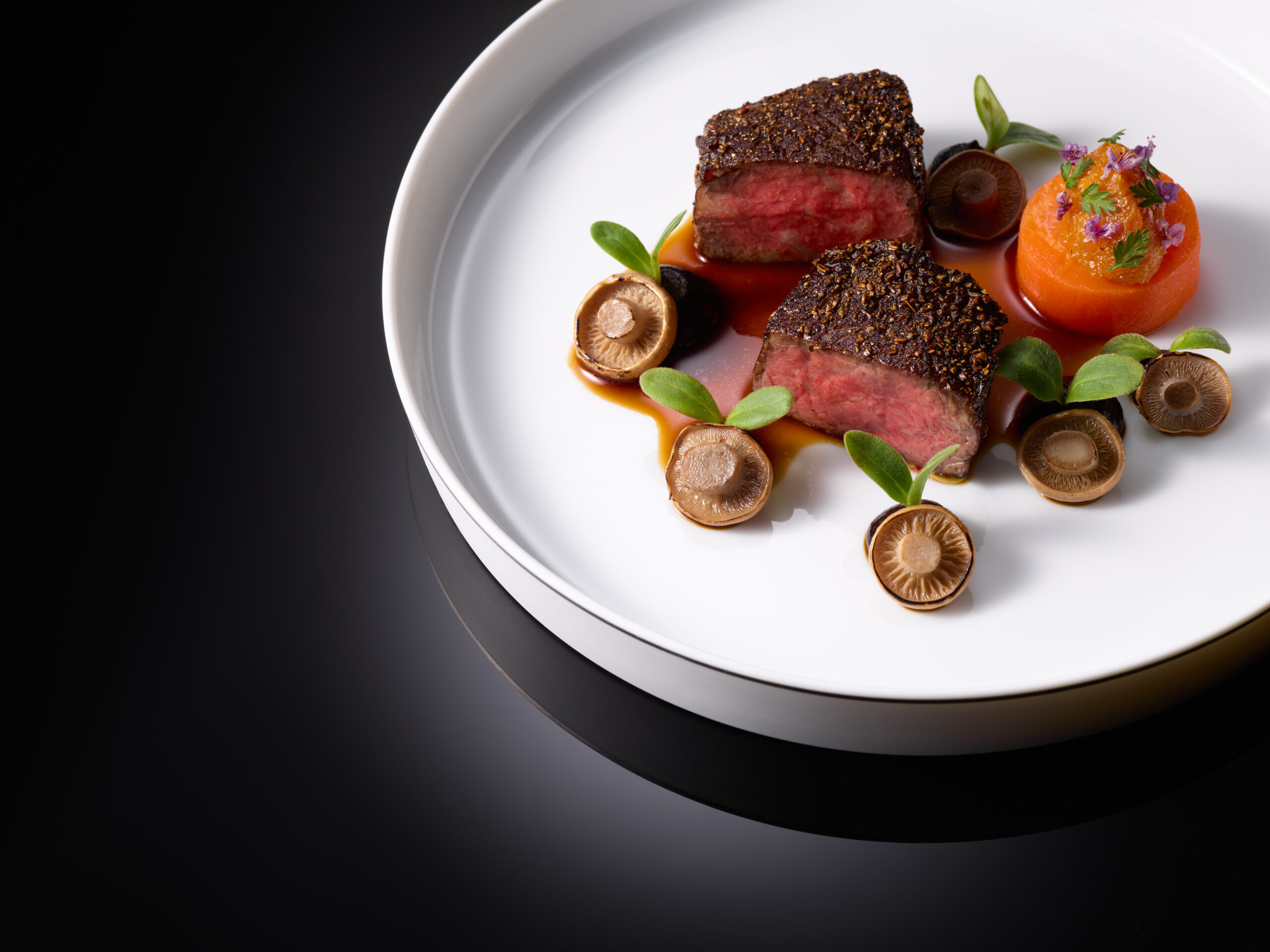 Preluded by six decadent bites of the Caviar Carnaval, Round #1 (Awakening) kicks off the Six Rounds with hamachi served sashimi style, accompanied by sweet honeydew melon, oyster cream and a house-made Thai sauce inspired by hot and sour pla goong. The delicate dish is garnished with watermelon radish, ikura roe and chives. The Bread course follows, a honey rye sourdough served with chilli crab sauce – steeped with the flavours of the chef's hometown delight of Singapore chilli crab – for dipping.
Singapore's daily torrential rainstorms spurred an appreciation of nature's life-affirming power, and this intensity is captured in the Round #2 (Rain) dish of mud crab au gratin. Chef Voon reimagines his favourite Sarawak black pepper crab dish as a classic cheesy crab gratin, where mud crab meat is combined with a spiced butter sauce of black pepper paste, white wine, shallots and lemon zest.
Onto Round #3 (Colours): a vivid revelation of how imagination can transform nature's simple gifts into complex sensory stories. The chef brings a unique Asian twist to Brittany blue lobster, which is charcoal grilled and served with fresh local organic choy sum seared on a plancha. The sauce is a lobster reduction flavoured with Fujian spices, dry shrimp paste, garlic, shallots, ginger, chilli and tamarind juice.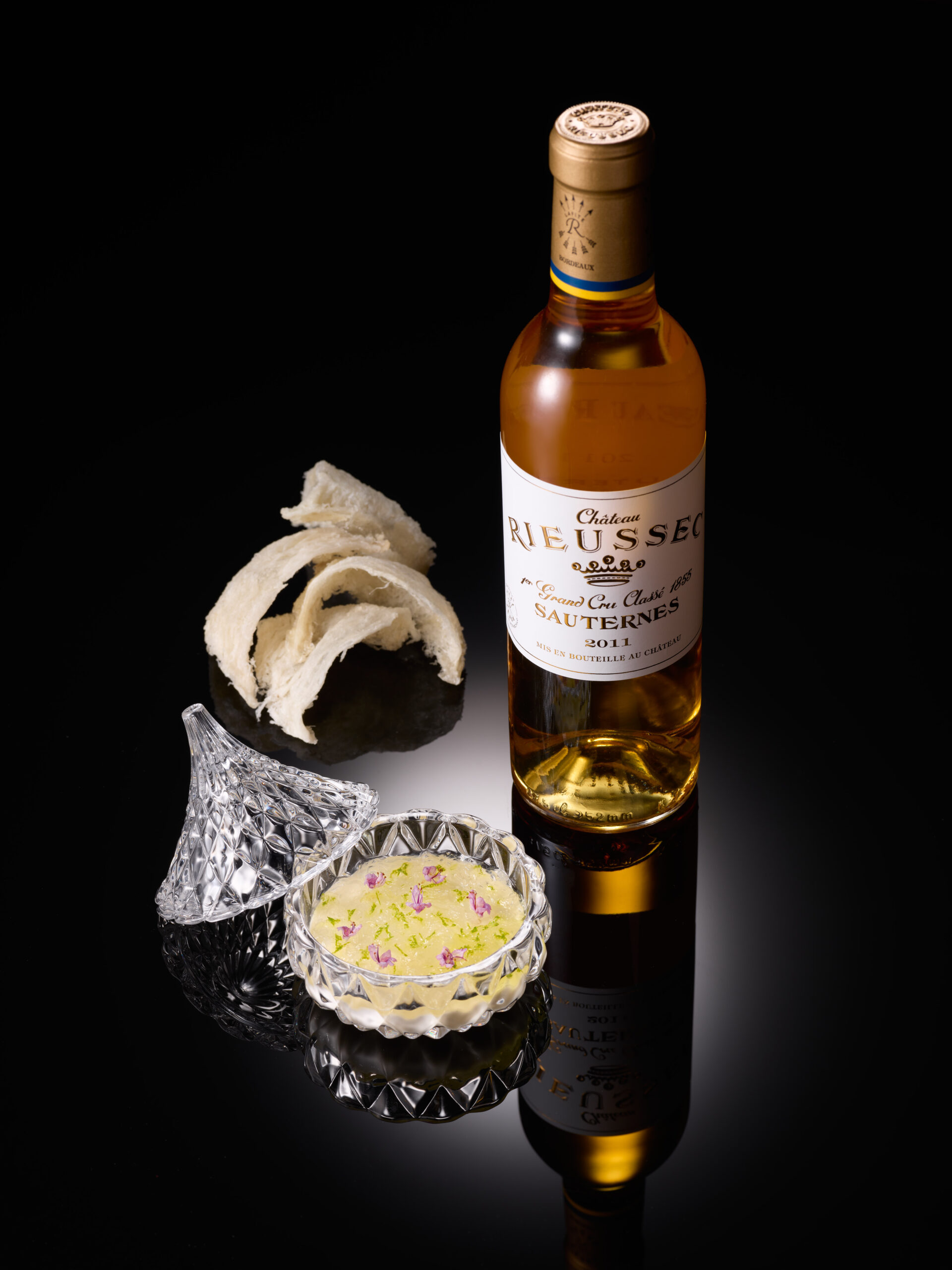 Round #4 (Diversity) has long been a watchword for Chef Voon, gleaned through his many travels in Asia. His belief that elements of different cuisines can be united in one compelling taste is seen in a pairing of Australian lamb loin and Sichuan mala spices, served with tamarind-infused black garlic. On the side are braised cordyceps atop fragrant dauphinoise potato with Chinese wine and lamb jus. The alternative main course is Wagyu Satay at a supplemental price of HK$280, featuring the finest charcoal-grilled wagyu from Stockyard in Australia, given a new twist with satay-inspired glaze.
Chef Voon deftly pairs prime produce from all over the world with an Asian sensibility for an ever-evolving repertoire of layered contemporary dishes that reflect the maturity of his cuisine today. This is evidenced by Round #5 – the Soul of the Six Rounds – where succulent South African abalone is charcoal-grilled in a Cantonese-style bouillon made by boiling pork bones, Hunan ham, kombu and dry shiitake over six hours, then paired with buckwheat noodles simmered with winter truffle, chives and butter for a silken texture.
The Six Rounds come full circle to culminate in Round #6 (Memory), an artistic dessert course that speaks to the chef's impressions of the past and his Asian upbringing. Prepped by a pre-dessert palate cleanser of bird's nest and coconut laced with Château Rieussec 2011 Sauternes wine, the meal concludes with an homage to Hong Kong milk tea: 'Yuenyeung', a decadent sweet of harmonious coffee and tea flavours.
Six selected wine pairings by the glass (HK$880 per person) perfectly complement the Six Rounds.
AUOR LUNCH – A SEASONAL INTERLUDE 
Superior Sturgeon Caviar opens Auor's inaugural lunchtime Menu du Jour that pays tribute to spring (three courses at HK$468 per person or four courses at $588 per person from Wednesday to Friday, and five courses on Saturday at $780 per person). The luminous roe is paired with Japanese amberjack 'nam jim' or Yukon gold potato purée drizzled with anchovy oil. Other highlights are a frothy Cantonese velouté with 'lion's head' meatball, and Chef Voon's take on Singapore's classic Hainanese chicken rice, presented with 'mala' roasted yellow chicken (Saturday only).
A spring garden of pretty petals dresses an uplifting sweet of yoghurt, berries, chocolate and lemongrass. Wine pairing of three glasses for $318 per person, or 4 glasses for $428 person on Saturday adds further indulgence.
Auor serves dinner from Tuesday to Saturday from 6:30pm to 11:30pm (last orders 8:30pm), and lunch on Wednesday through Saturday from 12pm to 3pm (last orders 2pm). For reservations at Auor, please visit HERE or contact the restaurant directly.
RESTAURANT INFORMATION:
Address: 4/F, 88 Gloucester Road, Wan Chai, Hong Kong
Tel: (+852) 2866 4888
Email: info@auor.com.hk
Website: www.auor.com.hk
Reservation Link: see HERE
Social Media: @auor.hkg @edwardvoon74