Ayana Segara Bali The all-new hotel brings an indoor-outdoor concept
Ayana segara Bali Opens November 5
A contemporary twist to AYANA's legendary Balinese-inspired experience
The highly anticipated AYANA Segara Bali, a new AYANA hotel within the AYANA Estate in Jimbaran, will welcome its first guest on November 5, 2022 – reservations open now. The 205-room hotel introduces a contemporary twist to the legendary Balinese-inspired AYANA experience for a more laidback luxury style of living for guests to relax and unwind. The hotel is the fourth AYANA property inside the 90-hectare integrated AYANA Estate luxury community at Jimbaran, following the trio of AYANA Villas Bali, AYANA Resort Bali, and RIMBA by AYANA Bali, taking the total of 980 villas, suites, and rooms.Designed by award-winning design firm WATG, the firm behind the stunning design of AYANA properties in Bali and Komodo, AYANA Segara Bali is a contemporary design hotel evoking modern and simple aesthetic. Upon entering the hotel, guests are presented with interior design inspired by the Balinese tradition and culture. The Balinese-inspired interiors of the rooms and restaurants are designed by Yasuhiro Koichi, the founder of SPIN Design Studio, who also designed the famed Rock Bar. Intricate wood carvings can be seen in the lobby of the hotel to create a welcoming oasis of calm. A kamasan painting—a traditional painting from the village of Klungkung in Bali—can be seen within the ceiling, taking guests on a virtual journey of Balinese epic wayang story. The identical kamasan painting can also be seen gracing the ceiling of AYANA Resort Bali, uniquely linking both hotels, providing an unparalleled classic luxurious retreat.
The new AYANA Segara Bali brings an indoor-outdoor concept that blends the spacious living areas of modern architecture with an expansive panoramic view of Jimbaran Bay and the Indian Ocean, the lush AYANA Estate forest, and the sounds of nature. A place where the forest meets the ocean, AYANA Segara Bali brings an immersive experience harmonious with nature, a concept and guiding principle of AYANA inspired by the Balinese philosophy of Tri Hita Karana. A combination of building design, intricate Balinese-inspired traditional ornaments and the stellar view of the surroundings, AYANA Segara Bali pays homage to its location and transports guests into a culmination of tranquil, comforting, and modern, slow-living Bali luxury life.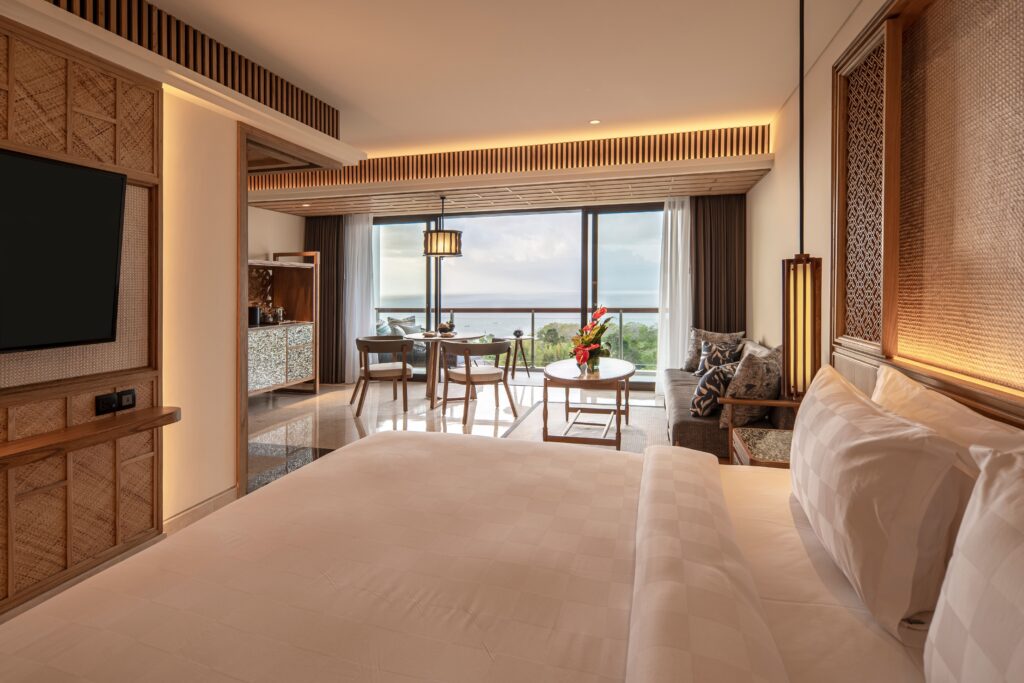 Guestrooms
AYANA Segara Bali features 205 modern and elegant rooms and suites. Guest rooms range from 58 to 65 square meters (624 to 699 square feet), whereas its four suites are about 93 square meters (1,001 square feet). Each room offers indoor-outdoor spaces with floor-to-ceiling framed windows that invite the cool breeze of the Indian Ocean, with private balconies or terraces complete with daybeds to immerse in the view. The contemporary design and modern lines of the room interiors are accentuated with rich materials, a celebration of the Balinese local craftsmanship. Each room comes with a luxury living space, dining areas and a large walk-in wardrobe, while bathrooms are opulent with oversized oval bathtubs and marble rain showers.
AYANA Segara Bali offers 2-bedroom Ocean View Suite for guests traveling in family-sized groups, combining two suites with a single entry and designated foyer for a total of 133 square meters (1,432 square feet) of space. The suites offer the pinnacle of the AYANA Segara Bali experience with living and dining areas for six.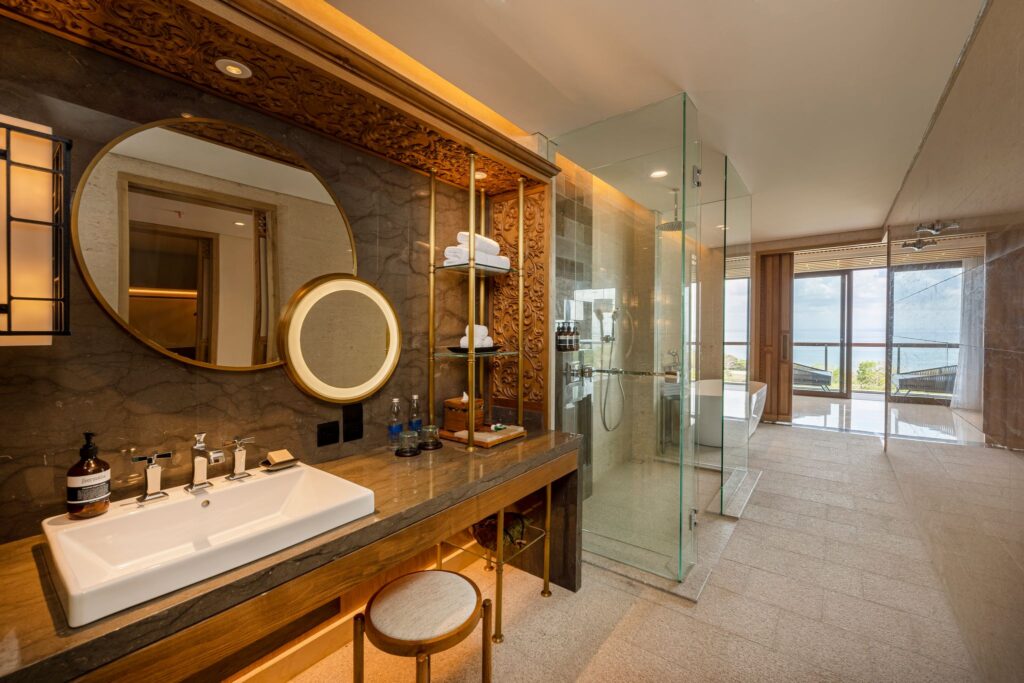 New Dining Destinations
AYANA Segara Bali has three stylish restaurants ideal for guests and visitors to relax and entertain. Each dining destination is adorned with natural lighting and outdoor spaces for alfresco dining and offers a collection of culinary experiences and menus from many parts of the world. The dining experience start near the main pool, where Karang is situated. The 194-seat all-day dining restaurant offers a menu of Pan-Asian, local and western breakfast buffets and comfort tapas-style plates of Chinese and Italian cuisine. Karang comes with open dining spaces with a contemporary environment. It will also come with a bar that will double as the pool bar for day time and a full-service bar during lunch and dinner.
The new Mediterranean restaurant, Medi, offers a wide variety of fresh salads, pasta and seafood. Guests can choose from the wine list highlighting the best Mediterranean white and red wines in Bali. It also features some exclusive wines from Italian and Spanish boutique vineyards. Situated at the top of AYANA Segara Bali, Luna is where to witness the most spectacular sunset. It offers contemporary dishes using fresh local ingredients available from AYANA Farm – a pure farm-to-table experience. Guest can savor dishes such as salmon poke bowl sriracha and Indonesian favorites: Jimbaran-style jagung bakar, and mie goreng kaki lima. During the sunset, Luna offers a selection of Mediterranean and local tapas-style menus, focusing on flavor and freshness, such as gambas à la plancha, ceviche, and antipasto.
The three new dining destinations at AYANA Segara Bali join the 19 existing venues, and bring the total number of 22 dining destinations to choose from at the AYANA Estate, including one of the world's best hotel bars, Rock Bar, and the newly opened KISIK Lounge and Seafood Restaurant, making the AYANA Estate a culinary destination in its own right.
Wellbeing
The indoor-outdoor concept of AYANA Segara Bali also perpetuated through its main pool. Its unique design where guests can lounge and immerse in the view of the Indian ocean. The largest indoor-outdoor pool in Bali, AYANA Segara Main pool, is also suitable for lap swimming and exercise. Guests can also enjoy the rooftop pool at Luna Rooftop Bar or one of the total 15 swimming pools across the AYANA Estate.
The world-class 22,000 square meters' destination spa, AYANA Spa, is one step away from AYANA Segara Bali. The professional wellness team of fitness trainer and health coach along with multi-faceted spa program offer guests the treatment to nurture and achieve their fitness goals. With over 53 treatment rooms, guests can opt for traditional Balinese massages and marine rituals, to the Nakatsuji Method, created by Japanese professional osteopath and anti-aging expert Tadashi Nakatsuji exclusively for AYANA Spa, which encourages full-body healing. For a once-in-a-lifetime spa experience, guests can choose Ocean Rituals at AYANA's Spa on The Rocks, a treatment villa perched above the formation of rock along the AYANA's coastline surrounded by the sparkling blue Indian Ocean. AYANA Spa also offers pure Thalassotherapy, the therapeutic use of seawater and marine products, at one of the world's largest Aquatonic Seawater therapy pools to promote health, wellness, and beauty.
"AYANA Segara Bali will bring its charm to the curious-minded and young-at-heart travelers who are looking for a laidback luxury style of living, and inspire them to explore the unique experiences that AYANA Estate has to offer," said Michi Sonoda, Executive Assistant Manager, Sales and Marketing of AYANA Hospitality. "As a microcosm of the island experience, AYANA Estate is a perfect starting point to explore Bali and a must-visit destination in its own right. AYANA Estate and its experiences is a sanctuary of wellbeing where peace, harmony, and happiness are nurtured, for our guests to come home renewed and refreshed."
Opening Offer to create a lasting AYANA Memories
To celebrate the opening of AYANA Segara Bali, guests can enjoy an exclusive offer of 25% off on room only and a room with daily breakfast for a stay from November 5, 2022 to March 31, 2023. AYANA also offers a 30-minute photoshoot taken by AXIOO's pro photographer and five complimentary printed photos, providing guests with even more ways to create lasting AYANA Memories. Guests also can enjoy 10% off for in-room spa treatments and Spa on The Rock treatments by the award-winning AYANA Spa; complimentary 1-hour Thalassotherapy for two people per room for booking with a minimum of two-night stay; and 10% off for food and beverages in 22 dining destinations in AYANA Estate, including Rock Bar.
Guests can take benefit of the opening offers by booking directly through ayana.com and using the booking code: SEGARA.
AYANA Segara Bali hotel reservations open now, with stay commencing on November 5, 2022.
For more information and booking, please visit ayana.com.
T (+62) 361 702 222