Back To Basic: Family is Our Christmas & New Year's Eve
This begins with a simple question — how are Christmas & New Year's Eve best celebrated — "With family," Chef Mickael Messina remarked. To celebrate the season's greetings, it is an absolute delight for Bacchus Wine & Restaurant to present "Family is  Our Christmas & New Year's Eve Menu" carefully crafted by Chef Mickael Messina at HK1,688 per guest (Subject to 10% service charge). Early Bird offer at HK$1,488 per guest is available now until 30th November 2022. This holiday season, how about spending time to be with family and savour the moment of simply being? After all the ups and downs, family first.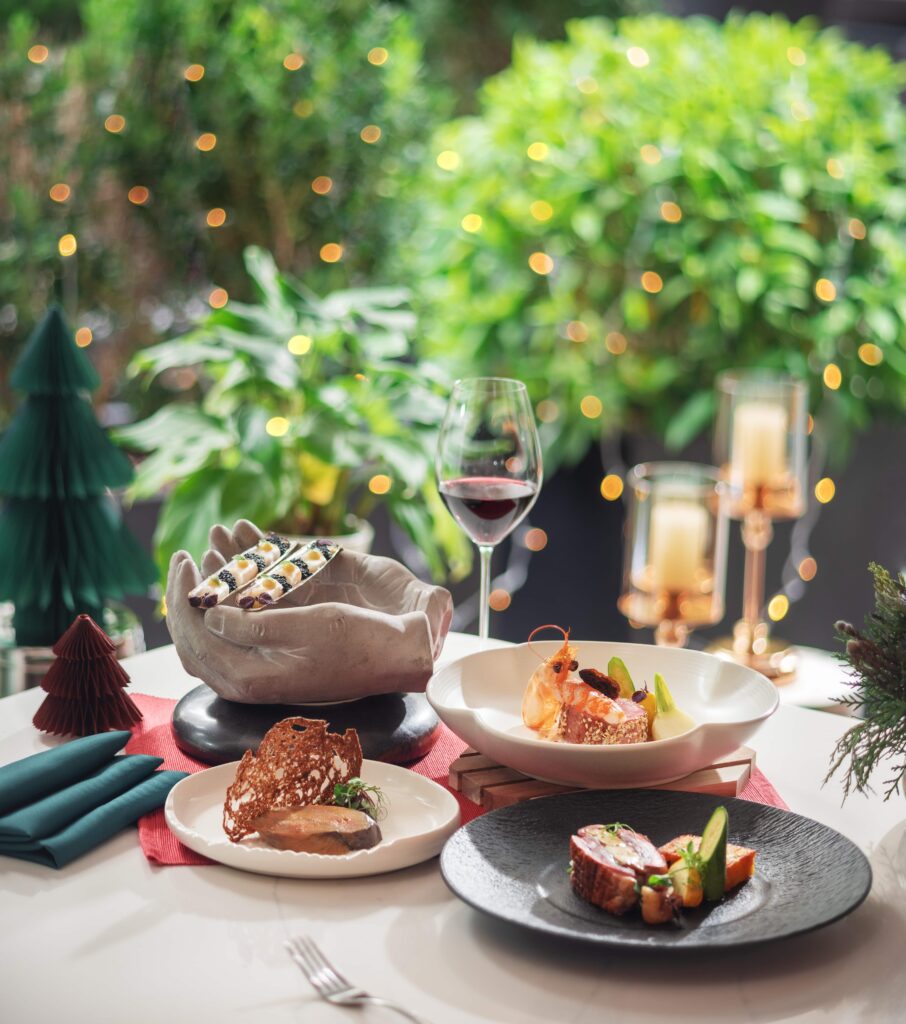 One more thing, bring the joy home — it is not Christmas without an appetising turkey sitting in the middle of the dining table surrounded with all your loved ones. However, at Bacchus Wine & Restaurant, we are doing it differently. This year, Chef Mickael Messina's signature dish, 12 Days Dry Aged Chicken Glazed with Sichuan Pepper, is available for takeaway at just HK$688. Revisiting the French household recipe passed down by generations, Chef Messina adopts 'dry ageing' in chicken so as to enrich the organic flavour of the meat and add an extratouch of gaminess to it. Meanwhile, the tenderness and succulence of the meat are well preserved even after 12 years in dry ageing. Sichuan pepper gives the Asian touch and just right amount of spiciness to the traditional glaze mixed with thymes, lemon, rosemary and garlic covering the crispy chicken skin. Crispy on the outside and juicy on the inside, this 12 Days Dry Aged Chicken Glazed with Sichuan Pepper is meant tobe given to someone special this year.
Basic Information:
Opening Hours: 11:30 a.m. to 10:00 p.m. / Wednesday to Sunday
Address: 3/F Hollywood Centre, 233 Hollywood Road, Sheung Wan, Hong Kong
Contact Number: 3750 5200 / WhatsApp: 6108 2862
For reservation: https://www.sevenrooms.com/reservations/bacchushongkong
Follow us on social media:
Instagram@bacchushongkong / Facebook@BacchusWine&Restaurant
Pre-order available now until 30th November 2022. For ordering or more information, please contact: info@bacchus.hk or WhatsApp: (+852) 6108 2862.