Banyan Tree Opens its First Banyan Tree Escape in Bali, Indonesia
Buahan, a Banyan Tree Escape, is set to open in an off-the-beaten-track, untouched part of northern Ubud on 14th June 2022. This brand extension symbolises the Banyan Tree brand's vision and commitment to creating immersive experiences combining deep nature and sustainable design. Pioneering a "no walls, no doors" concept throughout the property and in each of its 16 balés (villas), the adults only Buahan, a Banyan Tree Escape experience, is an invitation into a different way of being.
At the resort's heart are the Open Kitchen and Living Room, both open dining and lounge spaces created to evoke a sense of community. Here, guests 18 years and up are invited to learn how the resort reinvents the basics of food and drink through its unique zero-waste farm to table concept, local sourcing philosophy and heritage techniques. The menu concept, 70% of which is plant-based, is sourced locally within a one-hour drive from the property. This concept was developed through a collaboration with Agency X, a local consultant group that houses the acclaimed restaurant Locavore, Nusantara Restaurant, and The Night Rooster Cocktail Bar, creatively enhancing a sense of place.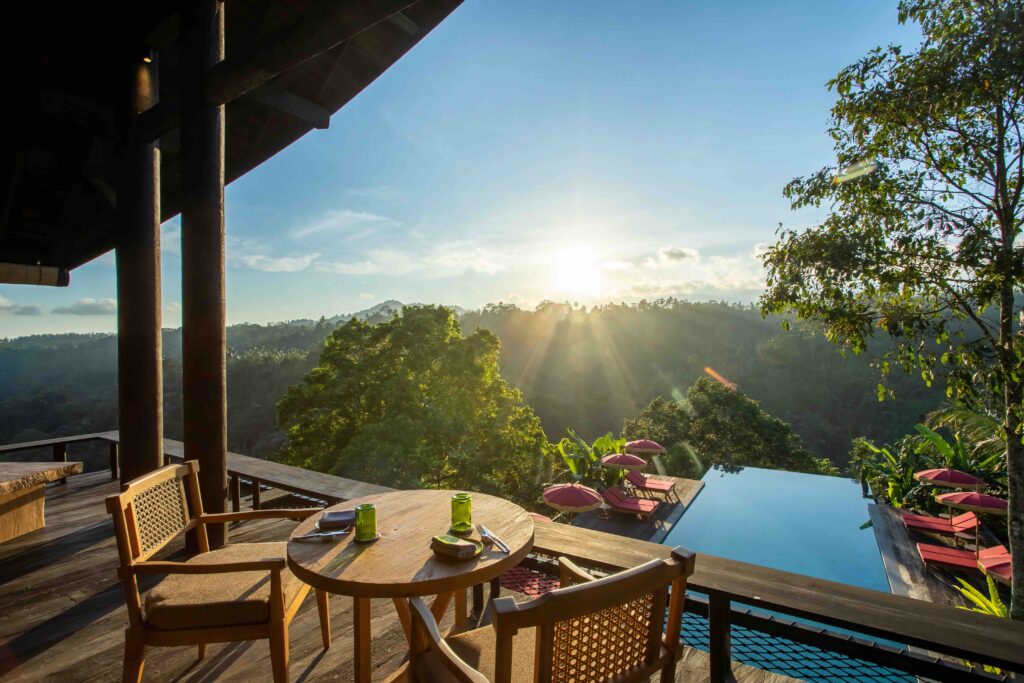 The brand also celebrates unconventional craft forms, from its sonic branding approach with Singapore-based creative studio Parable to using re-purposed Ulin 'iron' wood from boat jetties, hand-carved wooden headboards, hand-smithed copper bathtubs and natural dye soft furnishings. Scattered on and off the property, secret Hideaway Spots draw on the element of being at one with nature, providing guests with a garden sanctuary for meditation, reading, or simply taking a moment to pause and unwind. A calendar of daily, weekly, and monthly events guides traveller towards a range of curated and self-led experiences around the three pillars connecting to nature, a discovery experience, and community integration. From the on and off-site daily 'Happenings' activities to collaborative events with visiting practitioners or local culture festivities, the ethos of unique, rejuvenating and spontaneous opportunities for discovery hold firm and are a core of the brand experience.