Banyan Tree 'Wellbeing Sanctuary' in Koh Samui & Krabi
Banyan Tree is redefining its hospitality experience following the impact of the pandemic.
The Banyan Tree Group has rolled out a new healthy living concept at its properties around the world, including Banyan Tree Samui and Banyan Tree Krabi in southern Thailand, which have set aside a selection of pool villas and suites dedicated to holistic and wellbeing pursuits.
The "Wellbeing Sanctuary" initiative was launched on October 1st at both resorts, and provides guests with an opportunity to combine a leisure vacation with a daily program designed to enrich mind, body and soul — from meditation to Thai boxing, from massage and hydrotherapy to nature trails and sailing lessons — complemented with a nutritious diet and personal consultations.
Each of the villas selected for the Wellbeing Sanctuary has been adapted with various wellbeing amenities — a mini-bar stocked with fresh juices and herbal teas instead of alcoholic drinks, a yoga mat, stretch bands, and even a Tibetan singing bowl — and hosts an outdoor pool and hot jet pool.
On Koh Samui, Wellbeing villas come with a luxurious infinity pool, while at Krabi, each room opens onto a private garden, ideal for private self-wellbeing activities.
Teams at Banyan Tree Samui and Banyan Tree Krabi, which are both located on tranquil picture-perfect beaches, have tailored holistic itineraries based on Banyan Tree's "8 Pillars" principle (Dietary Awareness; Physical Vitality; Cultivate the Mind; Sleep & Rest; Harmony with Nature; Learning & Development; Bonding & Connection; and Sustained Practices).
Guests to the Wellbeing Sanctuary are welcomed with a healthy organic juice, and are given the chance to consult and select their preferred schedule for the day ahead. Following their flight, many may opt for a relaxing oil massage, followed by a long hot soak in their tub with bath salts. Typically, a morning may begin with yoga and meditation, followed by a hearty but heart-friendly breakfast. But there's always time to just lie by one's own private pool and soak up the sunshine and the view. Very quickly, the pressures of daily life are forgotten.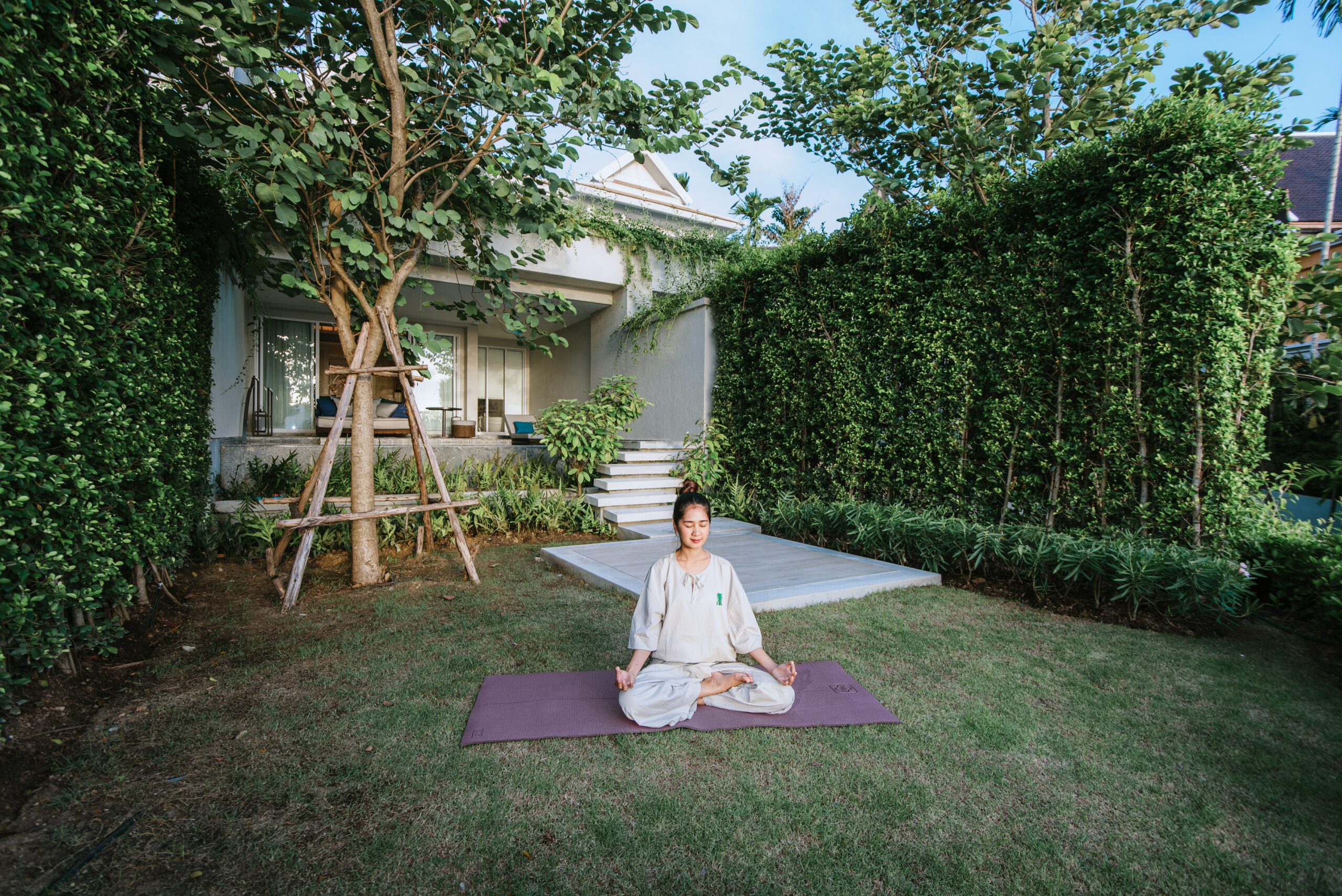 Good sleep is one of the Wellbeing Sanctuary's guiding principles. Upon returning to their villa after evening turndown service, a guest will discover a different sleep ritual recommended and set up, such as bath salts or a lemon & lime steam facial.
One of the highlights of any Banyan Tree visit is the spa, and nowhere more so than in Thailand where regular massage is considered a cornerstone of good health. The resorts have introduced four new massages specifically for patrons of the Wellbeing Sanctuary: Restorative Detox; Sleep Essentials; Mobility Stretch; and Urban Relief.
Krabi is among the newest destinations in Banyan Tree's quiver. The 72-key resort, which opened in October last year, is tiered into a hillside at serene Tubkaek Beach, a 40-minute drive from Krabi International Airport. It is surrounded on three sides by nature: a forested national park to the rear and far side, while overlooking one of Thailand's most iconic natural wonders: the famous towering limestone cliffs that jut out of the sea in Than Bok Khorani National Marine Park.
Having navigated successfully the challenges of constructing and opening a 5-star hotel during a global lockdown, Banyan Tree Krabi was rewarded for its efforts recently at the 2021 International Hotel & Property Awards in London where it won the Best Design prize for Asia-Pacific Hotel Under 200 Rooms.
Jointly designed by Architrave and Asset World Corporation (AWC), facilities at the hotel include two restaurants, a beach bar, a kids' club, a fitness center, a meeting center, an elevated outdoor wedding deck, and the aforementioned rainforest-themed spa.
Similarly, Banyan Tree Samui is nestled into a lush tropical hillside with spectacular views over a sapphire sea. The 38-acre property is rich in flora and plantlife, and its private white-sand cove is flanked by coral reefs, which the resort's Sustainability Team protects and regenerates.
Banyan Tree began rolling out its Wellbeing Sanctuary programs in March 2021, beginning in China, and is progressively launching at its resorts worldwide as each destination re-emerges from the pandemic.
Banyan Tree 'Wellbeing Sanctuary'
Banyan Tree 'Wellbeing Sanctuary'