7 Aug 2023 By AWAY IN STYLE
Be One of the First to Unfold Endless Possibilities Presented by Galaxy Z Series at Samsung Galaxy Z Series Summer Vibes
From August 4 to September 3, visit to explore flagship products led by the latest
Galaxy Z Fold5 and Z Flip5;
indulge in summer delight with versatile functionalities and innovations
Hong Kong – Samsung Electronics H.K. Company, Limited is excited to announce the launch of its Galaxy Z Series Summer Vibes Pop-up Store, which will showcase the latest flagship products, including the Galaxy Z Fold5 and Z Flip5, Watch6 Series and Tab S9 Series. During the period, the Central Samsung Experience Store will be transformed into a portal through which visitors can delve into a vibrant world full of Samsung innovations and creativity.
Wrapped in the signature colors of the new Galaxy Z Series and adorned with summer themed decor, including a fun-filled origami display in collaboration with Local creative paper artist duo Stickyline, the pop-up presents various interactive zones to fully showcase all the exciting offerings brought by the newly released line-up. The Galaxy Z Series Summer Vibes Pop-up Store invites guests to 'Join the flip side', and explore all facets of the unique lifestyle provided by the Galaxy ecosystem.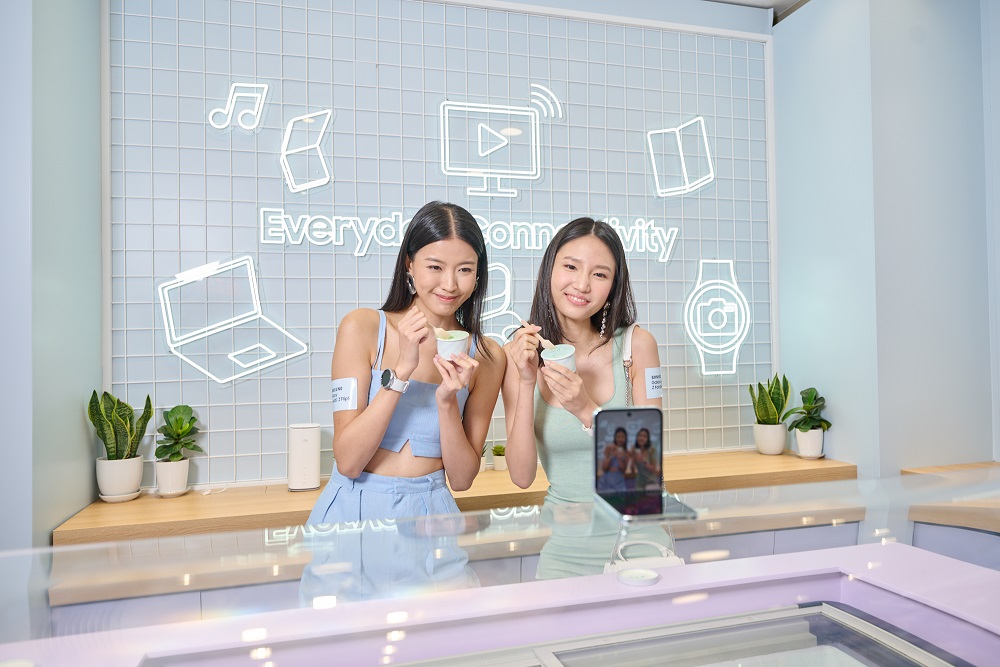 Samsung Galaxy Z Series Summer Vibes Pop-up Store
Date:
August 4 to September 3
Time:
10:00am – 8:00pm
Address:
Samsung Experience Store

Shop G3-G4, G/F, China Building, 29 Queen's Road Central
An Immersive Experience for All to Enjoy
From the summery colors of Icy Blue and Mint – the signature colors of the newly released Galaxy Z Fold5 and Z Flip5, to an ice cream cart which serves visitors joining the workshops ice cream flavors exclusively crafted for Samsung by local artisanal ice cream shop – Flippermint & Foldablue, the store is filled with captivating displays and happenings that invite visitors to capture creative content. The origami display created by local artists STICKYLINE with FSC certificated paper mainly, echoes Samsung's vision in sustainability, and will surely be another fascinating backdrop of many photos and videos. The creativity of Galaxy Z series and STICKYLINE will also extend to the digital world, with two Join the flip side AR filters designed exclusively for the series.
Be the first to Unfold the Endless Possibilities Presented by Samsung Innovations
Eagerly anticipated by many, the latest Galaxy Z Series will be available for all to experience at the pop-up store! Visitors will be able to try out Galaxy Z Fold5's multi-tasking and immersive entertainment functionalities, or Galaxy Z Flip5's extraordinary Flex Window that provides an enhanced camera experience and an even wider range of Widgets, all at once.
Try sending a text from your Flex Window, taking and previewing a selfie with your Galaxy Z Flip5 folded; utilizing hidden pop-up to watch a video in full screen and browse the internet at once, or admire how the new S Pen Fold Edition fits seamlessly into the Slim S Pen Case[1] on your Galaxy Z Fold5! Together with Galaxy Watch6 Series and Galaxy Tab S9 Series, visitors will be able to get a hands-on experience with exciting innovations and a comprehensive Galaxy ecosystem that will infuse creativity and flexibility to their day-to-day lives.
Join the Flip Side for Galaxy Z Series' Unrivaled Camera, Productivity and Customization
At our Best Selfie Corner, take your favorite shots of this summer! Unique AR filters designed by STICKYLINE and a selfie corner will allow visitors to try out the amazing selfie function on the Galaxy Z Flip5. While one filter incorporates fun elements STICKYLINE designed exclusively for Galaxy Z series, the other creates a Up-Side-Down effect, bringing forth innovative photo taking styles to inspire boundless creativity. The FlexCam on Samsung's foldables provides a hands-free experience from creative angles, where users can take high-quality selfies with the rear camera by showing a palm to activate the camera timer, preview and edit the color tone of the selfies on the large Flex Window.
Multi-task using the powerful Galaxy Z Fold5 and discover the Smart Side of the foldables! In this designated corner, visitors can experience hands-on gameplay while multitasking in the split-screen setting. With the largest Galaxy smartphone screen of 7.6-inch comes the most immersive gaming experience, especially with theSnapdragon® 8 Gen 2 Mobile Platform for Galaxy[2], which enhances graphics and uses AI to enable dynamic gaming and multi-game functionality. The Galaxy Z Fold5 is also equipped with an advanced cooling system that dissipates heat more intelligently for less lag and no drop in performance. Visitors will be able to get a glimpse of an effortlessly immersive entertainment experience.
Known to be a useful tool for self-expression, the Galaxy Z Series also comes with a wide array of phone case that enables personalization and customization, including a changeable NFC card that allows users to match their Flex Window design and case design for even more personalization options, which will also be displayed at the pop-up.
On-the-go Wellness Coach by Galaxy Watch6 Series
With its stylish designs and personalized health guidance, the Galaxy Watch6 Series is designed to help to inspire users' best self, day and night. From sleep and fitness coaching to nutritional insights, the new Galaxy Watch6 and Watch6 Classic can now help to collect even more health data and meaningful insights that can lead to positive changes. At the pop-up, visitors can not only try on the new one-click bands which enable users to easily customize their favorite watches, but also explore how these monitoring tools, particularly the in-depth Sleep Coaching, which enables users to put sleep insights into action with tailored instructions, tips, and reminders accessible on both their wrist and paired smartphone, can help enhance our wellbeing.
Turn Your Ideas Into Creations with the Galaxy Tab S9 Series and S Pen
Visitors can try creating masterpieces on the new Galaxy Tab S9 Series and the signature S Pen anytime, anywhere. Equipped with Dynamic AMOLED 2X displays and powered by Qualcomm Snapdragon® 8 Gen 2 for Galaxy[3], Galaxy Tab S9, S9+ and S9 Ultra present an epic viewing and entertainment experience for users. An enhanced Vision Booster and inclusion of fan-favorite app such as GoodNotes[4] make the series a perfect tool for creative portfolios. Collaborating with yet another local artist group, BRAINRENTAL, visitors can try creating their masterpieces and express their creativity through the S Pen.
Unfold Your Creativity This Summer with a Series of Workshops
Prepare to make the most out of your visit to our pop-up store by participating in our various workshops! From paper art to phone strap weaving, these happenings bring visitors on a creative journey with our flagship products. Register now at www.samsung.com/hk_en/register/galaxy-experience/ for endless summer fun!
'Join the flip side' Workshops at Galaxy Z Series Summer Vibes Pop-up Store[5]
Workshop
Date
Timeslot
Join the flip side: Exploring Samsung Galaxy Z Series

 

These product workshops will cover the functions and special features of the latest Galaxy Z Series.

 

August 11,16,23,25, September 1
16:00 – 16:45

 

August 24, 31
17:00 – 17:45
August 15, 17, 22, 29
17:00 – 17:45 or

18:00 – 18:45

The Galaxy Z Series x STICKYLINE– Paper Art Workshop

 

Participants will sketch and refine their designs on the latest Galaxy Z Series, and be introduced to basic paper crafting.  You will be able to explore your creativity and create impressive artwork!

August 23
18:00 – 19:00
September 1
18:00 – 19:00
BRAINRENTAL x Galaxy Z Series Illustration and Tote Bag Workshop

 

Create unique illustrations using the signature S Pen! Local artist BRAINRENTAL will be hosting this workshop and sharing his creative journey.

Participants can take amazing selfies using the new Galaxy Tab S9 Series and Galaxy Z Fold5, and insert elements created by BRAINRENTAL using S Pen. Visitors will also be able to witness their illustrations created with S Pen printed on a tote bag for them to take away.

August 18
18:00 – 19:00
Phone Strap Macramé Workshop

The workshop will provide participants with the opportunity to create their very own one-of-a-kind phone strap, learn the art of weaving and create a stunning accessory to take home and share with their loved ones.

August 11

 

18:00 – 19:00

 

August 20
15:00 – 16:00
Craft Your Own Phone Bling: Phone Bag Weaving Workshop

Learn to make your own one-of-the-kind mini phone bag which can fit your Samsung Galaxy Z Series! Participants will be able to learn the art of crochet and create a functional and fashionable accessory.

August 13
15:00 – 16:00
S Pen Fold Edition sold separately. Slim S Pen Case (S Pen Fold Edition included) sold separately. S Pen Fold Edition only compatible with Galaxy Z Fold 5, Galaxy Z Fold4 and Galaxy Z Fold3 5G.
2 AP performance improvements shown compared to previous generation processor. Actual performance will depend on user environment, pre-installed software and applications, and other conditions. Snapdragon is a product of Qualcomm Technologies, Inc. and/or its subsidiaries. Snapdragon is a trademark or registered trademark of Qualcomm Incorporated. Snapdragon® 8 Gen 2 Mobile Platform for Galaxy is optimized for Samsung. World's fastest Snapdragon claim true as of February 1, 2023.
3 Snapdragon is a trademark or registered trademark of Qualcomm incorporated. Snapdragon is a product of Qualcomm Technologies Inc. and/or its subsidiaries.
4 GoodNotes app requires separate download and comes with a 1-year free full version. Once the free full version period ends, an additional purchase is required for continuous use. The terms of service may vary by country and region.
5 Workshop details are subject to changes, please refer to www.samsung.com/hk_en/register/galaxy-experience/ for updates.
* All specifications and descriptions provided herein may be different from the actual specifications and descriptions of the product. Samsung reserves the right to make changes to this page and the contents herein, including without limitation, functionality, features, specifications, GUI, images, videos, benefits, design, pricing, components, performance, availability, capabilities, and any other product information, without notice.
For more product information, please visit https://www.samsung.com/hk_en/ or contact Samsung's Customer Service Hotline at (852) 3698 4698.