Belkin Introduces Next Generation Of Connectivity
CONNECT Pro Thunderbolt 4 Dock and Thunderbolt 4 Cable
Featuring reliable connections with speed and ease via Thunderbolt 4
Belkin, the connected things division within the Belkin International and Foxconn Interconnect Technology (FIT) (HK: 6088) entity, today unveils its latest lineup of connectivity solutions built with Thunderbolt 4. The CONNECT Pro Thunderbolt 4 Dock and Thunderbolt 4 cable leverage Thunderbolt 4 technology to enable dual display support for video resolutions up to 4K at 60Hz, data transfer speeds of up to 40 Gbps, Power Delivery for fast charging, and so much more.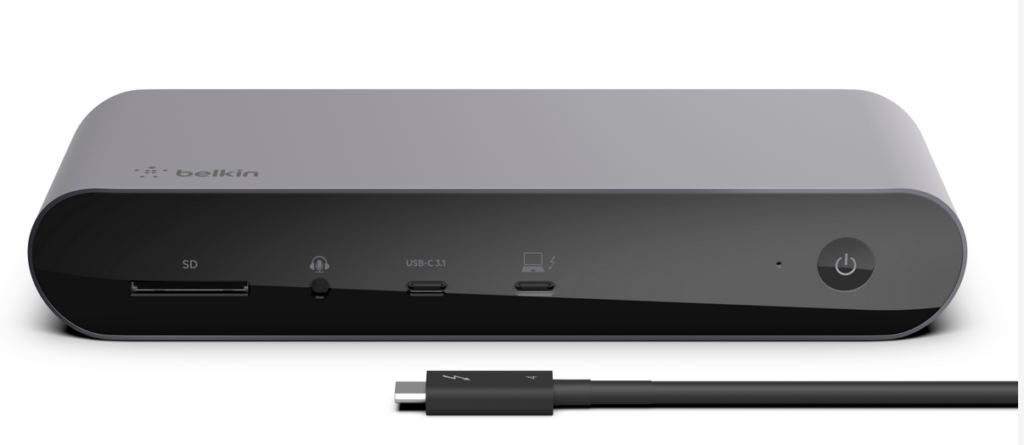 Thunderbolt 4, the latest Thunderbolt technology from Intel, offers a host of features to improve current workstation or gaming setups, provide high bandwidth for connecting high-speed devices, help ensure quality connection between devices and accessories, and make it easy to charge, transfer data and transfer video signals through a single port. Thunderbolt 4 offers flexibility, bandwidth and versatile connectivity to make connecting devices easier without all the extra cables.
CONNECT Pro Thunderbolt 4 Dock
The CONNECT Pro Thunderbolt 4 Dock is a full-featured docking station allowing users to connect their Mac and Windows computers to multiple devices and accessories for data, video, ethernet, and power all through a single cable connection.
Packed with the latest Power Delivery 3.0 technology, the docking station provides up to 90W of power to efficiently charge connected devices simultaneously, and offers up to 4K video resolutions for dual displays and up to 8K video resolutions for a single display. It also supports triple monitor displays on select laptop models. Included Thunderbolt 4 cable is backward compatible with Thunderbolt 3, USB-C, and USB4.