9 Feb 2022 By AWAY IN STYLE
Berluti 煥新詮釋 SIGNATURE Canvas 系列,推出人字壓紋材質
Berluti presents its new interpretation of
the SIGNATURE Canvas, featuring the Chevron motif
Putting an estival spin on the original SIGNATURE Canvas, the Chevron motif revisits the trademark Berluti 1895 crest surrounded by Scritto strokes, this time in a pale blue tone over a denim-like steel blue background complete with a chevron motif, a men's wardrobe classic.
Printed on a coated cotton canvas fabric that resists everyday use, the motif is featured on a selection of emblematic Odyssee line accessories. Modern yet timeless, functional and versatile, these pieces are inspired from the travel and are rich in details, such as Venezia leather trimmings – patinated in Cacao Intenso, Berluti's newest shade of rich, warm brown -, and bootmaker studs. A summery beige lining places the focus on natural fabrics by blending linen and cotton for a soft, luxurious touch.
SIGNATURE Canvas pieces featuring the Chevron pattern include Berluti's most iconic bags and small leather goods, such as the Ulysse PM tote, the Miles PM messenger, the Nino GM clutch, the Toujours Gulliver cross body bag and the Itauba wallet.
Plus a new weekender, the Viaggio: a roomy, multi-carry bag featuring at its base a separate shoe compartment – to fit one pair of shoes – made in Venezia leather; as well as Venezia handles and a removable and adjustable Venezia shoulder strap.
The Chevron version of the SIGNATURE Canvas pieces are now available are now available in Berluti stores and on berluti.com.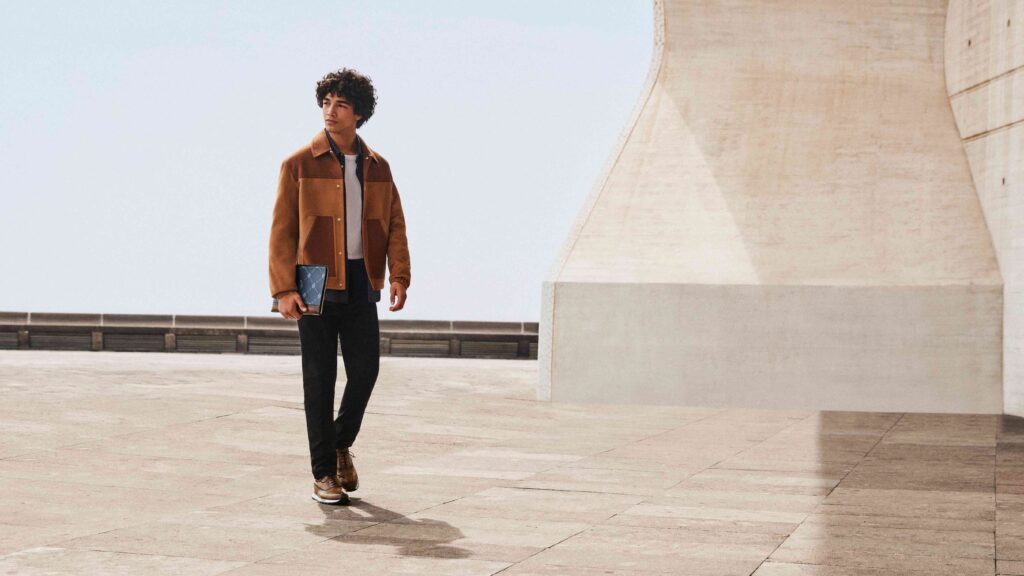 2022 春季系列中,Berluti 經典的 SIGNATURE Canvas 迎來季節新款。
人字壓紋材質為原有的 SIGNATURE Canvas 系列帶來一抹夏日之彩,和標誌性的 Berluti 1895 徽 章再度融合,與詩意的 Scritto 花紋相映成趣。此次以淡藍色花紋襯以類似丹寧材質的鐵青色 底色,呈現人字壓紋質感,為紳士的衣櫥打造又一經典。
該系列甄選典藏的 Odyssee 旅行系列單品,採用塗層帆布面料,為紳士日常商旅量身打造,功 能卓越,摩登而不失經典。其設計靈感源自漫漫旅程,並富於細節,例如 Venezia 皮革收邊裝 飾,選用 Patina 古法染色的全新色調 —— 可可棕(Cacao Intenso),溫潤而濃郁。米色襯裡將 亞麻與棉混紡,呈現柔軟與奢華的質感,平添夏日雅趣。
Chevron 人字壓紋 SIGNATURE Canvas 系列涵蓋了 Berluti 最經典的包袋及小皮具,如 Ulysse PM 托特包、Miles PM 郵差包、Nino GM 手提包、Toujours 迷你斜挎包和 Itauba 銀包等。
此外,作為周末出行必備,全新推出的 Viaggio 旅行袋兼具外觀與實用。其底部配備一個單獨 的可容納一雙鞋的隔層,由 Venezia 皮革製成;此外,Venezia 皮革手柄以及可拆卸、可調節 的肩帶亦是點睛之筆。
Berluti 人字壓紋 SIGNATURE Canvas 系列,已於已於 Berluti 各大精品店及 berluti.com 發售。