Bhutan opens largest-ever overseas art exhibition
Bhutan's Department of Tourism (DoT) has announced that Bhutan has inaugurated its largest-ever overseas art exhibition in Brussels, Belgium. The exhibition, organized VAST Bhutan (Voluntary Artists Studio of Thimphu) in partnership with the Royal Bhutanese Embassy in Brussels and the Belfius Bank, has the theme of "Healing With Happiness." This is the largest overseas exhibition of Bhutanese artworks to date and has been put together by 68 Artists from Bhutan.  
The exhibition is open for public viewing at the Belfius Bank, Rue de La Loi 82, 1040 Brussels (0900 – 1700 hrs, Monday – Friday) until the end of March 2023.  
The Royal Bhutanese Embassy (RBE) in Belgium has scheduled several curated exhibition events, mainly at the Belfius Bank and at the Ambassador's Residence, to enable deeper engagement with the exhibition team, artists, patrons and collectors and to gain insights into the artworks. 
The Exhibition Director, Chimi Zangmo said that the efforts made by RBE Brussels in organizing several events shows the commitment to build ecosystems and empower Bhutanese talents, as the country proceeds to an era of Bhutan thriving on innovation, creativity, and high value, in line with its recently launched new tourism strategy.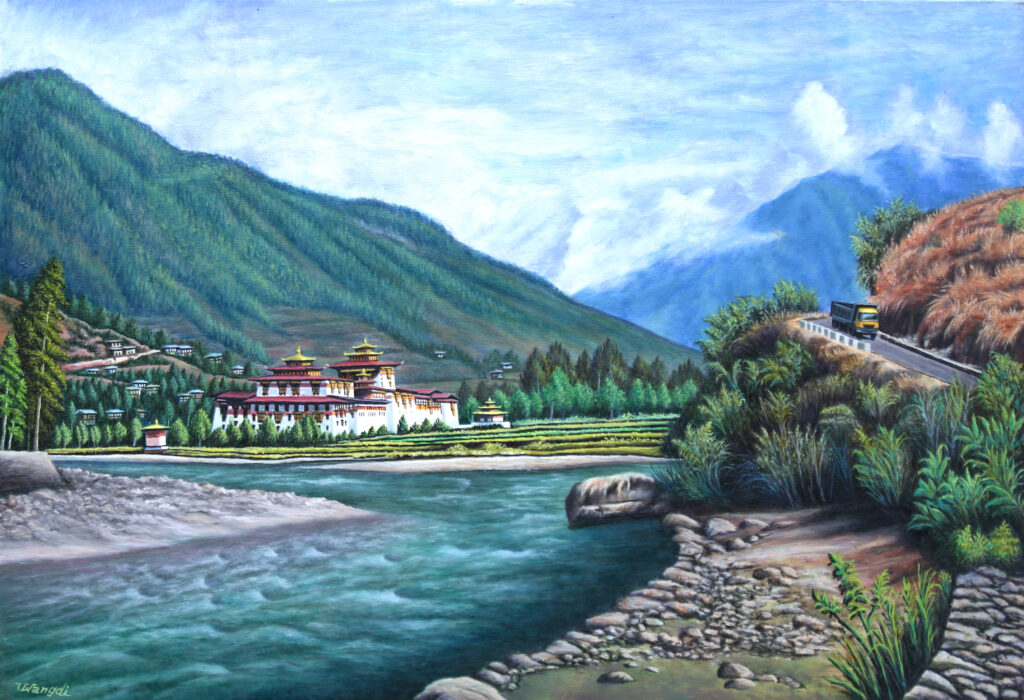 The VAST Bhutan exhibition team expressed their profound gratitude to Their Majesties for Their constant guidance and support for Bhutan's art and artists in general, and for the invaluable support granted for this exhibition in particular. The team also thanked the Ministry of Foreign Affairs and the RBE Brussels team for the support rendered in executing the exhibition in Brussels, as well as to the Loden Foundation, Bhutan Foundation and many private individuals for their gracious support.   
The opening Reception on 5 October was attended by members of the diplomatic corps and international organizations in Brussels, and officials from the Federal Government Agencies of Belgium and the European Union. A special reception was held on October 13, 2022, which will be attended by friends of Bhutan and supporters of VAST Bhutan.   
The exhibition follows the launch of Bhutan's new national brand, which was unveiled to celebrate the reopening of the country to tourism on September 23, 2022.  'Brand Bhutan' aims to capture the optimism and renewed ambition of the kingdom as it opens its doors to guests once again, as well as communicating its promise and plans for its young citizens.  Bhutan's new tagline, Believe, reflects this determined focus on the future, as well as the transformative journeys experienced by its guests. 
The Exhibition team for "Healing for Happiness" invites all Bhutanese, friends of Bhutan, art lovers and those interested in Bhutan or simply healing art, to visit the exhibition, and to spread the word.