BMF Adopts a New Positioning Tagline and Launches an Exclusive Face and Body Treatment that Exemplifies the Beauty of Non-invasive Aesthetics
BMF (Bella Marie France), a pioneer in the Hong Kong beauty industry that embraces the expertise of two renowned names with a combined total of more than 70 years of experience in helping clients achieve their best face and body image, strides into the future armed with a new tagline, "The Aesthetics People".
To celebrate this confident repositioning in the market, BMF Hong Kong exclusively launches CFU Ultima, a new non-invasive treatment for the face and body that uses ultrasound energy to target problem areas, including wrinkles, double chin, saggy jowls and excess fat around the stomach and lower flank (the love handles).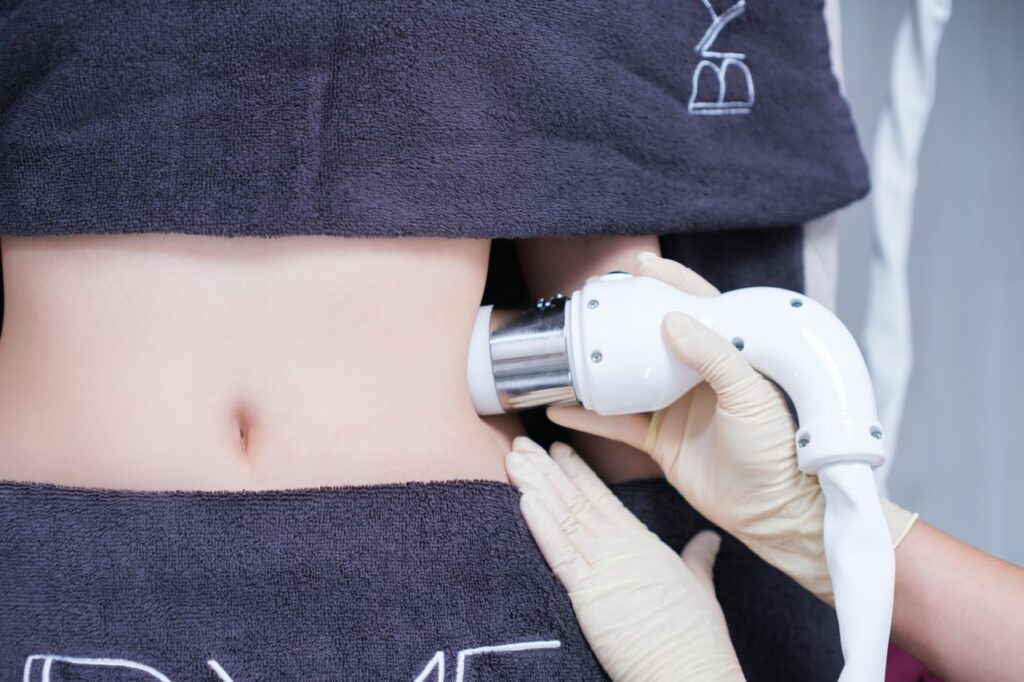 CFU Ultima – The New Face and Body Treatment Exclusive to BMF 
The first treatment launched under the new positioning tagline of BMF is the non-invasive CFU Ultima. Hailing from Italy, this highly advanced and age-defying treatment for the face and body represents a phenomenal breakthrough in beauty technology. It not only utilises the power of ultrasound energy but also adopts an innovative application method that provides an increased level of precision, comfort and speed, without any downtime or damage to the skin. This translates to faster results over fewer sessions, saving time and money. 
CFU Ultima works its non-invasive magic in 4 key ways. The selective thermal effect of its unique centreless transducer allows for more targeted emission of ultrasound energy, thus enhancing performance without damaging the skin. The surface area of skin exposed to the ultrasound energy is smaller, resulting in less discomfort.
Two applications, EasyZoom and EasyFlow, boost the effectiveness and efficiency of the treatment. With EasyZoom, CFU Ultima can be personalised with the most suitable transducer to reach the appropriate depth, power and mode of ultrasound emission to achieve the desired targeted results. Treatment time and discomfort, meanwhile, are drastically reduced by using the EasyFlow application, a rapid ultrasound energy emission that speeds up the procedure considerably.
In addition, through the wonders of Active Cooling Emission (ACE) technology, cooling fluid is circulated within the handpiece to guarantee its safety and efficiency. This also prevents thermal damage to the skin, ensuring the safety of the procedure.
In celebration of the launch, BMF introduces CFU Ultima For The Face at a special trial price starting from HK$988. The non-invasive cutting-edge treatment targets droopy eyelids, chubby or saggy cheeks, enlarged pores, wrinkles and smile lines, double chinand saggy jowls and neck.
The treatment utilises the power of ultrasound energy that is delivered deep into the skin at the correct temperature. This stimulates collagen production to firm, rejuvenate and plump up skin and lift sagging for the coveted V-shaped face. At the same time, it reduces the appearance of fine lines and wrinkles for smooth and youthful skin, and improves acne scars for a clearer complexion. Results are long-lasting and there is zero downtime with minimal discomfort. 
CFU Ultima For The Body (trial price from HK$988) targets the upper arms, bra line, tummy, hips, inner and outer thighs as well as calves. This body treatment programme stimulates collagen production to firm and sculpt, and reduces localised fat under the skin. Body contours become more shapely and defined as butterfly arms, love handles and stubborn fat bulges disappear. As with the facial treatment, clients can expect long-lasting results, no downtime and minimal discomfort.
Home Help – New Salon-Grade Products Formulated by BMF 
Designed to complement the CFU Ultima treatments, two new products for the face are available for home use. They are painstakingly formulated by the BMF team and made in the Netherlands.
Intense Age-Defying Serum (HK$1,350/15ml) is a phenomenal age defence formula enriched with collagen, elastin and hyaluronic acid. It works to even out skin tone and plump up the skin, reducing the appearance of wrinkles for a brighter and smoother complexion.
Application is simple: dispense 8 drops onto the palm and spread evenly over the face in a clockwise direction with the fingertips, starting from the forehead, then pat gently until fully absorbed.
Intense Age-Defying Cream (HK$1,050/15g) is a fast-absorbing velvety cream infused with anti-ageing and anti-inflammatory active ingredients for advanced environmental protection. This plethora of high-performance herbs and botanicals keeps the skin soft, supple and radiant for a more youthful appearance.
For dry skin, it is most effective when applied in the morning and before bedtime, while oily skin will benefit from just one application at night. To use, dispense a pea-sized amount onto the palm and pat gently into the skin until fully absorbed.
For ultimate post-treatment results, BMF's professional team recommends 22 Booster Oil (HK$1,200/15ml) and Elixir Platinum Serum (HK$1,200/15ml; HK$2,000/30ml) for regular usage. Both are made in the US and formulated by BMF specialists.
Enriched with botanically-sourced lipids, 22 Booster Oil helps improve skin barrier recovery and enhance elasticity and firmness when applied to the face and neck regularly. Elixir Platinum Serum transcends all expectations of age-defying serums with an efficacious blend of 4 key proprietary active ingredients – TetraPlatinum PNCTM, SynapLex X50TM, OsmoFence IBTTM and Sytenol A – which promote skin-cell recognition and deliver nutrients to where the skin needs them most.
For more information, please visit www.bmf.com.hk/en/, or Whatsapp (852) 9706-1528, call (852) 2248-6367 or email info@bmf.com.hk.
Like and connect with BMF Hong Kong:
Facebook: www.facebook.com/bellamariefrancehk/
Instagram: www.instagram.com/bmfhongkong/
Official Hashtags: #BMFHK #CFUUltimaHK
BMF Hong Kong's Opening Hours – All Branches:
Monday to Friday – 10am to 8pm
Saturday – 10am to 6pm
Sunday and Public Holidays – 11am to 6pm