3 Apr 2022 By Betty Chung
BRUNELLO CUCINELLI WOMEN'S EARTHY COLLECTION SPRING SUMMER 2022
REVOLUTIONARY CLASSICS WOMEN'S COLLECTION SPRING SUMMER 2022
Born out of a mood full of confidence and new stimuli, the collection gives shape to a positive spirit that irradiates joy, energy and vitality. The desire to dress well comes back to life through the pleasure of carefree and breezy touches, stepping away from the idea of "only the strictly necessary".
The fluid, eclectic and versatile aesthetic distinctive to the Brunello Cucinelli brand crosses with glamourous influences, giving an energizing shock to a refined balance
between elegance and self-assured ease.
COLOURS
The dynamic collection immediately makes its mark through bright and saturated tones of colour that represent messengers of freedom and movement. Vibrant reds, mineral yellows and bamboo green spread vivid and energetic sensations, easily harmonizing with the wide range of timeless neutrals, from the lightest beiges and the most serene blues up to the metropolitan taste of the greys.
An intense vitality translates above all into a more daring way of experiencing colour, concentrated on important and precious elements in direct reference to the couture world. Monochromatic looks, dresses and outerwear, leather down jackets and matching sets bring colour to the forefront, spreading good vibes through an elegant and feminine style.
OVERVIEW
The craftsmanship, luxurious materials and vibrant colours are all at the service of natural appeal, the true focus point around which the style of the collection revolves, from daily styling down to the smallest detail. The balance between tradition and innovation comes from picking out the most refined characteristics of couture style and reinterpreting them in an informal and relaxed manner, blurring the boundaries between daywear and eveningwear.
Informal elements are brought together with a luxurious character in a new, reassuring balance, where active world comfort influences sophisticated and urban style. Tennis-inspired two-tone collars add sporty references to some of the most treasurable garments. Deconstructed matching sets in poplin or in very light suede inherit the taste of informal tailoring and unite it with an optimistic,
free and joyful spirit.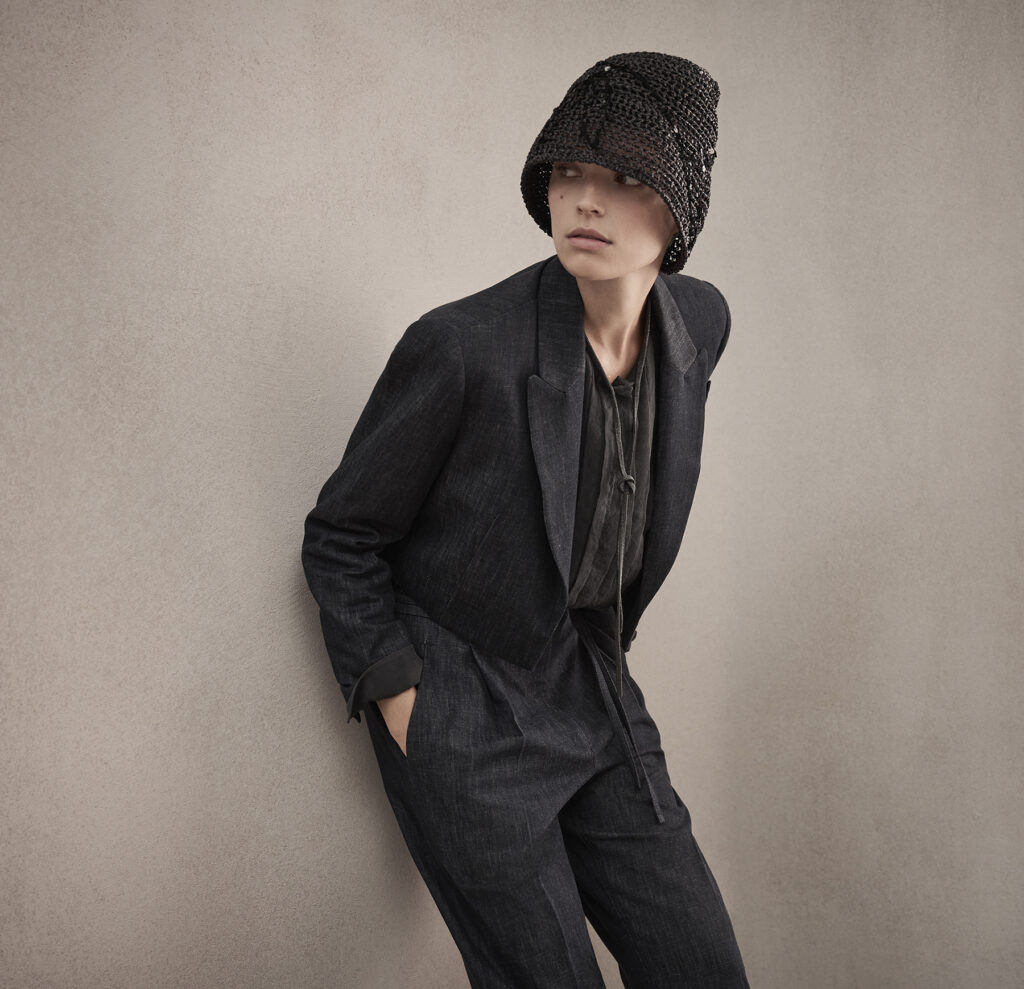 THEMES AND MATERIALS
Meshwork shakes off sporty connotations thanks to high workmanship and innovative crafting techniques. Perforated lamé leathers and lightweight poplins, feminine knitwear featuring wide, open stitches and tricot-style embroidery paired with noble and rustic materials alike – each refined variation spreads sensations of freedom, lightness and ease throughout looks and accessories.
The spontaneous appeal of denim runs through the entire collection, with new variations of blue or grey, lamé effects or a special, iconic detail that recalls western-style pockets in a sparkling variant, featuring in dresses and outerwear, on suedes and coloured silks.
The collection presents two main patterns, expressions of opposing worlds revisited in harmony with the brand's style canons. The geometric lines of Argyle, drawn from the universe of sport and men's clubs, are reinterpreted with tactile aspects, in feminine crochet and with luminous surfaces. Thanks to ethereal embroidery, jacquard fabrics and three-dimensional effects, animalier patterns take on a delicate and unusual tone-on-tone appearance that is enhanced by rustic yarns and very soft, bonded nappa leathers.
KNITWEAR
In knitwear, the season's patterns take on a special allure. The geometric Argyle pattern is enriched by special textures, jacquard weaves and openwork, which introduces mesh effects, and again by shiny embroidery and fluid feathers. Moreover, patterns created entirely in crochet take on the look of precious and natural couture wear.
Rustic and cordonetto yarns, noble natural fibers and modern materials are maximized by wide stitches and ultra-sparkly decorations. Intarsia sweaters bring malfilé yarns, three-dimensional surfaces and luminous interventions into play in order to revisit animalier prints with a natural and relaxed approach. Monili decorations and designs ennoble elements from the world of sports to bring about versatile and refined everyday wear.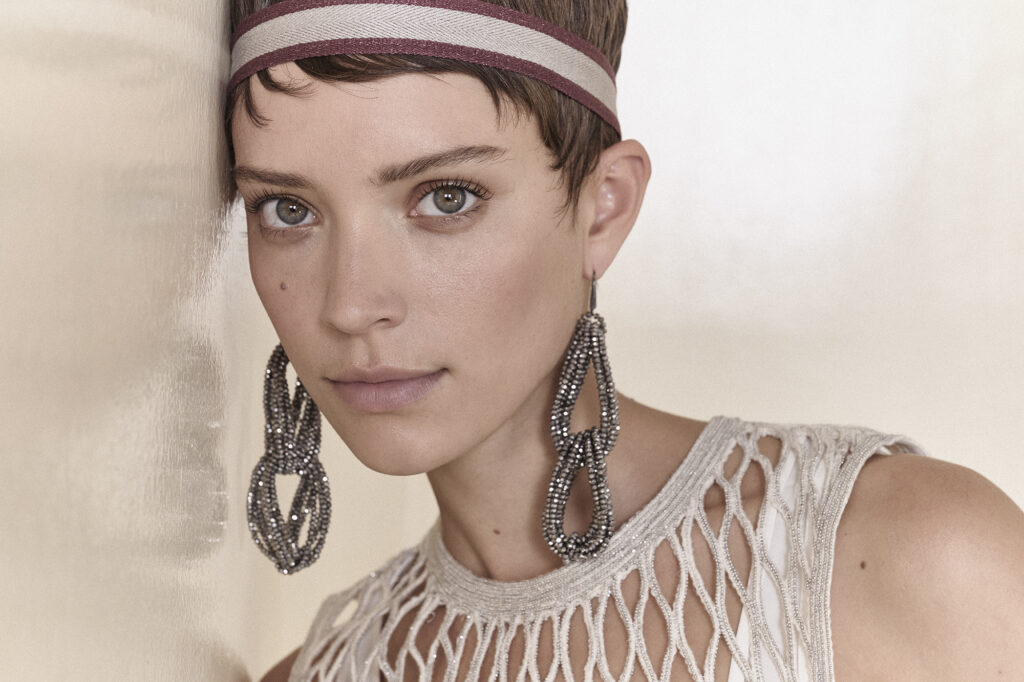 TROUSERS AND SKIRTS
Colours and precious texture enhance dynamic and breezy shapes: carefully blended ingredients that translate into "informal couture", a concept that infuses comfort and practicality into precious elements. Attention to the smallest details gives way to feelings of harmony and elegance, elevating the streetwear and sportswear influences to create refined and essential outfits.
The minimal, soft and relaxed shapes of trousers are enhanced by the special mercerized fabrics. Pleats, suspenders and patterns from elegant menswear strike a balance with a feminine attitude, fluid lines, an emphasis on the waistline and dazzling trimmings. Utility details and cargo pockets are valorized through prestige fabrics, leather details and contrast embroidery. Denim, in very light washes or no-fade versions, takes on sophisticated volumes.
Versatile and feminine textures and silhouettes elevate the style of the skirts, which are capable of passing from daywear to eveningwear with ease. Special embroidered patterns on the ethereal surfaces of the most sophisticated styles alternate with attention-seeking colour, exalted by the transparency of organza, toned down by summery sarong-like shapes, or enhanced by special cotton fabrics that brighten up the shades.
ACCESSORIES
Colour also takes on an important role in accessories, where soft suedes, supple calfskin and precious nappa leathers express the idea of total colour that is both minimal and sophisticated at the same time. Bonded surfaces enrich animalier prints with a three-dimensional and refined effect, combining natural inspirations and the Brunello Cucinelli aesthetic.
In footwear, blocks of colour are enhanced by manual workmanship and touches of light. Lightweight net gives a dynamic note to espadrilles whilst dense, handmade braiding gives unusual and sophisticated appeal to summer clogs and mules.
Bags are developed in new, soft and functional forms or are increased in size to become important touches of colour in the creation of the season's looks. Meshwork gives lightness and softness to voluminous forms or transforms bags into luxurious jewel accessories. Entirely hand-woven elements, inspired by wicker or Argyle, confer discreet luxury to shopper and bucket bags.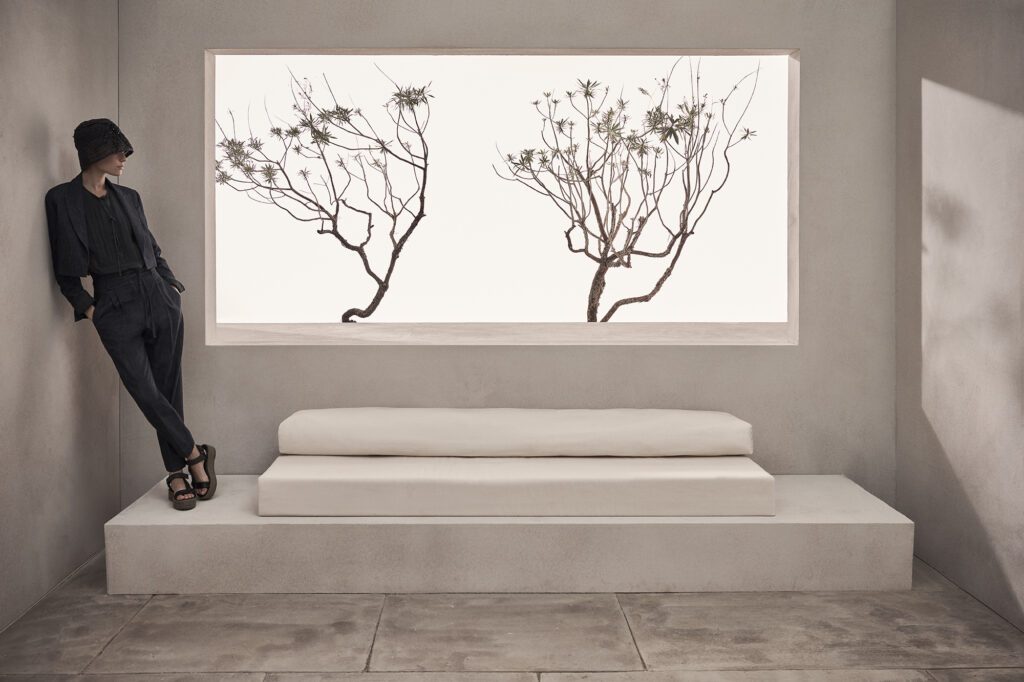 演繹經典之變革 2022 春夏女裝系列
帶著對生活的信心,本季女裝系列帶來全新衝擊,塑造積極向上的精神面貌,洋溢活力、神采 和生機。2022 春夏女裝系列融入輕快、自在之感,超脫"基礎必備"的邏輯, 重拾優雅穿著的樂趣。
流暢、多元且兼收並蓄的美感為 Brunello Cucinelli 所特有,本季女裝更添魅力元素, 在優雅和從容之間,蓬勃的張力躍然而出。
色彩
本季女裝擁有鮮明的色彩特徵——彰顯自由與活力的明豔飽和色調。動感紅、礦物黃和翠竹綠
  生動跳脫,另有淺米色、淡藍色、都市灰等廣泛多樣的經典中性色有效將前者柔化。

 生動張揚的色彩為穿搭畫上濃烈的一筆,活躍在扮演重要角色的關鍵單品上。從單色搭配、
     連衣裙到外套,再從真皮羽絨服到套裝,各自的色彩都是最好的名片,
             結合考究柔美的氣質散播好心情。

概覽
精湛的手工技藝、奢華的面料以及明豔的色彩相互融合,碰撞出本系列的真正亮點——源于自
    然的氣場。從細微之處到整體造型,傳統與創新共同挑選最考究的時尚特質,
      再以輕鬆隨性的方式重新演繹,逐漸淡化日裝與晚裝之間的界限。

休閒元素與奢華格調交融在一起,營造出全新的沉穩氣息。運動裝特有的舒適感與精緻優雅的
都市元素在這裡無縫融合。雙色衣領的設計靈感源於網球服,為華貴雅致的服裝賦予動感。解
   構式套裝採用府綢面料或超輕小山羊皮,傳承休閒剪裁風格的同時注入積極向上、
                 自由快樂的氣息。



主題與面料
憑藉精湛的做工和創新的技術,網眼面料不再僅是運動風格的代名詞。無論是鏤空鍍膜皮還是
     輕盈的府綢面料、柔美的粗針腳針織衫還是不同質感的經編風格刺繡,
         不同的變化方式均散發著自由、輕盈和隨性的氣息。

  丹甯的自在氣質以藍色調和灰色調為基礎演繹不同風采。除呈現獨特的鍍膜工藝外,
      也作為西部牛仔風的裝飾出現在裙裝、外套、皮衣和彩色真絲上。

本系列主要呈現兩種來自不同場景的圖案,並與品牌的經典風格相融合。多色菱形圖案常見於
體育運動和男士俱樂部中,通過體現女性柔美的鉤針元素和亮片豐富觸感。而豹紋圖案則通過
      輕盈刺繡、立體效果和提花面料的運用營造出別致的同色系美感,
        再加上質樸的紗線和柔軟的納帕皮拼貼,更顯獨特魅力。

針織服裝
針織服裝的圖案為本系列錦上添花。幾何菱形圖案與獨特觸感相結合,提花織物的跳針打造網
        眼效果,閃耀的刺繡細節和柔順的羽毛畫龍點睛。此外,
      採用純手工編織的鉤針單品將圖案美感提升至渾然天成的卓越境界。

質樸的合股線、華貴的天然纖維以及現代面料搭配以粗針腳和閃耀的裝飾元素,散發極致魅 力。嵌花毛衣採用粗細不一的 malfilé紗線,立體效果和反光元素生動演繹豹紋圖案, 仿佛回歸自然。Monili 裝飾取材體育元素,同時令日常著裝更加多元、精緻。
褲裝和裙裝
獨特的色彩和紋理與動態從容的線條相得益彰,共同呈現"非正式時裝"的魅力,將舒適性、
實用性與精湛工藝相結合。得益於對細節的極致關注,街頭和運動裝的元素化身為精緻而不失
            簡約的形式,散發著和諧、優雅的風情。

在絲光面料的加持下,長褲外形更加簡約、柔軟和垂順。取材於男裝的褶襇、背帶和圖案與女
 裝特有的剪裁、腰線細節以及閃耀裝飾完美平衡。服裝中的實用元素和工裝口袋飾以華貴面
  料、皮革細節和對比鮮明的刺繡。丹寧分為淺色水洗版本和不褪色版本,優雅而別致。

靈動柔媚的紋理和輪廓讓裙裝自成一格,既可作為日裝,也可作為晚裝穿著。或採用仙氣十足
的面料飾以獨特的刺繡圖案,或突出整體色塊,或用透明的歐根紗結合夏日風情的紗籠版型,
           抑或採用絲光棉提亮色調,總能恰到好處。


配飾
色彩在配飾中也扮演著重要的角色,柔軟的小山羊皮、柔滑的小牛皮和奢華的納帕皮彰顯簡約 而不失華貴的設計理念。豹紋圖案的拼貼打造立體效果,
將自然靈感與 Brunello Cucinelli 美學完美融合。
 手工加工的鞋履系列光可鑒人,令色塊元素更顯迷人。輕質網布為麻底鞋帶來動感氣息,
    而純手工編織工藝則為夏季木底鞋和穆勒鞋平添了一絲不同尋常的優雅魅力。

全新手袋系列擁有柔軟實用的造型,部分款式以亮眼的色塊點睛整套穿搭。網眼元素令大容量
     手袋更顯輕盈柔軟,抑或令手包等款式搖身一變為珠寶般的奢華配飾。
    柳條風格或菱形圖案的純手工編織元素賦予購物袋和水桶包低調的奢華氣質。