9 Sep 2022 By AWAY IN STYLE
Butter Cake Shop Opens A Brand-new Cake Diner at K11 MUSEA
Hot off the press and out of the oven, Hong Kong's favorite cake shop Butter crosses the harbor to set up its brick and mortar shop at K11 MUSEA this September.
Having warmed the hearts and satisfied sweet tooths all over Hong Kong, Butter's nostalgic, diner-inspired sweet treats find a new home on the first floor of K11 MUSEA. Nine of Butter's most popular cakes and pies will be available by the slice seven days a week, including America's most iconic dessert Apple Pie (HK$90/slice). Just like grandma used to make, this recipe comes straight from Chef Karys Logue's memories of home, where Gala apples are lightly cooked in brown sugar, cinnamon and lemon before being baked into an all-butter (no shortening, of course) pie crust, this lattice-topped delight has salted caramel piped in between the weave of the crust.
In addition to Butter's greatest hits, is a line-up of three exclusives for K11 MUSEA ready to make their debut, including the new Lil' Checkerboard Cake (HK$600). Underneath a creamy layer of buttercream frosting and chocolate crumb topping is a whimsical surprise – a bold checkerboard pattern made by alternating layers of rich chocolate cake and fluffy vanilla cream cake. This K11 MUSEA exclusive is only available as a 6-inch whole, with limited whole cakes in-shop daily.
Stepping out onto the Butter stage exclusively at K11 MUSEA alongside Lil' Checkerboard Cake is the brand-new bite-sized Itty-Bitty Banana Cream Pie (HK$80). Scoot on over cherry, key lime and chocolate, it is finally time for Banana Cream pie to shine, these solo-sweet treats are the perfect way to not feel guilty about not sharing because its luscious banana pudding, salted caramel mascarpone whipped cream and crumbly graham cracker crust are the perfect serving size for one (two if you're feeling extra cozy). And last but not least, grab a Kitchen Sink Bar (HK$50) to go, these individual sized cookie bars are loaded with shredded coconut, peanuts, pretzels, caramel sauce and more – it's everything but the kitchen sink! K11 MUSEA marks the first time that Butter will have limited seating in-store for guests to dine and enjoy their sweet slices against an All American diner-style backdrop.
Chef Karys Logue has been at the forefront of Butter's evolution from a baked-to-order virtual shop, to a bakery on Staunton Street and a pop-up in Central's shopping mecca. Butter stemmed from Founder Christopher Mark's memories of spending his childhood in neighborhood diners of the 80s, sunk comfortably in a booth where the waitresses called you darlin', and the home-made desserts were comforting, delicious and unfussy. These are the same ethos that direct Chef Karys in everything she dreams up at Butter – classic American baking techniques, executed with a lot of love, and butter, of course.
To launch, the pop-up will offer three pies by the slice (Apple, Cherry, and Lemon Meringue, all $90 per slice), five cakes by the slice (Triple Chocolate, Carrot, New York Cheesecake, Red Velvet, and Pineapple Upside-down, all $100 per slice), Itty-Bitty Banana Cream Pies ($80 per pie), Kitchen Sink Bar ($50) and Lil' Checkerboard Cake (6-inch, $600 whole). Beat the heat with a tall glass of house-made Rosie's Root Beer, Sweet Darlin' Strawberry Limeade ($50 each), or indulge in a Rockin' Root Beer Float ($70).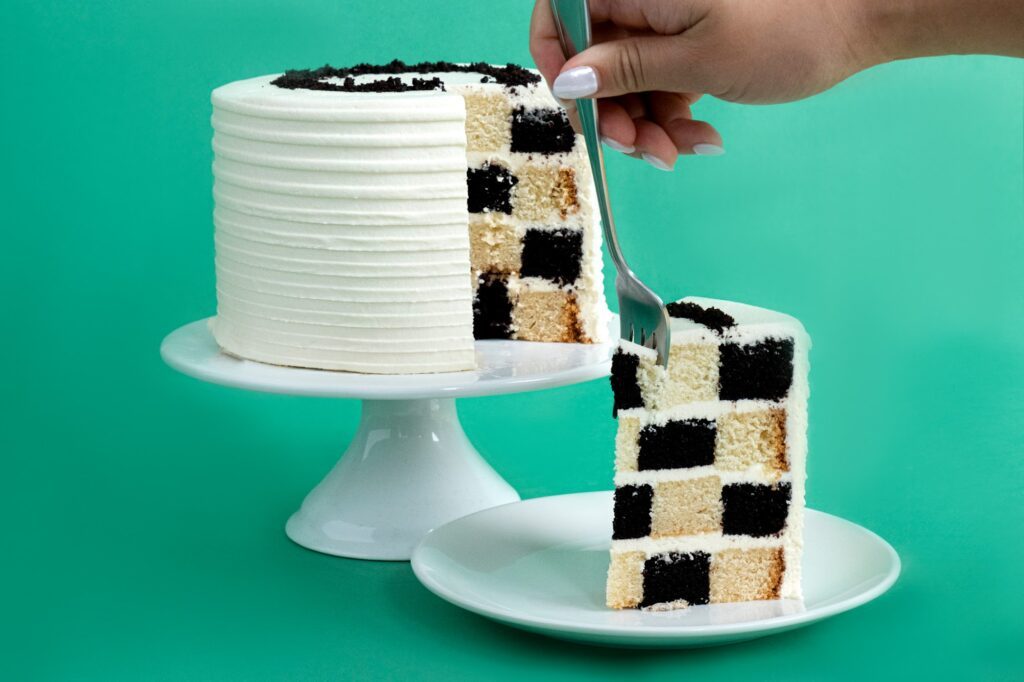 Lil' Checkerboard Cake can be pre-ordered 48 hours in-advance at the pop-up store.
Butter K11 MUSEA is open seven days a week.
BUTTER CAKE SHOP K11 MUSEA
Website: butterbutterbutter.hk
Social:@buttercakeshophk
Email: info@butterbutterbutter.com.hk
Address: K11 MUSEA Cake Shop: Kiosk LA106, Level 1, K11 MUSEA, Tsim Sha Tsui
Opening hours: Daily, 11am – 8pm
BUTTER CAKE SHOP STAUNTON STREET
Website: butterbutterbutter.hk
Social: @buttercakeshophk
Email: info@butterbutterbutter.com.hk
Address: Staunton Street Cake Shop: 34b Staunton Street, Central