14 Oct 2021 By AWAY IN STYLE
Candour celebrates Halloween with two themed nights
Hong Kong's newest bar and lounge, Candour, enters the nightlife scene with full steam, with two themed Halloween nights planned for the end of the month to celebrate one of the city's favorite holidays. Boo-Tang Clan will take place on Friday, 29 October and Cirque du Freak on Saturday, 30 October, where a high turn-out of curious party-goers is to be expected across both nights, keen to see what the new spot on Peel Street has to offer.
With doors opening from 10:00pm for both of Candour's Halloween events, those who wish to fuel up on some satisfying familiar favorites from its hearty food menu and experience the venue's bespoke hip-hop-inspired cocktail program, can do so during dinner time from 6pm to 10pm prior to the events. Diners on the night can also choose to join the respective Candour Halloween party by buying an add-on ticket for HK$488 that grants them access past 10:00pm, when ticket-holders and spontaneous revellers for both events will begin to arrive.
Friday night's event is named Boo-Tang Clan, after one of the most influential hip-hop groups, Wu-Tang Clan, but with a semantic twist appropriate for the occasion. The reference to a classic hip-hop group sets the scene and expectations of the night, with DJ Patrice Escalante—who's no stranger to the scene—to keep the party going until late, spinning live old-school hip-hop jams all night long. On Saturday, the night takes literal twists and turns as Candour transforms itself into a circus, with Cirque du Freak as the theme for the evening. With DJ Patrice Escalante back on the decks for another night to play an eclectic mix of hip-hop, a thrilling journey into both the weird and wacky and the new and certified hits of the genre is to be expected.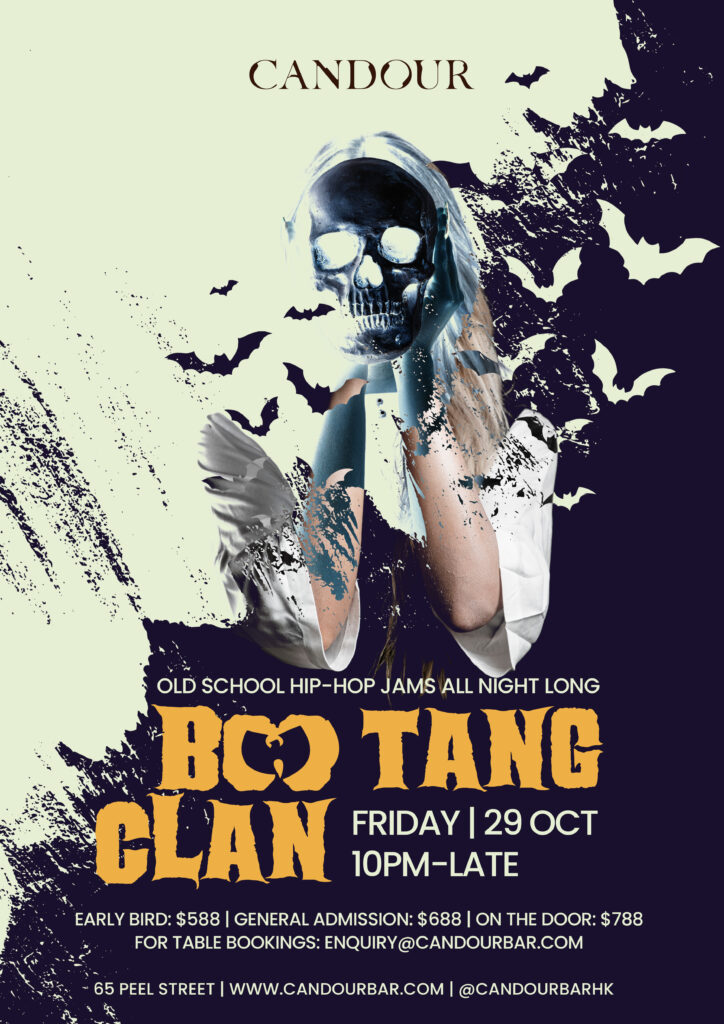 The same ticketing structure is used for both events. With early bird tickets (HK$588) available from 11 October to 18 October, and late bird (HK$688) from 18 October to 30 October with a cut-off time at 10pm, those looking for a new Halloween experience can secure their spot in advance. Door tickets (HK$788) will also be available to accommodate the more spontaneous guests across the two nights. All early bird, late bird, and door tickets come inclusive of one drinks package, where guests can take advantage of an open bar of free-flow drinks for the entirety of the night. Tickets for Friday night can be purchased here and Saturday night here.
On the day of Halloween itself, Candour will be closed to the public as the venue will be hosting BRUNCH&BOOs!, a private members-only free-flow brunch for Women of Hong Kong — a platform built for women, by women, to revolutionize networking and collaboration amongst a growing community, underpinned by common beliefs.
Just two weeks after opening their doors, and as part of their soft opening, Candour's event debut with two Halloween nights is set to be memorable and entertaining. With many more events to come throughout the remaining calendar year, the nights of 29 and 30 October will set the tone for how the venue's programming will evolve, making a mark on the iconic party scene of Peel Street.
Candour
T: +852 2362 8100
A: 65 Peel Street, Soho, Hong Kong