23 Nov 2021 By AWAY IN STYLE
Captivating Trip To Canada's North-Western Yukon Territory
With its fascinating goldrush history, rich First Nations heritage and the best northern lights viewing in the world, it's no surprise that Canada's north-western Yukon Territory offers the very best in wilderness lodges, lakeside cabins and quirky hotels.
Read on for four remarkable new stays in the Yukon.
Midnight Sun Hotel, Dawson City
Re-opening in early summer 2022, the Midnight Sun Hotel offers 21 newly renovated and glamorously decorated rooms, full of Gold Rush charm, in the heart of Dawson City. This new property offers a high-end boutique hotel experience with a private lobby and concierge services, and will feature a restaurant and lounge.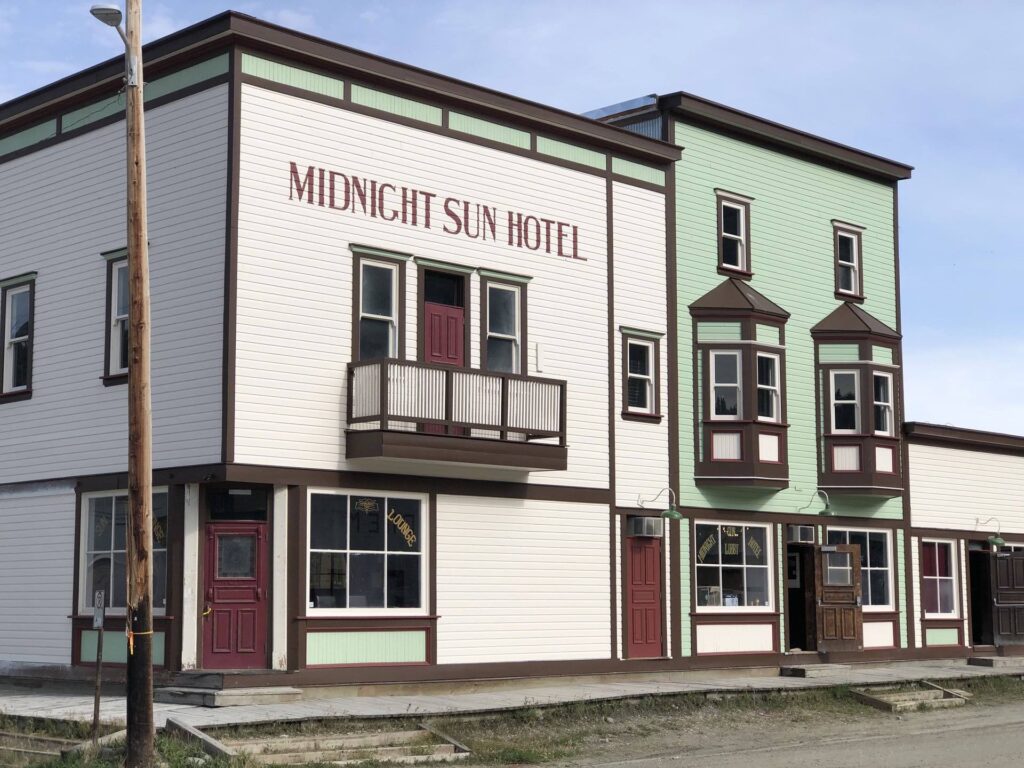 Dawson Lodge, Dawson City
Recently opened Dawson Lodge, in the gold rush town of Dawson City, has sustainability at its core and social consciousness at its heart. Each of the ten guest rooms (two of them pet-friendly) features compostable coffee pods, organic soap, shampoo and conditioner, and composting facilities. The hotel was painted with low volatile organic compound paints and floor coverings, and the rooms are cleaned with plant-based detergents by Sapadilla. Local art created by community artists adorns the walls and the guest experience is completely automated, with no front desk interaction required.
Mount Logan EcoLodge
Mount Logan EcoLodge, overlooking the vast wilderness of Kluane National Park, has added a barrel cabin, called the Mount Archibald Pod, to its offering. Similar in appearance to a Finnish sauna, the simple pod serves up panoramic views, a small kitchen, electric heat and an indoor pump shower. Also new, a genuine 'Yukon-glam' wall tent boasts a stunning wood interior, milled right there on the property. This Prospector Tent is built on two levels, including a wood stove, compost toilet and kitchen.
Alternatively, bed down in a Mongolian-style yurt or in one of the spacious cabins. Relax and watch the sun set over the tallest mountains in Canada. After dark, take a seat in the outdoor spa for a front row view to the greatest light show on Earth. Spend long summer days hiking and fishing and, during winter, try your hand at the new on-site ice climbing tower or learn how to mush your own team of sled dogs. Whatever the season, unforgettable adventures await. Click here to view a video of Mount Logan EcoLodge and Yukon Guided Adventures.
Raven Inn, Whitehorse
Whitehorse's first new hotel in decades, the 4-star Raven Inn was crafted to reflect the latest hospitality trends while respecting the rich historical and natural legacy of the Yukon. This 50-room property features a historic rail-themed Bar & Lounge serving up local fare, and an outdoor hot pool overlooking the Yukon River.
Bombay Peggy's, Dawson City
It's not every day you get to stay in a glamorous former brothel.  Built in 1900, Bombay Peggy's is a beautifully restored Gold Rush inn featuring classic Victorian decor, antique furnishings, contemporary art and modern amenities. Stop by the adjoining pub for unique Yukon-brewed beers, a fine selection of single malt scotch, and the most creative martini menu in town. Chat to the welcoming locals on the sunny patio, enjoy some live music and check out the contemporary art adorning the walls.
Northern Lights Resort and Spa
Stay in a new glass-fronted chalet at the Northern Lights Resort & Spa in Canada's north-west Yukon Territory is purposely built for optimum aurora viewing, with large floor-to-ceiling glass offering a magical way to bring the enchanting outdoors inside. Just 20 minutes from the capital city of Whitehorse, this unique winter wonderland is framed by picturesque pine forests and snow-drenched mountains, with cabins created from Douglas fir trees, and unobstructed views of the soaring aurora borealis.
During summer, soak up the extended sunshine with a long hike throughout 600 acres of stunning wilderness. Keep your eyes peeled for the 15 different northern species who call this paradise home and listen out for the sounds of the wild and woolly.
Southern Lakes Resort
Watch the sun rise over Tagish Lake from the balcony of your cabin at Southern Lakes Resort, situated within the traditional territory of the Carcross / Tagish First Nation. Meander along the hiking trails in the boreal forest or take a guided tour up and above the tree line. Canoe the lake or throw in a line and catch your lunch! The lake is abundant with lake trout, arctic grayling, lake whitefish and northern pike. During winter, enjoy front row seats to the mystical northern lights and fill your days with snowshoeing, snowmobiling and dogsledding tours across the glittering frozen lake.
About the Yukon
The Yukon is home to epic landscapes, including the tallest mountain in Canada, and the largest, non-polar ice field in the world. Its highways make for scenic road trips. Here, driving on uncrowded routes takes you to some of the most spectacular scenery on the planet. Wildlife viewing can include large mammals like moose, caribou, mountain sheep, black bears, grizzlies, and wood bison. The Yukon is also home to nature's most coveted light show. Go aurora hunting from the ground, or by plane, fat bike or even canoe. But it's not just wildlife and wilderness. Indigenous culture, a burgeoning culinary scene, thrilling outdoor adventures, historic sites, and welcoming communities abound in the Land of the Midnight Sun. 2021 marked the 125th Anniversary of the discovery of gold in the territory, which spurred the legendary Klondike Gold Rush (circa 1896-1899).
Canada's north-western Yukon Territory