5 Jan 2023 By AWAY IN STYLE
Celebrate Chinese New Year with The Cakery
Health-forward Good Luck Goodies to Welcome the Year of the Rabbit
The Cakery welcomes the Year of the Rabbit with a delicious collection of health-conscious treats made with high-quality natural ingredients and no preservatives added.
Start the celebrations with a bang and 'knock' into The Cakery's ambitious bunny-shaped Chinese New Year Fortune Rabbit Knock Knock Cake (HK$1268). The show-stopping chocolate ball is designed to wish prosperity and luck with the character 'Fu' on the bunny's chest and the symbolic golden coins at its base. The bunny wears a traditional Chinese New Year outfit and carries a red packet. The playful figure is available in vegan and non-vegan versions, making for the perfect centerpiece. The vegan version is filled with traditional Chinese candies, including candied watermelon, candied lotus root, salted pistachios, ginger candy and more. Those who opt for the non-vegan version can enjoy nostalgic candies from white rabbits and Sugus to mango gummies.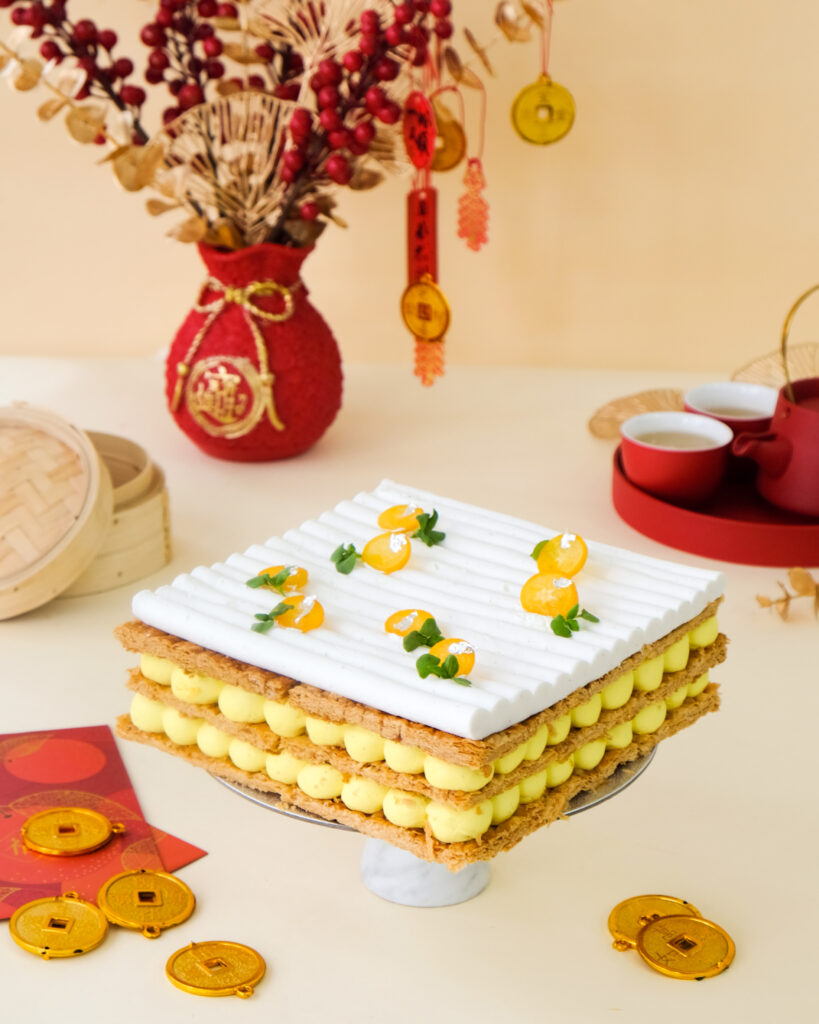 The Cakery will offer a delectable traditional Cantonese-style Double Delight Pudding Set (HK$238). The set is a double treat of savory Turnip Pudding with vegan abalone and a sweet Water Chestnut Pudding intricately decorated with gold foil. The puddings will be presented in a delicate wooden box with a stunning signature, The Cakery Gingko leaf design that makes for the perfect gift for family and friends for the upcoming Year of the Rabbit.
Famous for their cupcakes, guests can indulge in The Cakery's unique Year of the Rabbit 'Cupcakes with Toppers' and the price is HK$750. The set contains 12 exquisitely shaped fondant cupcake toppers, including 'Gong', 'Xi', 'Fat' and 'Cai', to wish everyone a prosperous new year. The cupcakes come in an assortment of flavors, guaranteeing a treat for everyone.
Bearing thoughtful wishes of prosperity for the year ahead, The Cakery has created a basket of festive organic and vegan fondant cookies. The Year of the Rabbit Fondant Cookie Set (HK$438) is packed in a unique red round box perfect for any gifting occasion this holiday season. These irresistible treats are available in the shape of a 3D bunny and Chinese New Year Elements. A Lucky Rabbit Cookie Box (HK$388) will be available shaped in elements of Chinese New Year staples and includes best-selling red date shortbread, mandarin cookies, peanut butter cookies, almond thins, sesame thins, oolong cookies, black sugar ginger cookies and bunny cookies.
Those seeking to celebrate in style can enjoy The Cakery's Firecracker Roll Cake (HK$560), a dairy-free cake that is filled with  kumquat  cream and kumquat  pieces for flavor-packed goodness with every bite. To add to the festivities, the cake is decorated with the Chinese word 'Fu', which symbolizes best wishes and good luck for the year ahead, whilst the Kumquat Basil Mille Feuille (HK$688; HK$65/pc) is a sophisticated dessert that will dazzle guests. This intricate cake is layered with light vanilla cream and kumquat pieces for a fragrant and luxurious feel with every bite.
Lastly, The Cakery presents a unique Chinese New Year Party Table (HK$3,642), an entire party table with props to celebrate the Year of the Rabbit with The Cakery's entire collection.
This year, when purchasing over HK$200 at any of The Cakery's locations, shoppers can expect to receive a "laisee*" and guests will have the chance to win a jaw-dropping signature animal cake, light and fluffy chiffon cake, coffee, cupcakes, soft-baked cookies and wholesome energy bars.
The Cakery currently boasts four prestigious locations across Hong Kong, including a brand-new shop in Pacific Place, the home of their original 2016 pop up. In celebration of the new opening, from 9 – 15 January guests can redeem a free cupcake at Pacific Place by simply scanning the dedicated QR code. Participants will also be entered into a lucky draw for a Spikey Cake.