Celebrating the Heart-Warming Season with New Gourmet Hotpots
Greater China Club Annex
Hotpot specialty saloon Greater China Club Annex is celebrating the winter season in heart-warming style atop D2 Place One in Lai Chi Kok.  Highlighting a premium experience of Hong Kong's favourite comfort food tradition, two new winter warmer hotpots and set menus curated by award-winning Executive Chef Chan Wai-Teng, are a cut above the familiar with an innovative twist on tradition, from premium local and international ingredients.
Chef Chan's headline recipes include Flame-grilled Drunken Roasted Goose with Goose Broth (HK$288), an upgrade on familiar chicken inspired by the classic Shunde specialty 'Drunken Goose'.  The rich, hearty showstopper is dramatically flamed with wine on stunning table presentation.
Suckling Pig and Mud Crab in Tom Yum Broth (HK$598 with one mud crab; HK$688 with two mud crabs) is a classic combination from Chef Chan's hometown Macau, with his own innovative recipe for a spicy Thai twist of tom yum soup on a magnificent umami-packed medley of crowd-pleasing hawker stall favourite savory suckling pig with aromatic vegetables and handpicked seasonal seafood spotlighting whole mud crabs, fresh shrimps and clams.
A Suckling Pig and Mud Crab Set in Tom Yum Goong Broth for two (HK$988, original price HK$1,118) includes one mud crab along with Homemade Silky Fowl Ball and Cuttlefish Ball Stuffed with Cheese,
Local Beef Chuck or Spanish Iberico Brisket, Scottish Razor Clam, Bean Curd Skin or Fresh Purple Chinese Yam, Seasonal Vegetables and Homemade Dumplings.  The same set for four (HK$1,688, original price HK$1,928) includes two mud crabs and the same other ingredients, with the addition of Kagoshima Zabuton Wagyu Beef.
Signature hotpot toppings with the new broths include a signature Homemade Meat Ball Platter (HK$128) of silky fowl meat ball, pork meat ball with mustard, beef meat ball with coriander and cuttlefish ball stuffed with cheese; Homemade Dumplings (HK$58) and Dumplings with Diced Abalone and Chicken (HK$68); Fresh Chicken (HK$158) marinated in famous traditional Chinese yellow wine Huadiao; meat specialties of Beef Blade (HK$148), Marrow (HK$108) and Brisket Deckle (HK$168); Bean Curd Skin (HK$48), Fresh Purple Chinese Yam (HK$40) and prized seafood including Canadian Geoduck, Alaskan Crab and Australian Abalone, available at market prices.
For a perfect, cooling dessert after hotpot, Wagyu Beef Sorbet (HK$48) is a creatively entertaining work of culinary art by Chef Chan – homemade strawberry sorbet amusingly styled to resemble the popular Japanese beef.
Located at Unit A, 10/F, D2 Place One, 9 Cheung Yee Street, Lai Chi Kok, Kowloon, Hong Kong, Greater China Club opens daily from Monday to Friday, 12 noon to 3 pm (last order at 2:30 pm); 6 pm to 11 pm (last order at 10:30 pm); and Saturday and Sunday, 11 am to 3:30 pm (last order at 3 pm); 6 pm to 11 pm (last order at 10:30 pm).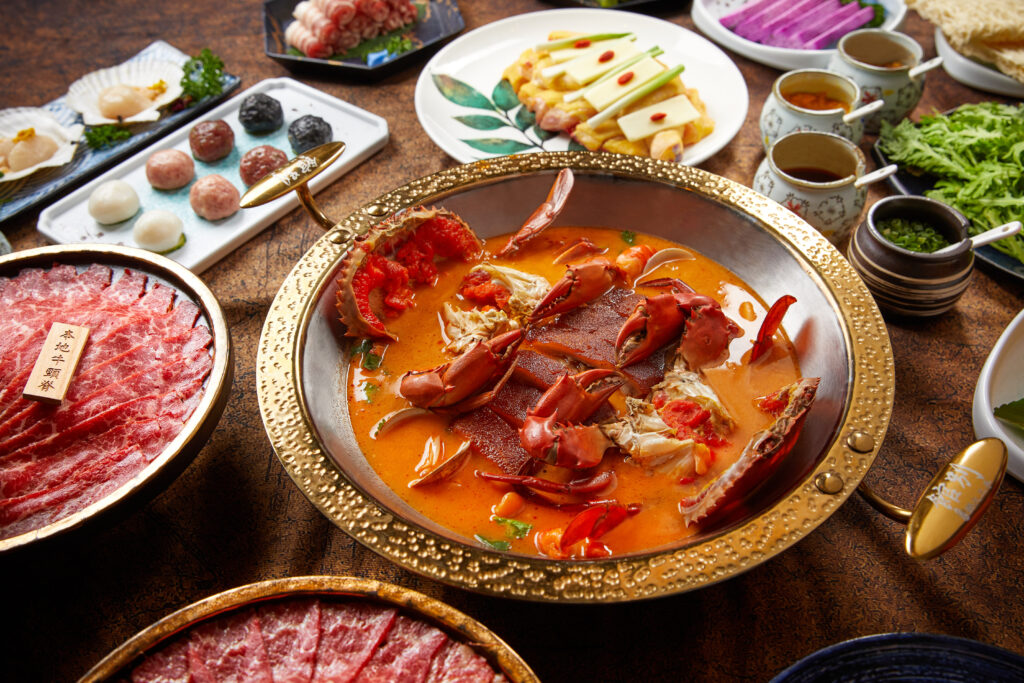 Like and connect with Greater China Club on :
Facebook : @GreaterChinaClubHK / @GreaterChinaClubAnnex
Instagram : @GreaterChinaClub / @GreaterChinaClubAnnex