Chee Kei's Pursuit of Excellence: Creating Unique and Authentic Experiences
Preserving bamboo noodle craftsmanship, innovating with fresh concepts, showcasing Hong Kong's traditional cuisine
"We strive to improve ourselves every day" – since its establishment in 1994, Chee Kei has always upheld this spirit. As one of the few remaining restaurants in Hong Kong that preserves the disappearing tradition of making "bamboo noodles", Chee Kei has recently introduced a new concept, Lucky Star, that presents its traditional wonton noodles alongside local "cha chaan teng" favourites. This creative fusion creates a unique dining experience for customers, allowing them to savour nostalgic flavours with a touch of modern innovation.
Preserving traditional noodle making methods
Chee Kei is renowned for its handcrafted bamboo noodles and homemade wontons. Every day, the master chef ("si fu") meticulously prepares the bamboo noodles using high-quality flour and duck eggs. The dough undergoes a process of repeated bamboo pressing and stretching, followed by resting for over 24 hours in a temperature- and humidity-controlled environment, resulting in elastic and springy noodles. The classic Wonton Bamboo Noodles (Tsim Sha Tsui: HK$43/Causeway Bay: HK$48) features wonton fillings made with a perfect blend of 30 per cent pork and 70 per cent Vietnamese white shrimp, paired with the firm and fragrant bamboo noodles.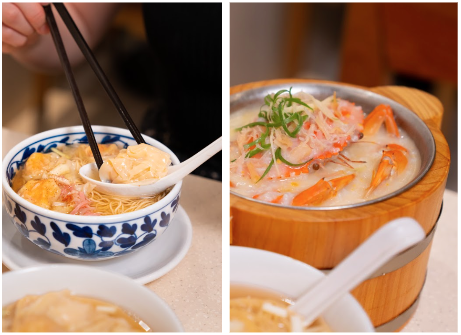 Tsim Sha Tsui Chee Kei branch
Address: 52 Nathan Road, Tsim Sha Tsui
Opening Hours: 11:00am – 10:00pm
Phone: +852 2368 2528
Causeway Bay Lucky Star Chee Kei branch
Address: G/F, 1-3 Pak Sha Road, Causeway Bay
Opening Hours: Monday to Saturday: 7:15am – 9:45pm; Sunday: 7:45am – 9:45pm
Phone: +852 2886 1683
Facebook: @cheekeihk
Instagram: @cheekeihk