Chloe AW22 Collection – Paris Fashion Week
Chloé Autumn-Winter 2022collection Launched at Paris Fashion Week
Creative Director Gabriela Hearst introduces a new approach to structuring the creative process, which sees the Maison focus on a specific climate solution in tandem with an overarching aesthetic reference each season. Chloe looks at the climate solution known as Rewilding for AW22; a progressive approach to conservation that centers on allowing nature to take care  of itself. By enabling natural processes to repair damaged ecosystems and restore degraded landscapes, wildlife's natural rhythms can ultimately create more biodiverse habitats.
As part of her research, Hearst spoke to the British author Isabella Tree, whose latest book Wilding – The Return of Nature to a British Farm (2018) charts the story of her pioneering Rewilding project on the West Sussex farm where she lives. Hearst asked Tree how she deals with climate anxiety, to which she replied, "by living in the solution." While we are becoming all too familiar with what a climate crisis looks like, climate success, Hearst believes, requires more women climate leaders and visualisation.
This philosophy plays out most literally in the AW22 Climate Success range depicting landscapes as climate catastrophes
(forest fires, melting glaciers, droughts) contrasted with\ landscapes visualized as climate successes. These images are depicted on clothing in prints and intarsia knits in recycled cashmere, and hand-painted onto accessories. The Climate Success range is in aid of the Indigenous Women Fellowship program launched by Conservation International1 , which supports Indigenous women's autonomy and leadership in securing the conservation of their territories and forests across the Amazon.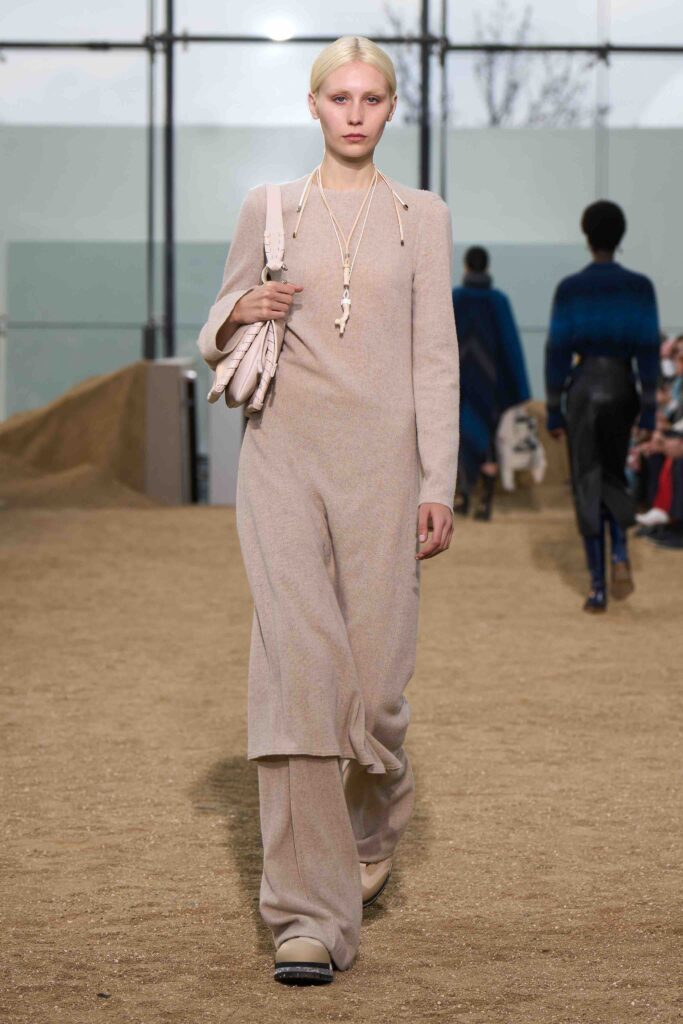 This is one of several partnerships Chlo  has initiated for AW22 with a view to improving the Maison's social and environmental impact (please find a full breakdown overleaf). This season's colour palette was informed by this illustration
from Gabriela Hearst. The AW22 'aesthetic references' meanwhile come from Brother Son, Sister Moon (1973); Franco Zeffirelli's film chronicling the life events of Saint Francis of Assisi – the Patron Saint of Ecologists. Silhouettes are forged from a combination of shoulder flounces and scallops; scooped necklines; puff sleeves in varying volumes; knitted stays and delicate seamwork mimicking boning, which define the waists of otherwise easy and relaxed shapes. Biker trenches, leather ensembles and breastplates contrast the simpler, almost monastic looks of tunics layered over long sleeve
tops and trousers. Historic house codes as well as those developed over the course of the past year are revisited and nurtured. Garments are constructed from panels of suede crocheted together, and the puffcho – a modern hybrid of down puffer and cashmere poncho – makes a return, this time in knitted blue or red gradients. There is a continued interest in fabric development – see coats and gilets cut from what on first glance appears to be shearling but is in fact textured cashmere; and dresses and suits in a wool that is as light as georgette. Ceramic buttons are hand-crafted using a neriage technique, where coloured clays are blended together to create swirling patterns.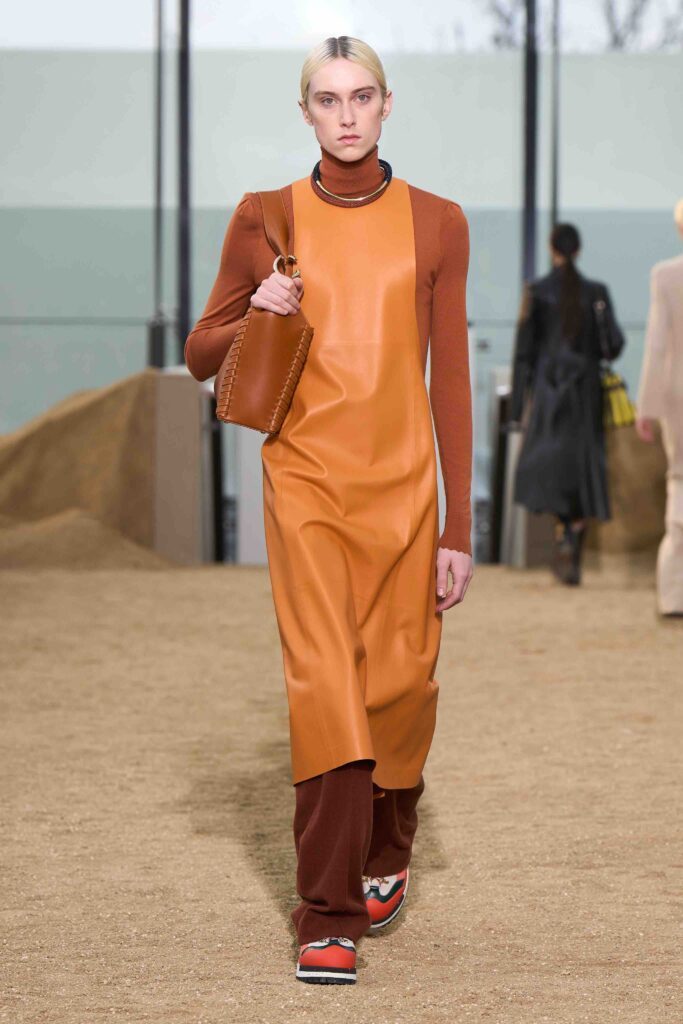 New AW22 accessories include hiking boots with recycled soles and new versions of the Nama – the lower impact sneaker Chloe unveiled as part of its Spring 2022 collection – in an array of earthy hues. Leather bags are completed with leather whip stitching details, and the Edith bag is given a more streamlined aesthetic. Looks are adorned with heirloom style jewellery such as lockets and signet rings. Ceramic talismans and amulets are sculpted into coral and horn shapes. Much of the jewellery, accessories and even the garments themselves are embellished with natural gemstones such as amethyst, labradorite, red jasper and rhodonite.
Chloe AW22 Collection - Paris Fashion Week
Chloe AW22 Collection - Paris Fashion Week
Chloe AW22 Collection - Paris Fashion Week
Chloe AW22 Collection - Paris Fashion Week
Chloe AW22 Collection - Paris Fashion Week
Chloe AW22 Collection - Paris Fashion Week
Chloe AW22 Collection - Paris Fashion Week