2 Dec 2022 By AWAY IN STYLE
city'super Exclusively Introduces Top-ranked Matsusaka Beef in Hong Kong
City'super proudly announces the exclusive arrival of genuine Matsusaka Beef in Hong Kong, one of Japan's most revered and expensive types of beef. It is the first and only retailer in the city to import the prized 'melty' beef from Mie Prefecture, following official authorisation by the Matsusaka Beef Council. Different cuts of this distinctive wagyu sourced from the award-winning Ito Ranch are available across the four city'super branches of Times Square, Causeway Bay; Harbour City, Tsim Sha Tsui; ifc mall, Central; and New Town Plaza, Sha Tin – ready to fuel home-cooked and hearty winter feasts.
To celebrate the exclusive launch in Hong Kong, MIKURA by city'super – the gastro-market's newly opened culinary playground of authentic, exquisite Japanese flavours in Sugar Street, Causeway Bay – presents a decadent Matsusaka Beef-themed menu for a limited time only. The beef's inimitable umami richness can be savoured in a parade of delectable a la carte dishes from today to 31 January 2023.
Matsusaka black cattle are Japan's pride and joy, an authenticated purity of breed nurtured through a dedicated feeding regimen to yield beef of distinctive aroma, delicate flavour and velvety fat 'sashi' marbling. Ito Ranch, considered to be the top farm in the Matsusaka designated cattle-raising region, takes wagyu's famed heritage to heart, ensuring care and quality at every step. The ranch has claimed the Grand Champion Cattle Prize at the prestigious Matsusaka Beef Carcass Competition for three consecutive years (2017-2019), an honourable achievement in a competition with over 60 years of history.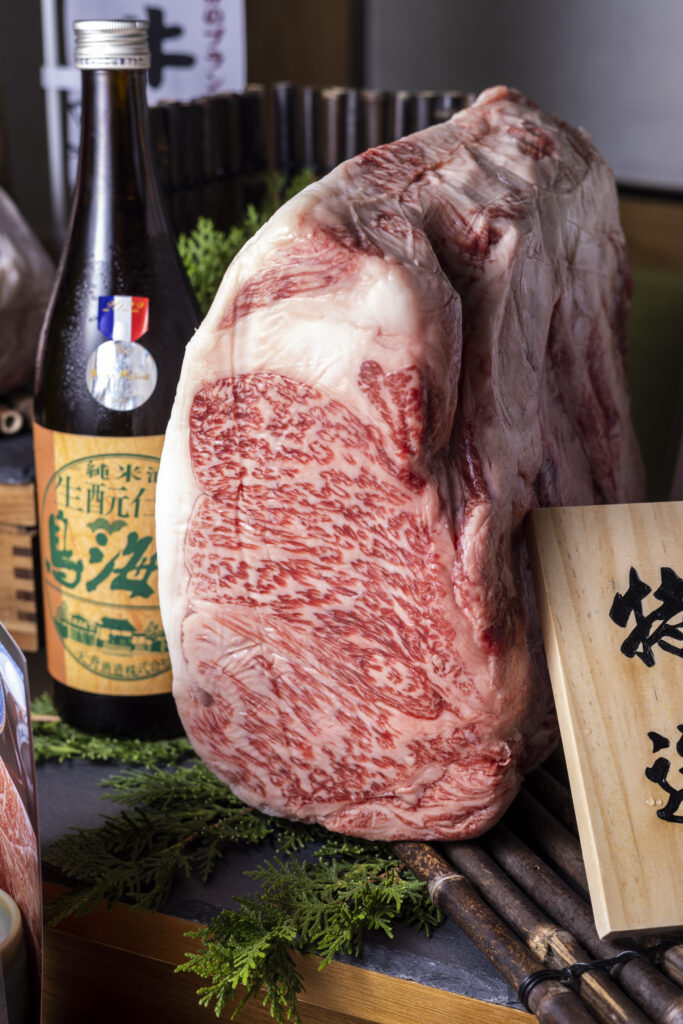 Delectable Selection of A5 Grade Cuts for Home Feasts
Having been granted exclusive Hong Kong retailing rights to award-winning Matsusaka Beef by the Matsusaka Beef Council, city'super ensures that the enticing array of Japanese chilled A5-grade Matsusaka Beef cuts offered at its gastro-markets are the best expressions of Ito Ranch. It selects beef fattened for as long as 39 to 42.5 months – a feat that few wagyu farmers can match – resulting in the finest quality meat of the most pronounced flavours. The whole cow is purchased directly from the Ito Ranch, and only meat with the highest level of marbling (BMS 12) is sold.
At city'super's four gastro-markets, there are chilled cuts to stir the imagination of home cooks for all occasions and feasts – from Chateaubriand (HK$420/100g), Tenderloin (HK$390/100g), Striploin (HK$390/100g) and Rib Eye (HK$390/100g) to Beef Steak (HK$220 or HK$150/100g depending on the amount of fat), Beef Cube (from HK$150 to HK$220/100g), Beef Rare Part (HK$250/100g), Beef Red Meat(HK$80/100g), and Beef Burger (HK$80/100g).
Ito Ranch's Matsusaka ushi's unique 'melty' or 'smooth-tongue' taste uplifts the sense of well-being as loved ones gather for sumptuous Christmas or New Year dining and lively weekend hot pots. There is no better finely sliced beef to simmer or grill for family favourites of sukiyaki or yakiniku than Japanese Chilled A5 Grade Matsusaka Wagyu Beef for Sukiyaki (HK$220 or HK$150/100g) and Japanese Chilled A5 Grade Matsusaka Wagyu Beef for Yakiniku (HK$220 or HK$150/100g). Japanese Chilled A5 Grade Matsusaka Wagyu Beef Yakiniku Limited Set – 3 Parts, offered at the auspicious price of HK$888, encompasses variety and convenience in one handy pack, while Japanese Chilled A5 Grade Matsusaka Wagyu Beef for Kiriotoshi (HK$100/100g) provides ready-cut slices of beef loin for simple, satisfying stir-fries.
Exclusive Menu for Memorable Festive Dining Out
MIKURA by city'super, the gastro-market's authentic Japanese culinary playground that has welcomed gourmets to Sugar Street since opening this summer, celebrates the exclusive Hong Kong debut of Matsusaka Beef with a lavish menu showcasing its miraculous melting quality and distinctive taste. This highest quality ushi is the star of four a la carte dishes, enlivened by fresh, seasonal Japanese ingredients from city'super's artisanal brands and partner farms.
Matsusaka Beef Shabu Shabu (HK$1,088), served with Kayanoya Dashi Soup, is one of the most authentic ways of savouring wagyu. The dish features premium dashi from city'super's Times Square branch, the home of Kayanoya's first overseas store. Founded in 1893, Kayanoya makes its broth in the traditional way, without artificial flavours or preservatives, ensuring mellow flavour, sweetness and umami.
For more information about city'super's festive collections, please visit www.citysuper.com.hk or email contact@citysuper.com or call at (852) 2736-3866.
Like and connect with city'super on:
Hashtags: #citysuper #citysuperhk # MatsusakaBeef #Wagyu