14 Jun 2022 By AWAY IN STYLE
Cloud Yachts and Winch Design release 3 NFTs to aid ocean conservation
FORT LAUDERDALE | Winch Design, in conjunction with Boat International and Cloud Yachts, has created their first series of NFTs on the Ethereum blockchain, with all profits benefiting ocean conservation.
Winch Design's Message in a Bottle is an NFT series of three very distinct visuals. These NFTs are themed around B.O.B. (Bio Observation Bottle) and oceanographic marine research pods.
This is a message to the wider world about the importance of ocean conservation.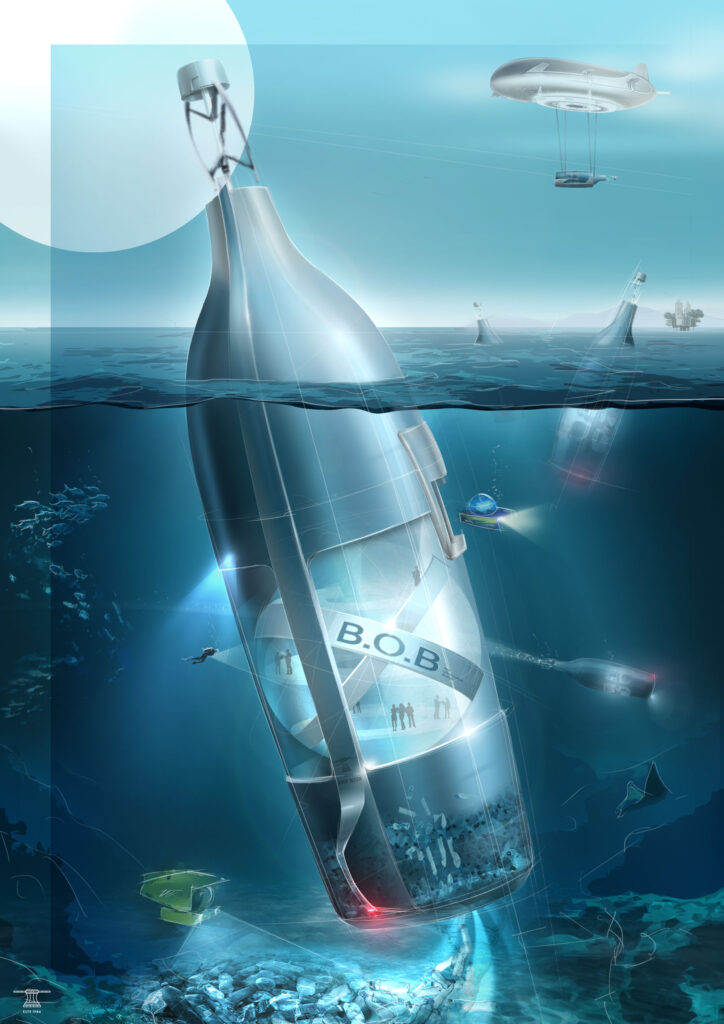 Artwork #1 focuses on the bottle itself – the bottle-shaped hull symbolizes the plastic litter in the water, while the spherical interior embodies Earth and the need to protect it.
Artwork #2 shows B.O.B. on an oil rig to symbolize the transition from a polluted world dependent on fossil fuel to a more sustainable future.
Artwork #3 displays B.O.B. being transported by HALO – an airship concept created by Winch Design.
HALO is the most ecological way to transport a number of B.O.B.s to the oceans, from where they would self-propel using wind-generated energy. Once the vessel has reached its final destination, it would submerge and start cleaning the plastics from the ocean while simultaneously generating energy through the turbine on top.
On land, B.O.B. would act as a static research rig before being transported to the next destination.
Message in a Bottle will go live at 1pm BST on June 10th, during Boat International's Ocean Talks event.
Cloud Yachts, the leader in the NFT yachting space, will be facilitating the auction on the OpenSea platform.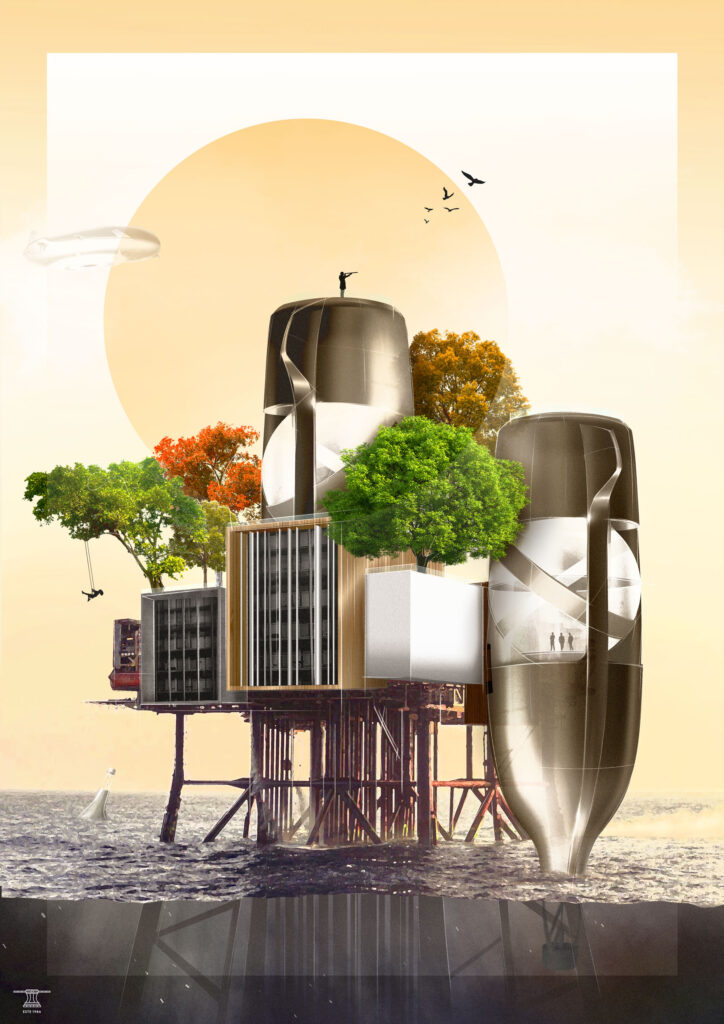 All proceeds will go to Oceans Without Borders and Yachts for Science. Oceans Without Borders is dedicated to marine conservation and community development, working to care for land, wildlife, and people through a partnership between Africa Foundation and &BEYOND. Yachts for Science brings together yacht owners and crew with marine scientists and researchers to create relationships that provide a vital platform for information sharing, to bring about the protection and recovery of our oceans.
Learn more about the collection or place your bid by visiting CloudYachts.io
"I am delighted that Winch Design has created the world's very first yacht NFT to raise funds for ocean conservation, in partnership with BOAT International and Cloud Yachts. The brief we gave our talented designers was to let their imagination run wild, incorporating our two passions at Winch: innovative design and marine conservation. Message in a Bottle is a fantastical digital asset, which belongs in the realm of limitless creativity, drifting in the imaginary oceans as it saves them. It is a call to slow down and take a look at the oceans: if we save them, they could save us."
– Aino Grapin, CEO of Winch Design
"We're hugely excited to be concluding our Ocean Talks event with an NFT auction in aid of the oceans. All money raised will be donated to two fantastic charities, Oceans Without Borders and Yachts for Science. The oceans are central to everything we do at BOAT International, and everyone in our community has a duty of care towards them – from owners and designers to builders and the media. I'd like to thank Winch Design and Cloud Yachts for embracing this concept and helping us take this next step in safeguarding the oceans for future generations."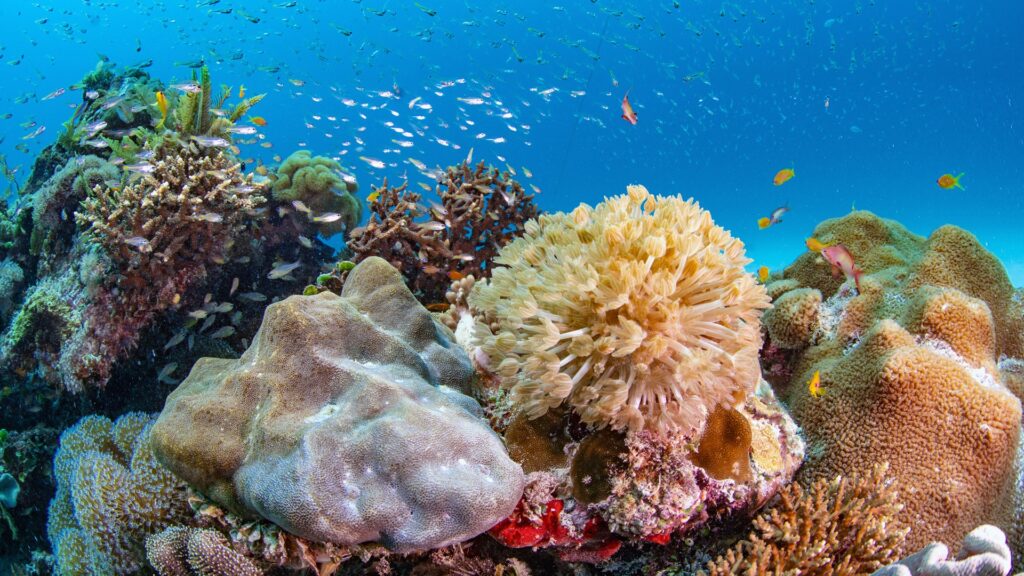 – Stewart Campbell, Editor in Chief of BOAT International
"Winch Design and Boat International are truly embarking on a historic event in the NFT space. This NFT charity project could be the ultimate gift that keeps giving to our oceans. Our charity NFT vessels will never be decommissioned, they will forever live on the Ethereum blockchain and provide precise clarity on the amount of funds raised. Every time one of these iconic NFTs resell, an automatic payment of Ethereum will be made to the charity's digital wallet. Cloud Yachts is proud to be part of this project and optimistic about the long-term results."
– Zach Mandelstein, Founder of Cloud Yachts
What is an NFT?
An NFT (non-fungible token) is a digital asset that represents a real-world object. What started as a way to buy and sell digital artwork has snowballed into cars, houses, and even superyachts. These items are frequently sold in cryptocurrency and are often encoded in the same way. An NFT contains unique digital identifiers that cannot be copied, substituted, or subdivided; it is valuable because it is one-of-a-kind, digital art.