Club Rangoon Launches Lunch with Noodles at Noon
The Burmese restaurant's new set menu seeks to accommodate the lunchtime crowd
Soho's Burmese hotspot, Club Rangoon, expands its offerings to now cater to the daytime crowd with a new lunch menu launching on Tuesday, 16 November. From 12:00pm to 3:00pm every Tuesday to Friday, the restaurant's Noodles at Noon is a set lunch menu that consists of one main noodle dish, a dessert, and a drink of choice for HK$158+ per person.
As the name Noodles at Noon suggests, guests can opt for their choice of main from four different classic noodle dishes — all of which are well-loved amongst Club Rangoon regulars. Choices include Mohinga (+HK$15) — a rice noodle dish with lemongrass catfish broth topped with crispy split pea, soft-boiled egg, and homemade chilli oil that is often dubbed as Myanmar's national dish; Ohn No Khout Swel, which is the ever-popular coconut noodles with chicken thigh and lemongrass; the comforting Shan Tofu Hnway for a taste of Northern Myanmar made with Shan tofu and Grandma's gravy over rice noodles; and last, but not least, the Shan Khout Swel — Club Rangoon's take on the delicious Shan noodle soup consisting of chicken thigh, flat rice noodles and garlic oil, served with pickles for a touch of tang. For those wanting a meat-free option, the Shan Tofu Hnway is vegetarian-friendly, while the Shan Khout Swel can be adapted for vegetarians and the Ohn No Khout Swel can be made vegan or vegetarian.
As a soothing finisher to their set meal, guests can enjoy the Thar Gu, a popular Burmese treat comprising soft layers of sago and custard, served with kaffir lime praline. A range of drinks are also part of the menu to accompany the meal, including a refreshing Burmese Salted Lemonade and Iced Tea to complement the dishes, a Black Coffee for a lunchtime energy boost, and a variety of Soft Drinks. House Wine is also available for those wanting a daytime tipple for an additional HK$50 per glass.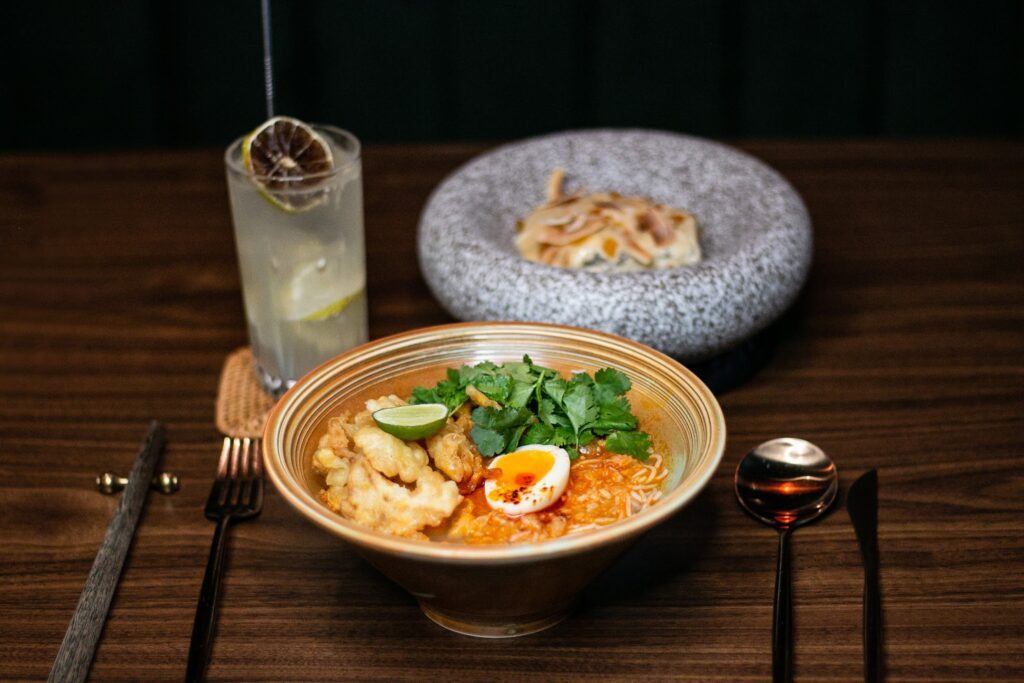 Perfect for any occasion, including group and work lunches, or for anyone just wanting a quicker and more casual introduction to Burmese food, Noodles at Noon is designed to prioritise ease and comfort without any compromise on taste and quality. Club Rangoon's operating hours have also been adapted to accommodate for this new offering; the restaurant will be closed on both Sundays and Mondays, alongside new closing times at 10:00pm on Tuesdays and Wednesdays, and at 11:00pm on Thursdays through to Saturdays, with the Sagaw Hta Min brunch fixed to one day only on Saturday. These new operating hours will be in effect from 16 November in line with the lunch launch. Other changes to the restaurant's offerings also includes an addition of the Pazun Hin (HK$388) to both the evening a la carte and tasting menus, a Burmese-style prawn curry that is light and tangy, yet full of flavor from the use of aromatics like onion, ginger and turmeric — but with the launch of Noodles at Noon, guests will no longer have to wait until dinner or Saturday brunch to indulge in some delicious Burmese dishes at Club Rangoon.