15 Jan 2023 By AWAY IN STYLE
CNY & Valentine's Day Gifts | Luxury Collectible Coins that Beat any Red Packet & Pink Diamond Necklaces for V-Day by Aurom
CNY: Luxurious collectible coins that beat any red packet 
Instead of red packets, impress your loved one this Lunar New Year with the most precious collectible coins that are more valuable than any common bank note: The Royal Canadian Mint's limited edition Opulence Collection introduces its most exclusive collectible coins, presented by Aurom, the Mint's premiere global distribution partner based in Hong Kong. The newly minted gold, platinum and diamond encrusted coins represent some of the finest examples of numismatic craftsmanship and make an exceptional Chinese New Year gift for those who appreciate the utmost in quality, artistry and value.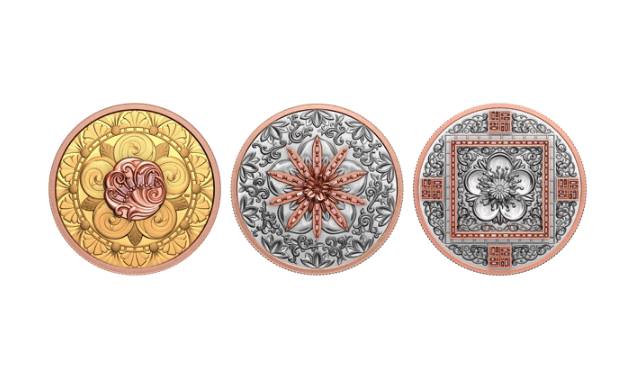 The exquisite coin series features Treasure (HK$82,000), Grandeur (HK$352,000) and Splendour (HK$1,565,000), each encrusted with pink diamonds from the now-closed Argyle Mine from Western Australia. Each coin is crafted with cherry blossom motifs in an homage to the natural beauty of pink diamonds, with an effigy of Her Late Majesty Queen Elizabeth II by Susanna Blunt on the obverse.
Valentine's Day: The most exceptional pink diamond encrusted necklaces to impress your significant other
Diamonds are forever. Selecting the pure gold coin (Treasure) from the Opulence Collection and transforming it into a sophisticated necklace was the brainchild of Aurom's founder and private Hong Kong jeweller Chantel Shafie. The Treasure Pendant is the ultimate Valentine's Day gift, available in two versions: the first features the coin set in an 18K rose gold casing surrounded by Argyle pink diamonds (HK$270,000), which perfectly compliment the diamonds on the coin itself. The second shows the coin encased in 18K yellow gold and surrounded by white diamonds (HK$150,000), which provides a dazzling contrast.