CORDIS, HONG KONG CELEBRATES ITS SEVENTH ANNIVERSARY
To commemorate Cordis' 7th anniversary on 26 August 2022, Cordis, Hong Kong is delighted to present an array of heartfelt dining offers and interactive Instagram giveaway campaign with the theme of "THE HEART OF IT ALL".
7thAnniversary Heartfelt Dining Offers
Exclusive dishes of gourmet treasures from Alibi – Wine Dine Be Social, The Garage Bar and The Place are waiting to be unveiled.
Alibi – Wine Dine Be Social
Seafood Platter with Rosé Pairing Promotion:
Indulge in a spread of jet-fresh seafood delicacies with wine pairing is perfect for celebration. Savour the fresh chilled seafood platter with the premium quality of freshly shucked seasonal oyster, whole lobster, sake-steamed abalone, hand-dived scallop and king crab leg. Enjoy the seafood platter with two glasses of Château de Berne Romance Rosé for ultimate indulgence – let the harmony of bright acidity and rich texture of fruitiness fill your palate, with highlights of creamy strawberry notes and a hint of fresh basil, thyme and lavender.
Guests can top-up with locally-sourced littleneck clam at a special price of HK$88 and a bottle of Piper-Heidsieck Cuvée Brut N.V. at HK$288 to elevate the senses.
The seafood platter with two glasses of rosé pairing is priced at HK$938 for two persons (original price at HK$1,188), available daily from 12:00nn to 9:00pm, 22 August to 30 September at Alibi – Wine Dine Be Social.
Happy Hours Promotions:
Hype up the mood for best hours of the day from 4:00pm to 7:00pm daily with a vast selection of Happy Hours promotions.
Hoist a glass with 10 themed summer rum cocktails, selected beers and wines promotion at HK$70 per glass. Highlights include Plantation 3 Stars White Rum, Plantation Original Dark Rum, Diplomatico Reserva Exclusiva Rum, Brugal Blanco Supremo Rum, and more. Guests can also enjoy the Anniversary Special Drink which blends with Cointreau, Aperol and Tonic, only available on 26 August 2022.
Oyster lovers should not miss the "Around the World Oyster Tasting" promotion at HK$388 for two persons, which includes 4 types of refreshing oysters from North America, Africa, Australia and Europe, with 4 glasses of Rosé pairing, adding a touch of freshness for the taste buds.
Wind down the day with the lip-smacking Snack Platter with Whisky Highball promotion at HK$298 for two persons. Delicacies include Smoked Paprika and Manchego Cheese Toastie, Spanish Iberico de Bellota Chorizo, Crispy Spanish Anchovy, Grilled Bell Pepper and OmniPork Plant-based Meatball, and the platter is paired with two glasses of Shirasagi Whisky Highball.
Happy Hours Promotions are all available daily from 4:00pm to 7:00pm, 22 August to 30 September at Alibi – Wine Dine Be Social.
The Garage Bar
Share the joy with friends and enjoy breezy summer at the outdoor bar The Garage Bar. Guests can enjoy 30% off Grilled Seafood Platter with 90-minute free-flow Rosé and Gin & Tonic at HK$418.6 for two persons (Original at HK$598).
Mouth-watering delicacies include King Prawn, New Zealand Rock Oyster Kilpatrick, Hokkaido Scallop, and Miso Marinated Norwegian Salmon. Elevate the senses with 90-minute free-flow Château de Berne Romance Rosé, and Four Pillars Gin with London Essence Tonic, perfect for gatherings with friends and loved ones.
Special offer of 30% off Grilled Seafood Platter with 90-minute free-flow is available from 6:00pm – 8:30pm, 22 August to 30 September at The Garage Bar.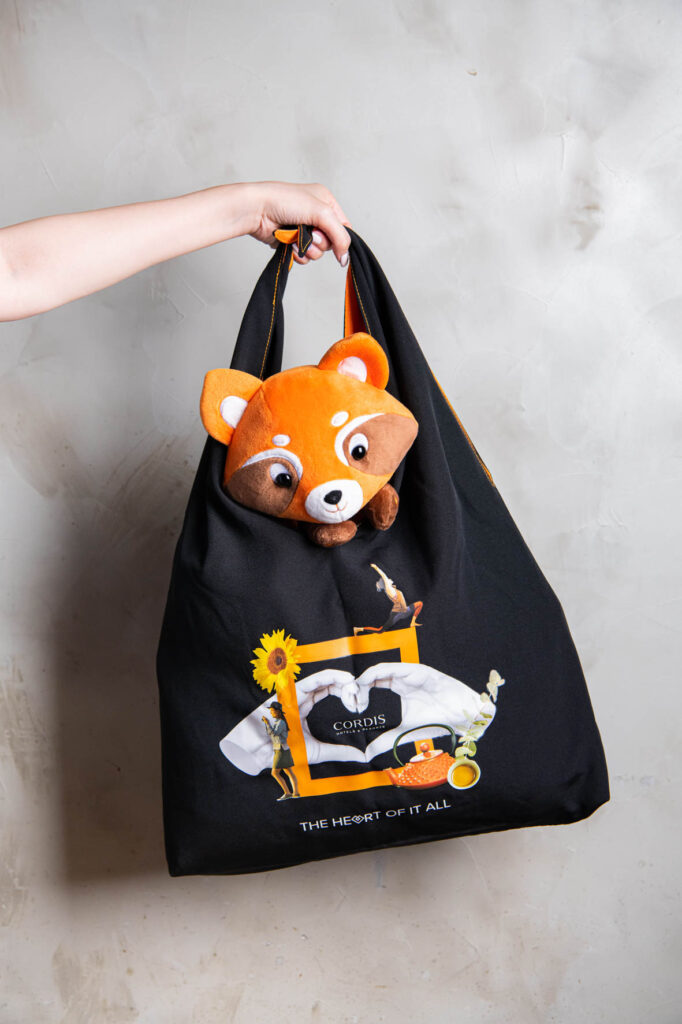 The Place and Special In-Room Amenity
Executive Pastry Chef Roy Ma has specially curated a limited-edition of heart-shaped Orange and White Peach Mousse Cake, to be served at all-day dining restaurant The Place and delivered to the quarantine guest rooms, exclusively on 26 August 2022 in celebration of the anniversary big day with all dining and in-house guests. The refreshing orange and aromatic white peach creates a decent match, while the presentation of the cake in heart-shaped is appetising for the palate and a sight for the eyes.
Reservations can be made at +852 3552 3028 or via email to cdhkg.restaurants@cordishotels.com or Whatsapp +852 9717 4727. All prices are subject to 10 % service charge. All prices are in Hong Kong dollars and subject to 10% service charge based on the original price.
Interactive Instagram Giveaway Campaign
In order to encourage guest to celebrate the #Cordis7thAnniversary and create a buzz on social media, the hotel will organise an interactive giveaway campaign on Instagram from 26 to 31 August 2022. The special gift is the anniversary knot-tie tote bag which is made of 15 recycled plastic bottles with traceable source of materials, guests can bring it home by simply uploading the photo with a heart-famed on Instagram.
Campaign details:
Order one of the 7th anniversary dish – Seafood Platter at Alibi – Wine Dine Be Social / Grill Seafood Platter at The Garage Bar
Capture a photo with the following elements: a hand heart and anything related to Cordis, Hong Kong
Post the photo on Instagram with campaign hashtags – #TheHeartOfItAll #TheHeartOfCelebration #CordisHotels #CordisHK
Show the post to the restaurant staff to get the anniversary knot-tie tote bag
*Participants need to set their Instagram account as public to enter the 2nd wave giveaway campaign. Follow @Cordishk to learn more.
Terms & Conditions:
Only 1 tote bag will be given to each Instagram account user. Prize is available on a first‐come‐first‐served basis, while stocks last. In case of dispute, the decision of Cordis, Hong Kong shall be final.