Dior New Look Collection
For the first time ever, La Collection Privée Christian Dior and Dior Makeup are both adorned with the houndstooth check emblematic of the House. A graphic and iconic print… For the new limited series New Look collection, the houndstooth check adds its eternally elegant couture signature to the Collection
Privée fragrances, and to an exclusive Makeup line created by Peter Philips, Creative and Image Director for Dior Makeup.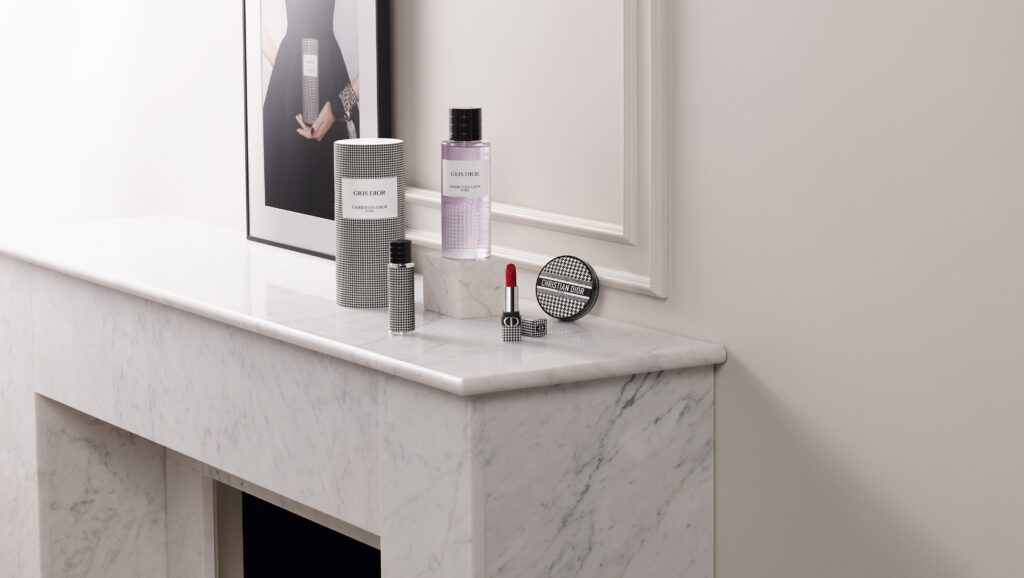 Dior Makeup sees life in colour and in…houndstooth check!
To mark the occasion of the New Look limited series, Peter Philips, Creative and Image Director for Dior Makeup, also designed a Makeup collection in the colours of
the cult House pattern. Rouge Dior is available in 6 different shades, including the red 999 and the Nude Look Velvet 100, reinventing the greige New Look of 1947. The essential Dior Forever Couture Perfect Cushion is transformed into a veritable fashion accessory dressed in the supremely elegant Dior print. Scent and smile harmonise in this ode to Dior chic in houndstooth.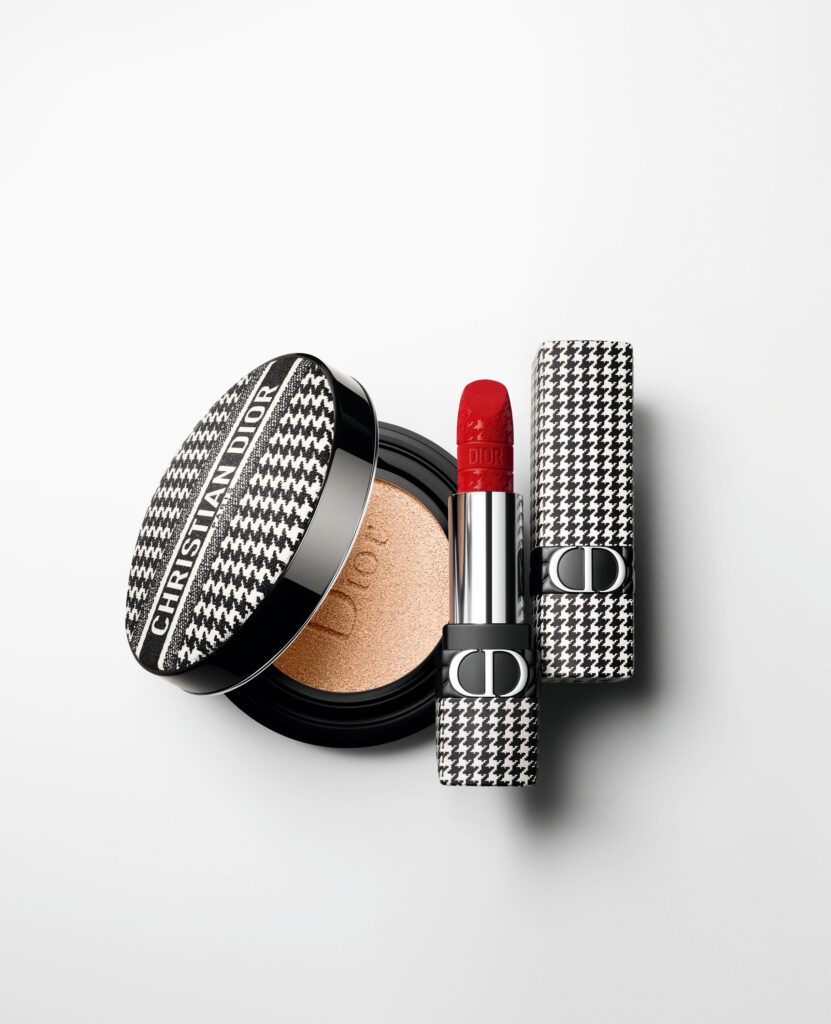 La Collection Privée dressed in black and white
Exclusively for the 3 leading fragrances, Gris Dior, Lucky and Jasmin des Anges, the houndstooth check takes command, from the case to the bottle, whose pure lines it
decorates. Reinvented on the glass, the pattern seems to take flight, releasing a few of its fine squares that float free like delicate petals. As beautiful as collectable items, the usually immaculate white fragrance cases are now, exceptionally, sporting the famous contrasting pattern all over. Covered entirely with toile, the cover provides a slightly grainy fabric touch, in which the houndstooth check can be felt under the fingertips. Both pleasing and hardwearing, this black and white pattern brims with rigour and modernity.


Suggested Price:
Dior Forever Skin Glow Cushion – New Look Limited Edition
HK$605
Dior Forever Couture Perfect Cushion – New Look Limited Edition
HK$605
Rouge Dior – New Look Limited Edition
HK$395
Rouge Dior Colored Lip Balm – New Look Limited Edition
HK$395 (Online boutique exclusive)
La Collection Privée Christian Dior Gris Dior – New Look Edition
HK$1,010/40ml; HK$2,090/125ml
La Collection Privée Christian Dior Lucky – New Look Edition
HK$1,010/40ml; HK$2,090/125ml
La Collection Privée Christian Dior Jasmin des Anges – New Look Edition
HK$1,010/40ml; HK$2,090/125ml
La Collection Privée Christian Dior Travel Spray – New Look Edition
HK$800
La Collection Privée Christian Dior Mitzah – New Look Edition
HK$1,950

Makeup Collection:
Exclusively available at online boutique http://shop.diorbeauty.hk/en and Dior Beauty mobile app from December 29th, 2021
Available at Dior beauty boutique and counters on January 1st, 2022
La Collection Privée Christian Dior:
Available at Maison Christian Dior boutique, online boutique http://shop.diorbeauty.hk/en and Dior Beauty mobile app on January 17th, 2022
@DiorBeauty #DiorNewLook #DiorBeauty #diorbeautylovers #diorhk
Dior Forever Cushion New Look Personalization