Diptyque: A Whimsical Tribute To The Rose
From eau de toilette to eau de parfum, Eau Rose is blossoming …
To celebrate Eau Rose eau de toilette, which decorates silhouettes with flowers and makes itself at home on the skin and on fragrance gestures, diptyque is now providing it with a companion – an ally in the art of perfumery. There's a new arrival in the Eau Rose family: an eau de parfum, rounding off the range with consummate elegance and flair. Additionally, as a decorative housing and a festive setting for the two fragrances, a box has been specifically designed for them. The story begins with the damascena and centifolia roses, beautiful and luxuriant – the most highly scented roses of all, treated in their simple natural form by perfumer Fabrice Pellegrin, a leading expert on roses, to create Eau Rose eau de toilette. Infused in their entirety, they are light and acidulated, blended with the fresh green of rose leaves and a few thorns and emerging buds. A tribute to the whole flower, very modern in its simplicity.
Flowers to glorify a flower
Now, diptyque has created Eau Rose eau de parfum. Surprising and more intense than its sibling, it fits naturally into the lineage of the eau de toilette, like an elder sister or a loving cousin. The new eau de parfum was imagined by Fabrice Pellegrin in collaboration with diptyque. Although the two roses from the original composition are certainly present, here they are crafted into extracts and absolutes to produce a more intense bouquet. This is how Eau Rose eau de parfum asserts its personality, uncovering unexpected aspects of this flower. Thus, to our surprise we discover accents of artichoke, a fruity touch of litchi and the gentleness of chamomile, all handled here with a subtlety that's entirely floral in tone. Eau Rose eau de parfum also includes firad rose – an ethical rose. Some, of course, will insist that a rose is a rose is a rose. Well, that is true, but what makes firad rose special is this: it is not a flower. Rather, it is an "upcycled" rose, and as such is well in line with the drive towards durability that diptyque prizes so dearly Normally, the distillation water used for the damascena rose is thrown away. Here, it is subjected to a second extraction, capturing its fresh accents of litchi. A complex, innovative procedure that gives its name to this "durable" rose. Here too, modernity is key.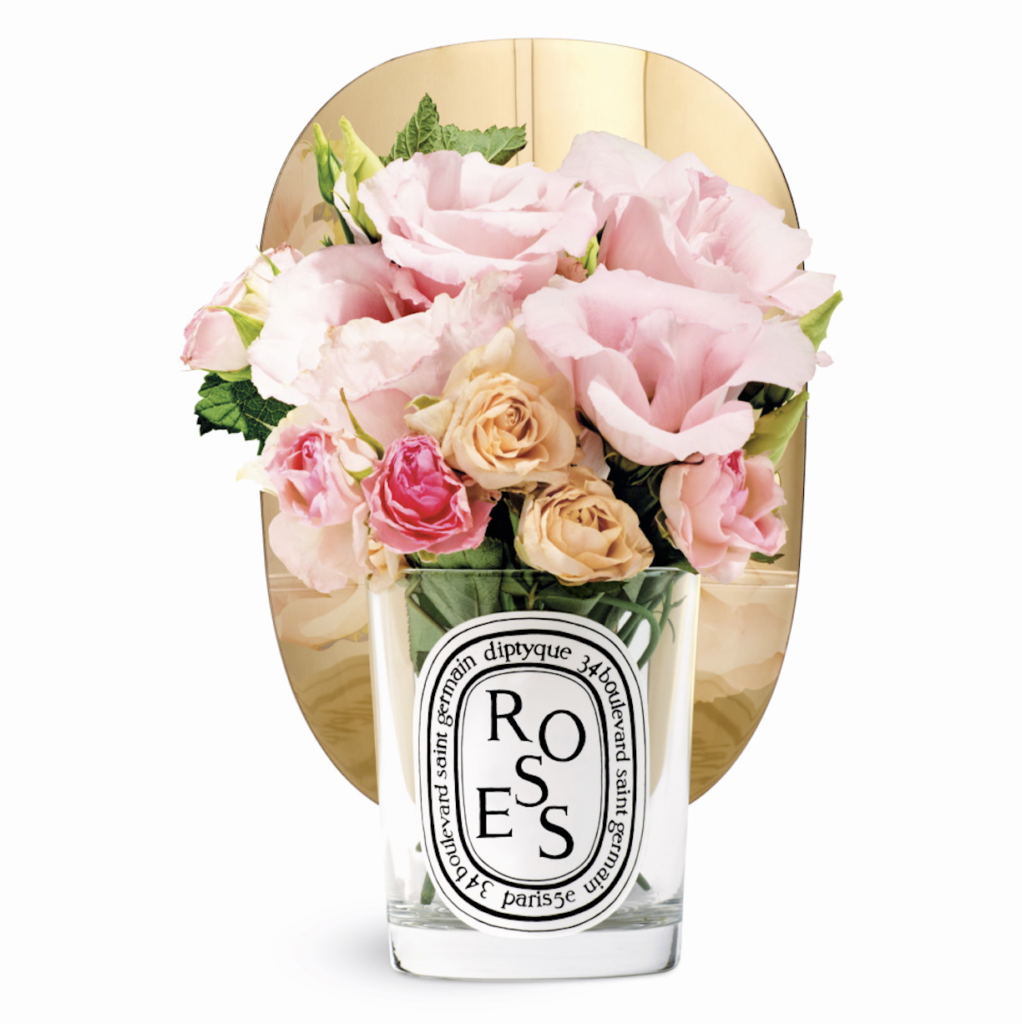 Breathe the ROSE
Not forgetting of course candles, so loved and honoured by diptyque. A luminous celebration of Eau Rose eau de toilette that also hails the arrival of the eau de parfum: four candles, also specially decorated, each one revealing – separately, in its own individual manner – a little-known olfactory aspect of the rose. The Roses candle is present, naturally, plus three new arrivals in our herbarium of scents: Camomille (Chamomile), Litchi and Artichaut (Artichoke). When used together, they recreate the perfume of the bouquet composed by Maurice Harris.
Mirror, mirror on the WALL
A new decorative accessory imagined by diptyque to give our glass vessels f or candles a new lease of life: an oval mirror for you to clip onto a glass vessel that has been converted into a vase. It joins the collection of second life objects, offering new uses for glass vessels and embellishing your living space. The oval mirror reflects bouquets to infinity, adding an extra touch of poetry and gentle luminosity to any interior. So if it is true that we should "simply look at the flowers and breathe their fragrance", there can be no doubt that the bespoke settings imagined by Maurice Harris for the entire Eau Rose collection will give this flower all the attributes needed to perfume, delight and illuminate for a long time to come!