2 Apr 2022 By AWAY IN STYLE
élégante 12 rows by F.P.Journe. What a beauty.
élégante by F.P.Journe 12 rows of diamonds with set bracelets
The alliance of an innovative horological concept and jewellery
F.P.Journe presents the élégante 12 rows of diamonds watch, on a 40 mm case, with new set bracelets. Designed for women, these new versions reflect the know-how of the Manufacture, which combines watchmaking innovation and jewellery refinement.
The 12 links, in Titanium or Titalyt®, are set with 382 brilliant cut diamonds for a total of 3.23 carats. Completed with an interchangeable rubber part, these new bracelets follow perfectly the wrist shape, offering comfort and lightness. To vary the styles to suit all desires, they are available in 8 colors – white, midnight blue, burgundy, grey, yellow, black, orange and powder rose – and can accommodate all 40 mm élégante models.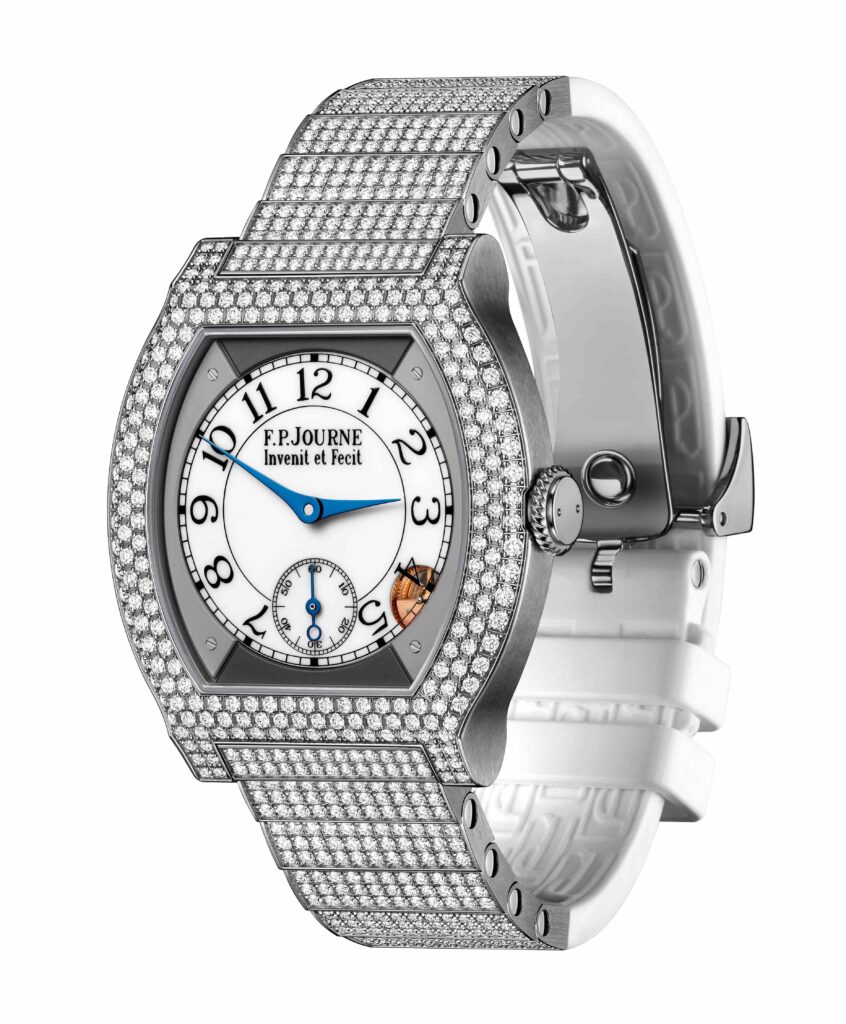 Several elements make up the face of the watch: a sapphire dial, white for the Titanium version, black for the Titalyt® version, and screwed Steel appliques. As a finishing touch to this ladies collection, F.P.Journe has chosen a Flat Tortue® case, whose design is trademarked.
The élégante by F.P.Journe is an innovative horological concept that reconciles tradition and modern technology. 8 years of research were necessary to bring it to fruition. François-Paul Journe says: "I created this watch because for 20 years, women have been asking me to design a watch for them; a watch that was different and comfortable to wear, and that suited their needs and desires. I therefore created this long-lasting watch especially for them. The élégante features the only electro-mechanical movement designed with a true vision of luxury."
All the mechanical parts of the movement are produced in the F.P.Journe Manufacture according to its criteria of excellence. The electronic part is made in Switzerland, with a microprocessor specifically developed for this watch.
Fitted with a revolutionary electromechanical movement, the élégante by F.P.Journe provides more than 8 years autonomy with the performance of a watch that is exceptionally comfortable to wear. After remaining motionless for 35 minutes, the watch switches to standby mode in order to save energy, and its hands stop turning. In standby mode, the microprocessor specially created for this watch continues to measure the time. When the motion detector visible on the dial at 4h30 is activated, it automatically sets itself to the correct time, with the hands taking the shortest path, whether clockwise or counter-clockwise. The élégante by F.P.Journe allows time to be stopped and started again – the absolute dream of all watchmakers…
élégante by F.P.Journe 钻石腕表,镶饰 12 行钻石及搭配钻石表链 创新钟表理念与珠宝的完美结合
F.P.Journe 呈献 élégante 系列钻石腕表,其 40 毫米表壳上镶饰 12 行璀璨钻石,并搭配全新推出的钻石表链。 élégante 系 列是 F.P.Journe 特地为女性开发及设计的,新型号糅合创新的制表技术与精湛的珠宝工艺,彰显品牌在高级制表领域的卓越 技艺。
钻石表链的 12 个链节以钛金属或 Titalyt®打造,上面镶嵌 382 颗明亮式切割钻石(共重 3.23 克拉),链节连接可替换式橡胶 表带。为方便配衬各种时尚风格,可替换式橡胶表带备有 8 种颜色可供选择, 包括白色、午夜蓝色、酒红色、灰色、亮黄 色、黑色、橙色和玫瑰色。钻石表链可安装于任何 élégante 系列的 40 毫米型号,舒适轻盈的表链与手腕完美贴合,耀眼夺 目的钻石环绕于腕间,绽放令人心驰神往的绚丽光彩。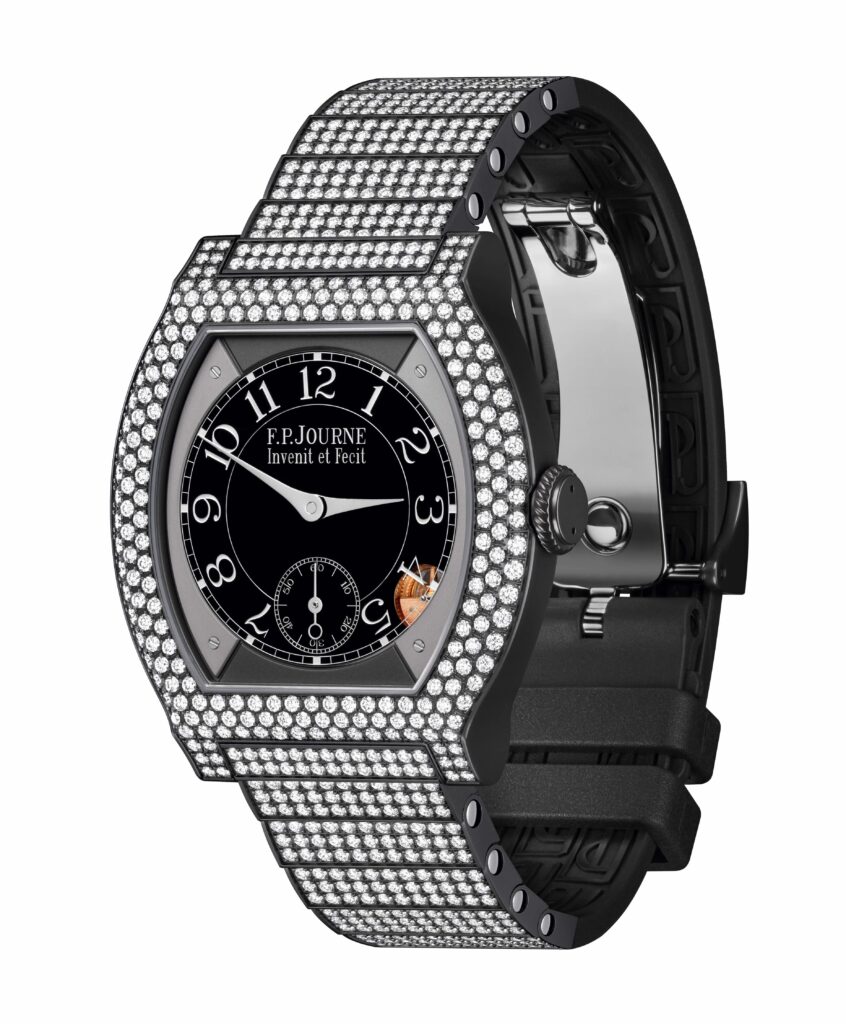 élégante 钻石腕表采用已获专利的扁平酒桶形 (Flat Tortue®) 表壳,搭配白色(钛金属版本)或黑色(Titalyt®版本)蓝宝石水晶 表盘,加上表盘精纲外圈的点缀,散发出时尚魅力与高贵气息。
élégante by F.P.Journe 系列将制表传统、创新意念及当代技术兼容并蓄,当中经历了长达 8 年的研究才能取得成果。 François-Paul Journe 表示:「二十年来,一直有女士请求我为她们设计一枚与别不同、佩戴舒适,同时切合现代女士需要 的腕表,所以我决定创制一个经久耐用的女装表款。 élégante 亦是唯一一个针对华贵品市场而设、搭载电子机械式机芯的女 装腕表,体现了奢侈品的真正愿景。」
机芯内的机械部件是 F.P.Journe 工作坊按照品牌严谨的标准打造而成;电子部分则在瑞士利用特地为这款腕表而创制的微型 处理器制造。
élégante by F.P.Journe 配备革命性的电子机械式机芯,可无止息运作超过 8 年。倘若腕表处于静止的状态,它便会于约 35 分钟后自动进入备用模式以节省能量。这时候所有指针会停止转动,时间显示亦会停顿下来。然而,虽然腕表处于备用模 式,当中的微型处理器还是会继续量度时间。当位于 4:30 位置的动力感应装置感应到活动时,腕表便会自动恢复运行,指 针亦会以最短路径转动──即以顺时针或逆时针方向来显示正确的时间。 élégante by F.P.Journe 如施展魔法般令时间停止 并重新开始,实现了所有制表师的终极梦想。