Enter a world of vibrance and color with the 2021 novelties from Harry Winston
This year, color makes a big statement at Harry Winston. From classic Winston blue to orange, yellow or turquoise, among other hues, the 2021 Harry Winston novelties are a bold spectacle for the eyes. Discover the House's vibrant styles and select a stunning timepiece to fill your life with a hint of elation.
Mr. Harry Winston once exclaimed, "Jewels are more than my love and my life; they are an insatiable obsession." Mr. Winston's enduring passion for precious gems was a constant throughout his life and served as the guiding light for all of his endeavors. For its latest offering of incredible jewels, the House of Harry Winston explores the intense feelings of love, through a fine jewelry collection that chronicle its extraordinary phases. Forged in diamonds and colorful precious gemstones, the collection is a true expression of L.O.V.E. Of all of life's gifts, these feelings are among the greatest. Like rare diamonds and gemstones, love is a force of nature not to be reckoned with. This is Winston with Love.
Embodying the same vibrancy and deep message as its jewelry counterparts, the Winston with Love Collection offers five luxury timepiece models. The House's iconic Midnight watch design has been reimagined in 18-karat white gold with alligator straps in bold colors and precious mother-of-pearl dials adorned with L.O.V.E. lettering. In addition to rare and luminous diamonds, the designs incorporate yellow, red, orange and violet shades in a colorful nod to the precious gemstones used in the jewelry pieces. Fifty limited-edition watches with a white alligator and mother-of-pearl dial encrusted with vibrant gemstones, such as yellow sapphires, amethysts, rubies and spessartites, will also be available. The new Harry Winston Midnight timepieces are the ideal accessory to express the intensity and varied sentiments of an emotion as profound as love.
Ocean Biretrograde Orange Automatic 36mm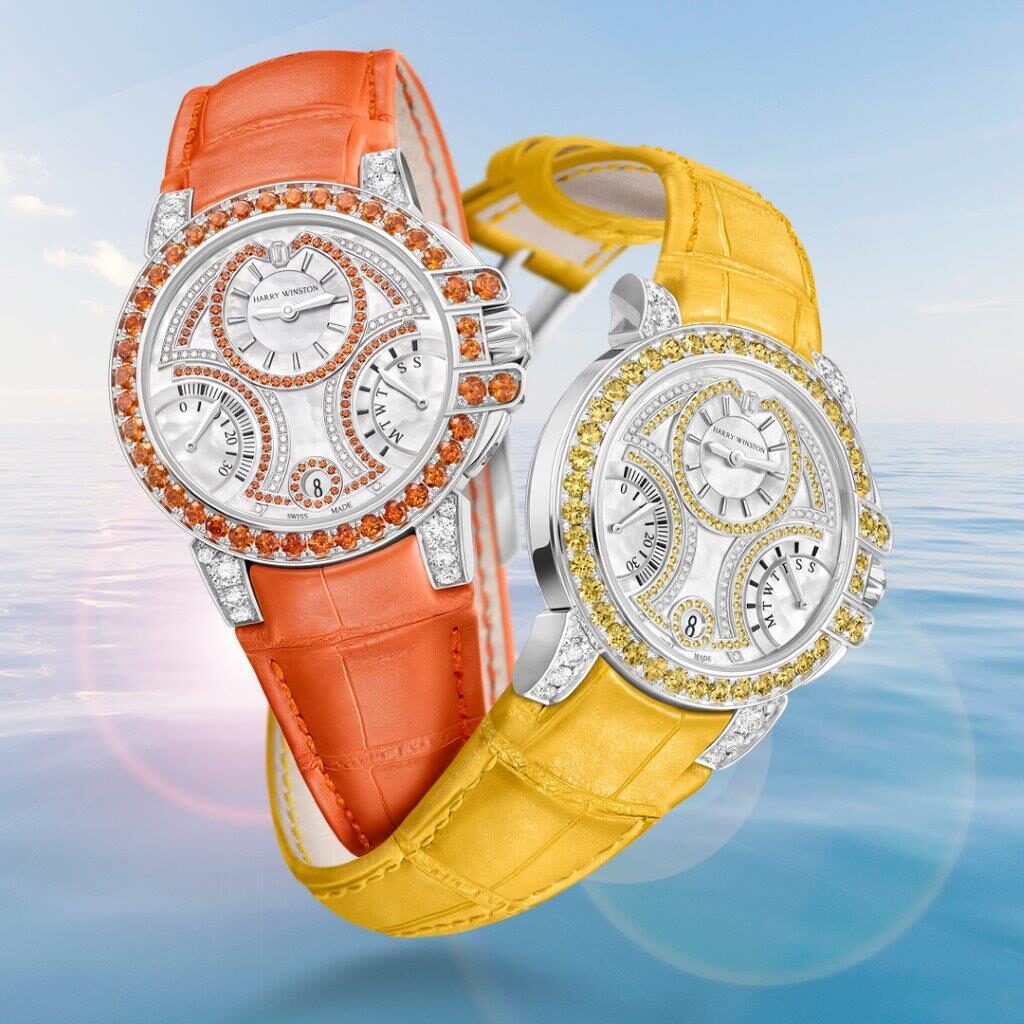 Two vibrant new models sail into the sporty-chic Ocean collection zinging with the energizing glow of yellow sapphires and orange spessartites. Accompanied by hallmark Harry Winston diamonds set against a luminous mother-of-pearl background, the new Ocean Biretrograde 36mm models redefine the essence of luxury in a contemporary, joyful key.
Harry Winston Emerald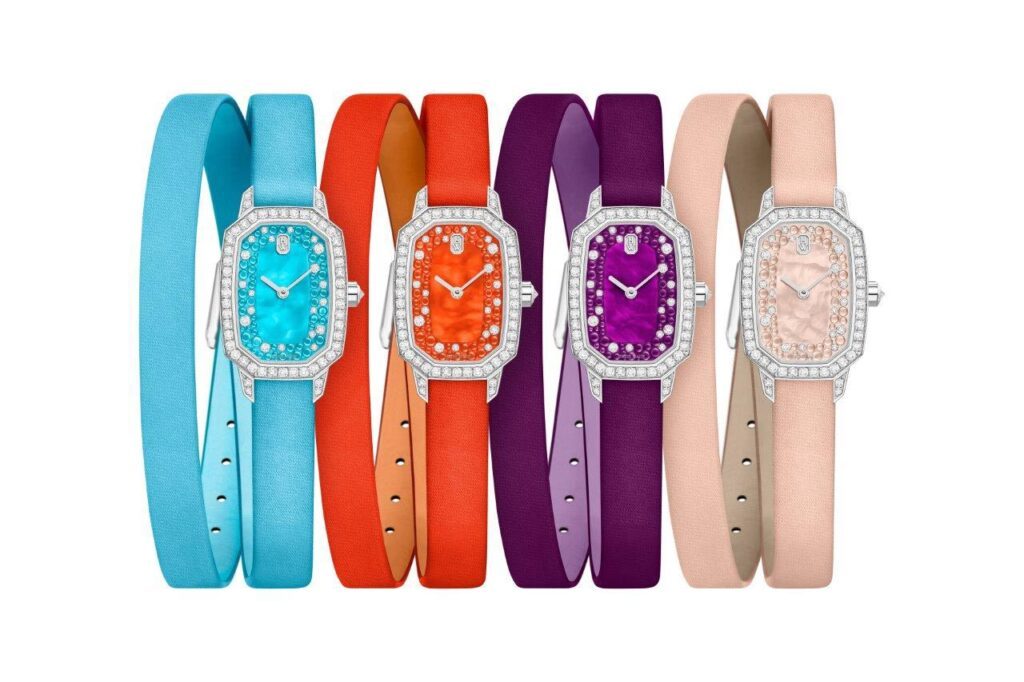 A new palette of captivating colors enriches Harry Winston's sophisticated Emerald collection. With their winning combination of iridescent mother-of-pearl and icy diamonds, the dials of the new Emerald timepieces delight with colorful cabochon adornments. Four on-trend colors provide a perfect match for fashion-conscious wearers, who are not afraid to stand out.