1 Apr 2022 By AWAY IN STYLE
EPIC LINE-UP OF EVENING ENTERTAINMENT AT THE AUSTRALIAN MUSEUM
Nights at the Museum program celebrates science, culture and art
The Australian Museum (AM) is once again throwing open its doors to visitors of all ages for Nights at the Museum with a range of free after-hours events designed to bring Sydneysiders together for a lively mix of culture, music, talks, science, food and drink.
Taking place every Thursday night until the end of June, the weekly line-up of nighttime entertainment features a special pop-up bar and lounge area, live music, activities and more.
The new special exhibition, Kmart presents Jurassic World by Brickman®, will be open late as a part of the Nights at the Museum, offering LEGO® fanatics an after dark opportunity to experience over 50 large-scale dinosaurs, props, scenes and activities made from over six million LEGO® bricks.
In addition to the special exhibition, which required paid tickets, upcoming highlights of the free Nights at the Museum program include:
Thursday 7 April: The marooned magical misfits of tropical goodtime, boneshaking, voodoo groove – Rufino and the Coconuts – come to Nights at the Museum! Rufino, crooner and violinist, renowned for his work internationally with Mikelangelo and the Black Sea Gentlemen, presents his acclaimed show of 'tropical noir' with a full eight-piece band to stir the bones and bring the steaming jungle to the AM.
Thursday 14 April: A family friendly Nights at the Museum event just in time for the school holidays. Come get primal, stomp your feet and dance with dinosaurs at the DINO RAVE. Get up close with Erth's dinosaurs and creatures and watch a T.Rex Autopsy. DJ Yo Levins, a chef, writer and Dad, will be hosting the evening and taking music requests. Make like a palaeontologist and dig it!
Thursday 28 April: The second in the AM's Brickman Up Late series where LEGO®-focused fun is merged with music, food and a pop-up bar. You may be lucky enough to catch a glimpse of Ryan "The Brickman" McNaught himself!
No. 1 William will also be open late on Thursdays as part of Nights at the Museum. This hidden rooftop gem is the perfect spot to soak up the sunset whilst enjoying 180-degree views across Hyde Park, Sydney Harbour and Cathedral Square.
Plus, enjoy late night shopping at the AM Shop and explore a beautiful range of toys, homewares, gifts and books inspired by the AM's natural history and cultural collections.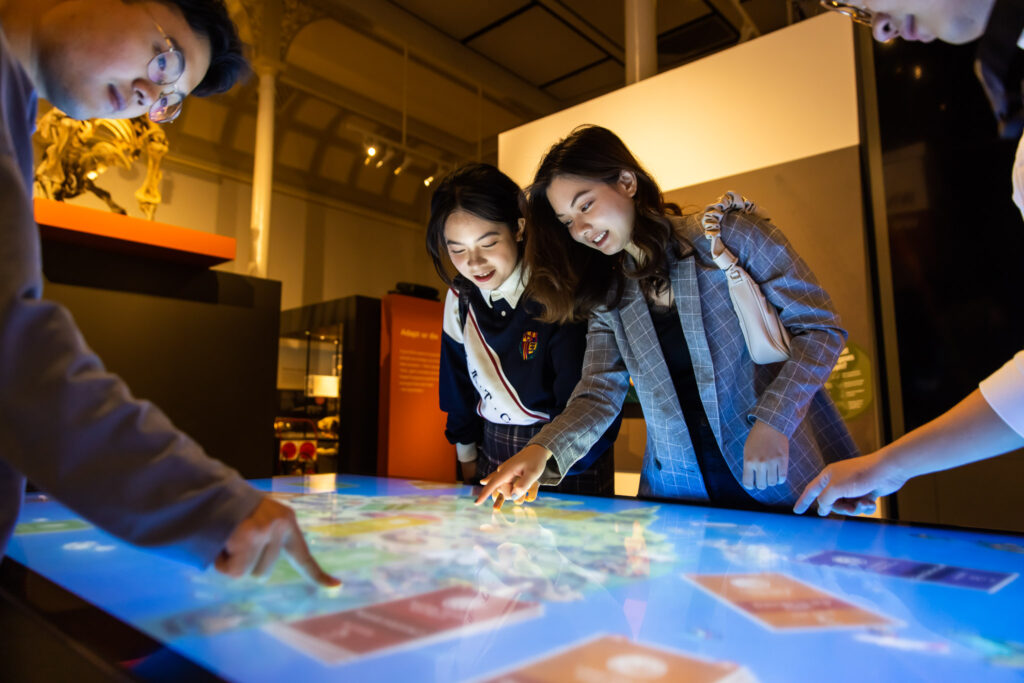 Tickets are not required for free general admission which includes entry to all permanent exhibitions and Nights at the Museum; however, paid tickets are required to attend special exhibitions, including Kmart presents Jurassic World by Brickman®. The AM is COVID Safe and has increased cleaning and practices in place to protect the health of visitors and staff and minimise the spread of COVID-19. Facemasks are encouraged.
Nights at the Museum is proudly funded by the NSW Government.
More Information australian.museum/event/Nights-at-the-Museum/
EVENT DETAILS
What: Nights at the Museum
When: Museum open until 9PM every Thursday until the end of June
Where: Australian Museum, 1 William St, Sydney NSW 2010