Teppanyaki Mihara Goten: A Unique Coming Together of Tradition and Innovation in the Heart of Causeway Bay
This month marks the opening of Teppanyaki Mihara Goten (TMG), Causeway Bay's newest dining destination that promises a unique new experience. The brainchild of renowned Chef Terufumi Mihara, TMG ushers diners into a world where the rich heritage of kappo cuisine meets the vibrant spectacle of teppanyaki.
As a young chef, he explored various facets of Japanese cuisine, from perfecting pastries to crafting dishes for izakaya and yakitori but it was kappo cuisine's inherent versatility, where dishes are crafted and plated right before the diner, that enthralled him. As Chef Mihara moved up the career ladder, he became fascinated with the art of teppanyaki as well, where the teppan grill wasn't just a tool but a stage, and the act of cooking transformed into an enthralling performance.
A thought lingered in his mind: could the spirit of kappo – its intimacy, responsiveness, and improvisation – be captured on the teppan? Traditionalists might have baulked at the idea, but for Chef Mihara, boundaries existed to be redefined and this was when his "Wa Modern" philosophy – a blend of time-tested traditions and fresh, modern touches – started to take place.
Through countless trials, he began to develop a style uniquely his own which he tested at his first teppanyaki restaurant, Teppanyaki Mihara in Tseung Kwan O. The teppan became an extension of the chef's counter, allowing diners to witness the raw energy of flames, the sizzle of ingredients, and the skill of his hands – without losing the chef – diner connection of kappo.
As Chef Mihara looked to the future, the desire to elevate the dining experience and cater to a more discerning clientele prompted a bold decision – to close his restaurant and rebirth it in vibrant Causeway Bay as Teppanyaki Mihara Goten (TMG), a "palace" where age-old traditions meet modern flair. At TMG, Chef Mihara's vision comes alive: kappo cuisine, reimagined on the teppan, forging a path that's uniquely, unforgettably his.
Drawing inspiration from his extensive culinary journey that has spanned continents and cultures – from Japan, Italy, the US, and Hong Kong, Chef Mihara infuses TMG's offerings with global sensibilities. Must-try seafood items on the menu include Grilled King Crab Crepe, Broiled Ezo Abalone with Hokkaido Sea Urchin and Grilled Rockfish with Clam Butter Sauce, while meat aficionados will relish the A4 Miyazaki Wagyu Beef Roll and A5 Kumamoto Wagyu Beef Tenderloin.
Beyond the dishes, TMG's homemade sauces are a testament to Chef Mihara's eclectic influences, infusing flavours from French, Italian and Chinese, setting TMG apart in the teppanyaki world.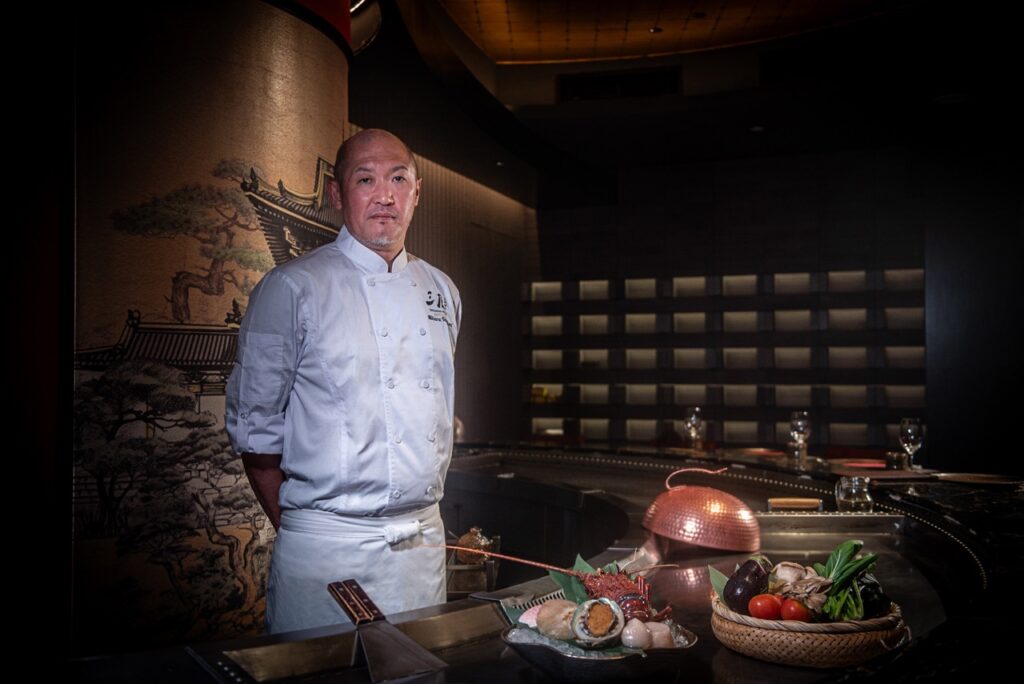 Chef Mihara believes that dining is a journey, one that should evoke memories, emotions, and stories. At TMG, he invites you to be part of this exquisite narrative where every bite speaks of passion, expertise, and vision.
Reserve your table and embark on a unique gastronomic experience at Teppanyaki Mihara Goten located at 3/F, CUBUS, 1 Hoi Ping Rd, Causeway Bay, Hong Kong. Tel: +852 5394 3689. For more information and updates, please join Teppanyaki Mihara Goten on Instagram @goten.hk.
Japanese Grilled Eel Donabe