6 Feb 2023 By AWAY IN STYLE
ESTRO LAUNCHES ANTIMO MARIA MERONE'S NEW CHEF'S TABLE EXPERIENCE STARTING FROM 14TH FEBRUARY
Hong Kong>> Launched in partnership with JIA Group, Estro (Italian for 'inspiration') is Executive Chef Antimo Maria Merone's first independent restaurant in Hong Kong that has been included in the Top 20 restaurants of Hong Kong by Tatler Dining in 2022 and 2023. Chef Antimo continues to redefine Italian cuisine, presenting a further elevated Chef's Table Dining Experience located inside Estro's kitchens.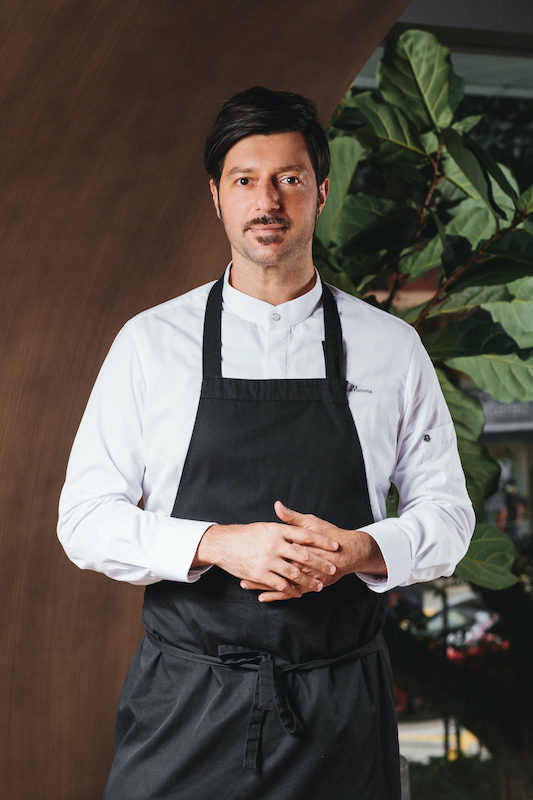 Launching just in time for Valentine's Day on Tuesday, 14th February 2023, the Chef's Table experience will debut with an exclusive Valentine's Day Experiential Dining Package priced at HK$16,800 + 10% service charge per couple. This one-of-a-kind dining package is inclusive of a full 8-course seasonal dégustation menu that is personally prepared and explained in detail by Chef Antimo himself, in addition to round-trip limousine transportation, a stunning bouquet of fresh flowers, one bottle of Krug Rosé, and a farewell gift of homemade chocolates.
Dedicated to elevating Neapolitan cuisine through modern cooking techniques, Estro's refined tasting menus draw inspiration from Antimo's upbringing, with each dish evoking rich memories of his ancestors, history and childhood. Bringing a global perspective to regional cuisine, Estro acknowledges Antimo's Neapolitan roots whilst showcasing his innate creativity and progressive style.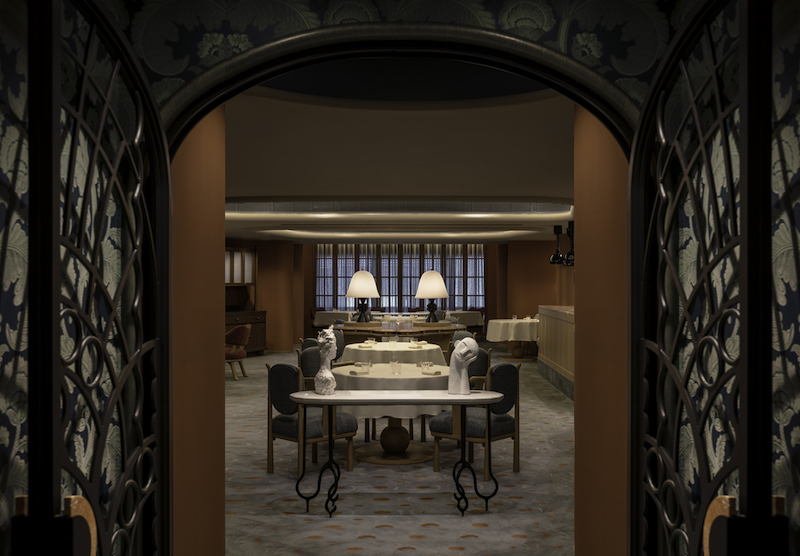 VALENTINE'S DAY DÉGUSTATION MENU AT ESTRO'S CHEF'S TABLE
Born in Napoli, Antimo notes most diners associate his birthplace with pizza, homely pastas and casual tavernas. With Estro, Antimo has crafted an audacious seasonal menu that, while celebrating his Neapolitan roots and honouring his culinary heritage, sidesteps tradition with refined cooking techniques and sophisticated presentations.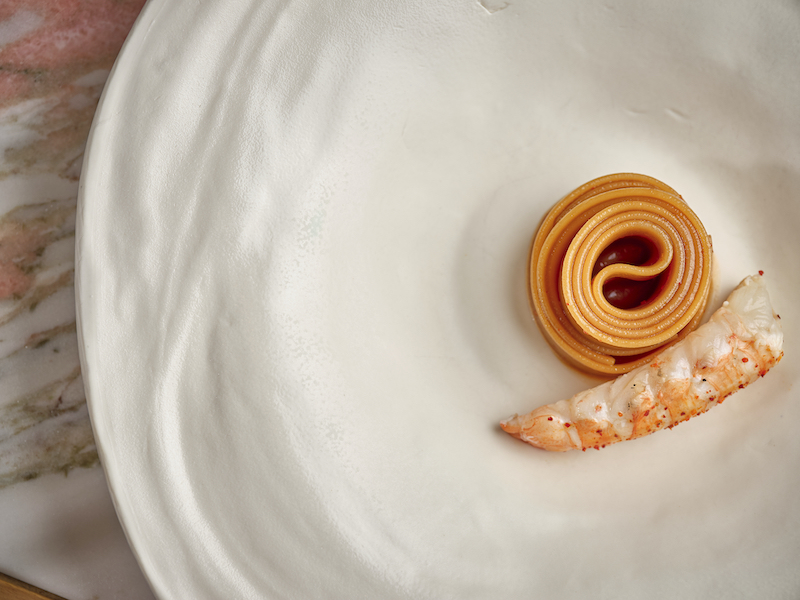 Dishes to be found on the Valentine's Day Chef's Table Menu include KEF Room Aperitivos, an assortment of two types of seasonal aperitivo served with flowers and Krug Rosé, followed by Chef Antimo's signature Red Prawn coral panna cotta with zesty lemon and caviar. Kinki, a highly coveted fatty yet sweet delicacy from the Hokkaido coastline, is given a refreshing Mediterranean spin with puttanesca and vegetable caponata, while the delicate Royal Langoustine exudes flavours of the ocean, paired with honey peas and citrus sabayon. Wild Mushrooms bring guests back to the earth with woody notes from selected seasonal mushrooms, and whimsical textures from sabayon, custard, crisp and black truffles.
The Linguine course features a simple yet mighty combination of sea urchin and chives, followed closely by Bottoni. Each button-shaped pasta is filled with creamy Buffalo Robiola, glazed with milk and sage reduction, and topped with Melanosporum black truffle shavings. The final savoury meat course is an M9 Tenderloin, cut from the finest full-blooded Australian wagyu cattle, served with kohlrabi, seaweed, and hazelnut bagna cauda. The romantic Chef's Table dining experience concludes with a Strawberry Tart dessert, made with the sweetest Japanese strawberries by Head Pastry Chef, Fabio Bardi.
Valentine's Day Chef's Table Experience
KEF Room Aperitivo
including flowers and Krug Rosè Champagne
Red prawn
Coral pannacotta, lemon, caviar
Kinki
Puttanesca, vegetable caponata
Royal Langoustine
Honey peas, citrus sabayon
Wild Mushroom
Sabayon, custard, crisp, melanosporum black truffle
Linguine
Uni, chives
Bottoni
Buffalo robiola, melanosporum black truffle
M9 Tenderloin
Kohlrabi, seaweed, hazelnut bagna cauda
Strawberry Tart
Estro's intimate Chef's Table setting provides the perfect backdrop for memories that last a lifetime. Please contact the restaurant directly for your next Chef's Table experience which will all be tailor-made for each and special occasion to suit all guest's needs.
RESTAURANT CONTACT
Address: Level 2, 1 Duddell Street, Central, Hong Kong
Lunch: 12:00pm-13:30 (last order)
Dinner: 18:30-20:30 (last order)
Email: reservations@estro.hk
Website: www.estro.hk
Social Media (Facebook + Instagram): @estro.hk @antimo_maria_merone