EX NIHILO First Flagship in Hong Kong
Parisian fragrance house EX NIHILO opened their first Flagship store in Hong Kong at ifc mall, to offer an immersive brand experience and a unique olfactory journey.
EX NIHILO is a Parisian perfume house created in 2013 by a creative trio – Sylvie Loday, Olivier Royère and Benoît Verdier, the brand in Latin expression means a new creation with no previously known reference. Based in 352, Rue Saint-Honoré in Paris which is next to Place Vendôme. It revisits the great French High Perfumery tradition through the Avant-Garde prism and collaborates with the creative community.
By offering the perfumers a Carte Blanche, it promotes a new innovative and uncompromising vision of perfumery, without any creative nor cost constraints. It remains loyal to its' ethos: select the rarest perfumery materials, push them to their limits, and never forget that rules are made to be broken.
BEHIND THE DESIGN CODES OF EX NIHILO HONG KONG
Each EX NIHILO store is a unique destination place by essence, with a focus on comfort, experience and exclusivity. The store conveys the "French Touch" with a scenography like an art gallery and has the ambition to be a cultural hub for all the fragrance lovers.
The design reflects the EX NIHILO codes by respecting the characteristics of our home in Paris, at 352 rue Saint-Honore originally designed by French star designer Christophe Pillet and today by our in-house team.
The creative challenge for Hong Kong was to integrate the codes of 352 Saint-Honore into the city's aesthetics: keeping the luxury of details and using local architectural details to sublimate its identity. The usage of noble materials such as white marble, wood, and brass brings texture and adorn the space.
Our iconic pattern, tribute to our logo, has been oversized to make it even more contemporary. Silky off white stucco contrasts with 293 Blue (which is also the signature color of EX NIHILO,) and cohabits perfectly with the most refined details. It is all about providing the greatest sensorial discovery, playing with calacatta marble and blue frosted resin reflecting light. The mirror ceiling is an homage to the Parisian boutique. It is inspired by the waters surrounding Hong Kong Island bringing futuristic maritime aesthetics.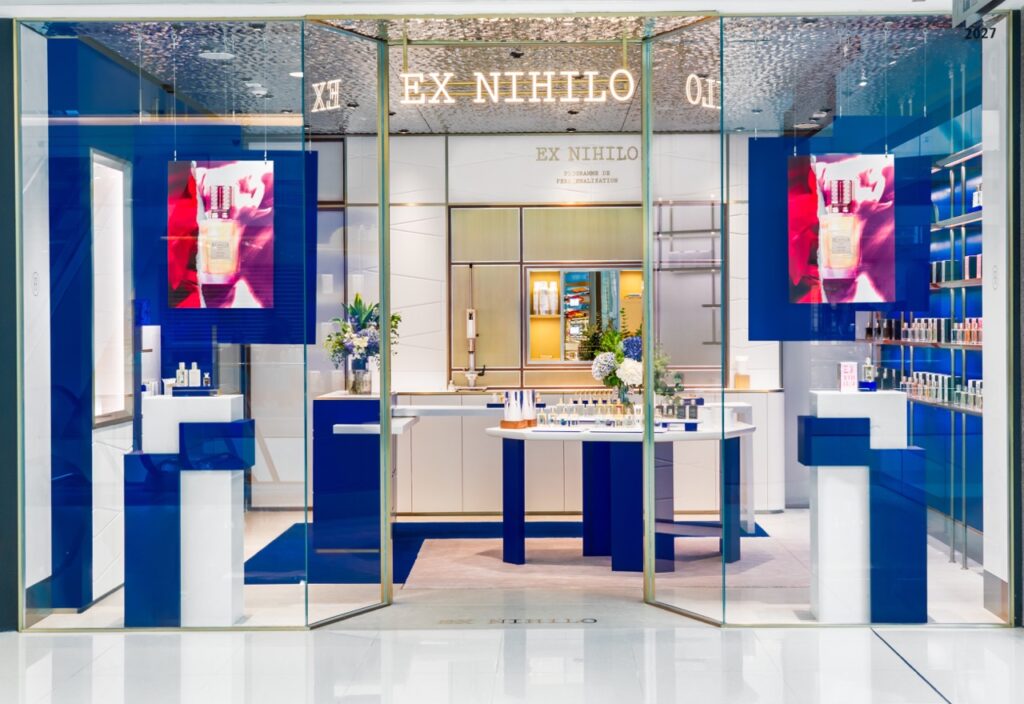 Exclusive fragrance experience – Osmologue technology
EX NIHILO created the Osmologue an exclusive technology that allows to personalize the INITIALE and BABYLONE collections upon clients' desire. This destination service is only proposed from its flagships stores in Paris, LA, Dubai, Doha, Riyadh, and Hong Kong.
The brand provides semi-customized fragrance options through its forward-looking and exclusive Osmologue technology. This extremely precise fragrance blending machine gently soothes people's heart through the sense of smell and narrates the necessity of the brand.
Osmologue experience with special bottle cap and personalized engraving service
100ml / HK$2,900
EX NIHILO Hong Kong Flagship Store:
Address: Shop 2027, Podium Level 2, ifc mall
Opening hours: 11:00am – 8:30pm Daily
Tel. 2628 1088