Experience the Award-Winning Flavours of Le Du as Acclaimed Chef Ton Expands his Culinary Empire to Hong Kong with the Launch of Niras
Acclaimed Thai Chef Thitid "Ton" Tassanakajohn and business partner Rungroj "Tao" Ingudananda, the masterminds behind the award-winning restaurant Le Du in Bangkok, are excited to announce the opening of Niras in K11 Musea in Hong Kong this June, 2023.
A culinary pioneer in Thailand, Chef Ton has garnered international acclaim for his extraordinary cuisine. His restaurants, Le Du and Nusara, have earned the number 1 and 3 spots in Asia's 50 Best Restaurants 2023 awards, affirming his reputation as one of the region's most celebrated and accomplished chefs. With numerous other thriving restaurants in Thailand under his belt, Chef Ton now brings his signature contemporary and innovative culinary expertise to Hong Kong, intending to redefine Thai cuisine through his unparalleled approach.
Introducing Niras
Situated in the bustling heart of Hong Kong, Niras will offer the same renowned menu that earned Le Du its first Michelin star in 2019 and the top position in Asia's 50 Best Restaurants in 2023. The launch of Niras signifies the first time the Le Du brand has ventured beyond Thailand, infusing Hong Kong's dynamic culinary landscape with Le Du's extraordinary dining experience and culinary ingenuity.
The restaurant's name derives from an ancient Thai tradition in which poets travelled the world, chronicling their journeys through poetry, known as Niras. "My cooking is my poetry, a way to showcase Thailand's diverse and vibrant cuisine to the world, and as this will be the first time Le Du is travelling overseas, Niras was the perfect name for the restaurant," explained Chef Ton.
Chef Ton's mission to showcase the rich diversity and exceptional ingredients of Thai cuisine to a global audience began when he returned to Thailand after honing his culinary skills in Michelin-starred restaurants such as Eleven Madison Park, The Modern, and Jean Georges in New York City. Dismayed to discover that the local culinary scene was primarily recognised for its street food offerings, he wanted to transform this perception and establish Thailand as a gastronomic destination.
With this vision in mind, Chef Ton founded Le Du and subsequently several other successful restaurants. As his culinary establishments gained popularity within Thailand, his vision expanded, seeking to share his innovative take on Thai cuisine with international audiences. The inception of Niras marks a significant step in this journey, solidifying Thailand's prominence on the global culinary stage.
Chef Ton's Culinary Philosophy
Renowned for his deep understanding of Thai cuisine, Chef Ton is a leading culinary innovator in the region. He creatively interprets classic Thai dishes, employing French-European techniques to accentuate Thai produce. Drawing from personal experiences and memories, Chef Ton crafts authentic flavours that embody traditional Thai cooking and resonate with diners.
With a focus on preserving the authentic taste and essence of Le Du, Chef Ton has carefully selected not one but two exceptional head chefs to helm the kitchen to ensure that there is always at least one head chef in the kitchen.
Leading the team is Chef "Mai" Naruemon Ratiphuthilap, Chef Ton's trusted right hand, who brings eight years of invaluable experience from Le Du. Her profound knowledge of the restaurant's inner workings ensures that Niras will capture the same culinary magic in Hong Kong. The second head chef is Chef "Bua" Sarocha Rajatanawin, a seasoned chef with an impressive background in Thailand's top restaurants including Siwilai City Club at Central Embassy, The House on Sathorn at W Bangkok and more.A Gastronomic Voyage through Thai Flavours
Niras offers a unique Thai fine dining experience that is upscale, yet approachable, drawing from Thailand's culinary legacy. Niras' menu is designed to showcase the flavours, textures, and aromas of Thai cuisine while incorporating modern cooking techniques, international influences, and the usage of local seafood in some dishes. "Hong Kong has amazing seafood all year round and we want to explore creating some of our signature dishes using the local seafood, and perhaps create some new Hong Kong signatures too," explained Chef Ton.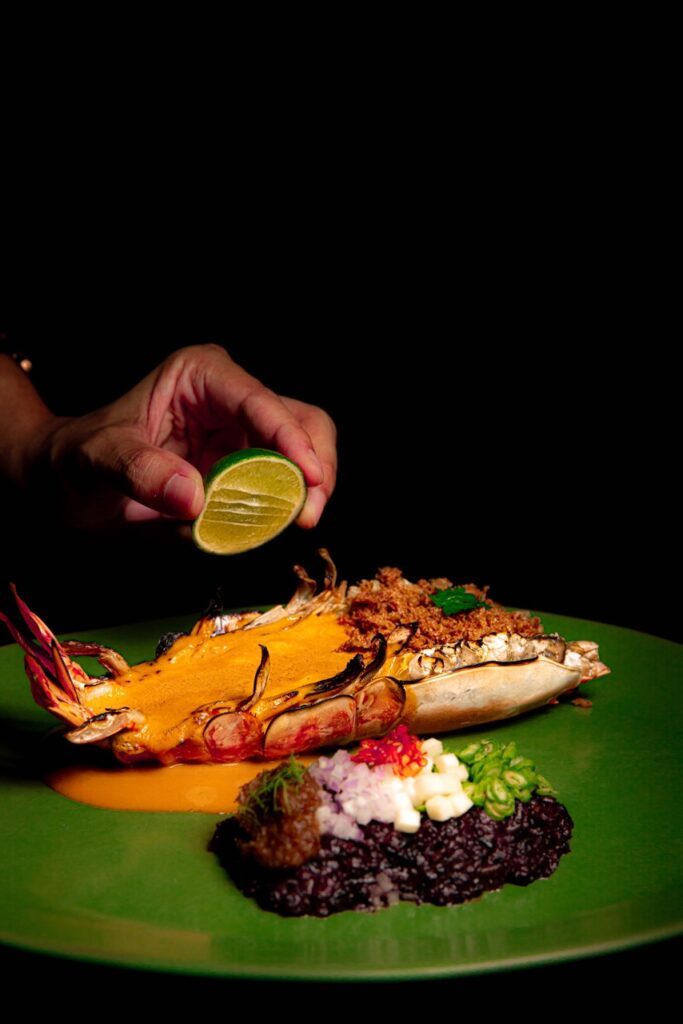 The restaurant will offer a lunch tasting menu, as well as a choice between a 4-course or a more indulgent 6-course dinner tasting menu, both of which change regularly to reflect the availability of seasonal ingredients.Some of the signature Le Du dishes that will be on offer include:
River Prawn served with rice and Tom Yum
Duck with Potato in Massaman Curry
Crab with Mushroom and Homemade Sriracha
Banana Prawn with Seaweed and Spicy Beetroot
Grouper with Thai Kale in Choo Chee Curry
Oyster, Pork Blood, Northern Spice
Beef, Fennel, Holy Basil
Mango Sticky Rice
With Chef Ton's expertise and passion, each dish at Niras is visually stunning with flavours that celebrate Thailand's vibrant heritage and age-old culinary traditions, bringing the magic of Le Du to Hong Kong and beyond.
An Opulent Oasis Blending Thai Tradition and Modern Elegance
Located on the 7th floor of K11 Musea, Niras offers an opulent atmosphere with sixty seats, including three private rooms, where guests can unwind in comfortable banquettes and intimate two-seat tables. The interior design elegantly combines green and gold accents, lush plants, and a mesmerising glass chandelier, resembling a whirlwind of herbs and serving as an alluring centrepiece over a stunning four-sofa seating area. This design reflects Chef Ton's dedication to showcasing exceptional Thai ingredients.
Niras' walls display enchanting artwork depicting Thailand's farms and fields from above, subtly incorporating the ancient Thai tradition of Niras, where poets chronicled their travels through poetry. This artistic touch seamlessly connects the restaurant's design to the essence of Chef Ton's culinary vision.
Niras invites guests on an enriching culinary journey, emphasising seasonality, cultural heritage, and exceptional ingredients. The dining experience at Niras is memorable and meaningful, leaving guests feeling connected to the land and culture that inspired their dishes.
Niras is located at Shop 704, 7/F, K11 MUSEA, Victoria Dockside, 18 Salisbury Road, Tsim Sha Tsui. Tel: +852 39053022. Pre-booking will be available starting from Thursday, 25th May, 2023, onwards. For more information and updates, you can join Niras on Instagram @nirashongkong.