20 Jan 2022 By AWAY IN STYLE
EXQUISINE GLOBAL TARGETS VIETNAM
EXQUISINE GLOBAL TARGETS VIETNAM AS IT SIGNS COOL THAI DESSERT BRAND, YENLY YOURS, WITH PLANS FOR INTERNATIONAL FRANCHISING
Responsible and refreshing café concept showcases the finest mangoes from a cooperative network of local farmers, with plans to expand to at least 50 outlets in Vietnam in the coming years, including café and kiosk-style options, as part of the group's long-term mission to showcase Thai brands on a global stage
Exquisine Global, the successful franchisor of Mango Tree and COCA restaurants around the world, is bringing a new sense of freshness to Vietnam's dining sector, as it uses its successful franchising model to roll out an original fruit-based dessert café concept all across the country.
Yenly Yours is a chain of casual cafés which has grown organically from humble roots become to become one of Southeast Asia's most refreshing and responsible F&B labels. Having originated 10 years ago at a family fruit farm in northern Thailand, the brand uses only the finest "nam dok mai" mangoes (also known as "Thai golden honey mangoes") to create sublime smoothies and delicious desserts.
Health-conscious, farm-to-table dining is one of the fastest-growing trends in the culinary industry, and Yenly Yours' fruit-based products will cater to an affluent group of consumers who crave naturally flavourful dishes. Each outlet will serve a selection of handmade desserts and drinks, ranging from cool mango smoothies and ice creams to Asian classics such as mango sticky rice and bualoy, and even creative alternatives such as mango crêpes and macarons. In addition, preserved products such as mango sweet fish sauce and mango sweet shrimp paste add a fruity tang to Thai cookery, and spectacular cakes and tarts make memorable gifts for loved ones.
Exquisine Global is now aiming to establish Yenly Yours as the world's leading mango dessert brand. The company currently operates an international network of 16 bright and colourful cafés and kiosk-style outlets in Thailand and Singapore, with at least seven new cafés due to launch in 2022 including its first location in Cambodia, which is currently under construction and scheduled to open soon. Harnessing its international expertise and successful franchising model, the company will now introduce Yenly Yours to Vietnam, where its nationwide portfolio is expected to reach at least 50 locations in the coming years.
Franchisees will benefit from being part of an internationally-known café chain with full support in terms of staff training, sales, marketing and branding. They will also be able to purchase and import premium Thai mangoes directly from the farmers and sell to supermarkets and wholesalers, further boosting potential profits. A sustainable and community-focused brand, Yenly Yours sources the finest fruit from a cooperative network of Thai producers, creating value throughout its entire distribution chain.
Each store will typically be between 30 and 70 square metres in size, with counter service and a limited amount of seating. The majority of business will be takeaway, although a small number of tables will allow some customers to enjoy their drink or dessert at the store. Target locations will include areas with high footfall, such as shopping centres and transport hubs.
"Exquisine Global is a proud ambassador for Thai brands around the world. As a pioneer of creative and innovative culinary concepts that appeal to a wide audience of consumers, we want to use our expertise and experience to help more Thai brands expand overseas and represent Thailand on a global stage. This is what we are passionate about!" said Trevor MacKenzie, Managing Director of Exquisine Global.
"As a business that started with an owner's passion for high-quality produce and authentic cuisine, Yenly Yours fits perfectly into our brand portfolio. Having grown from humble beginnings, this innovative company is now showcasing its exquisite nam dok mai mangoes on a multinational level. We want to help them grow further by enabling franchisees in Vietnam to benefit from our cooperative network and giving even more local diners the chance to taste the sweet flavour of Thai mangoes," Mr MacKenzie added.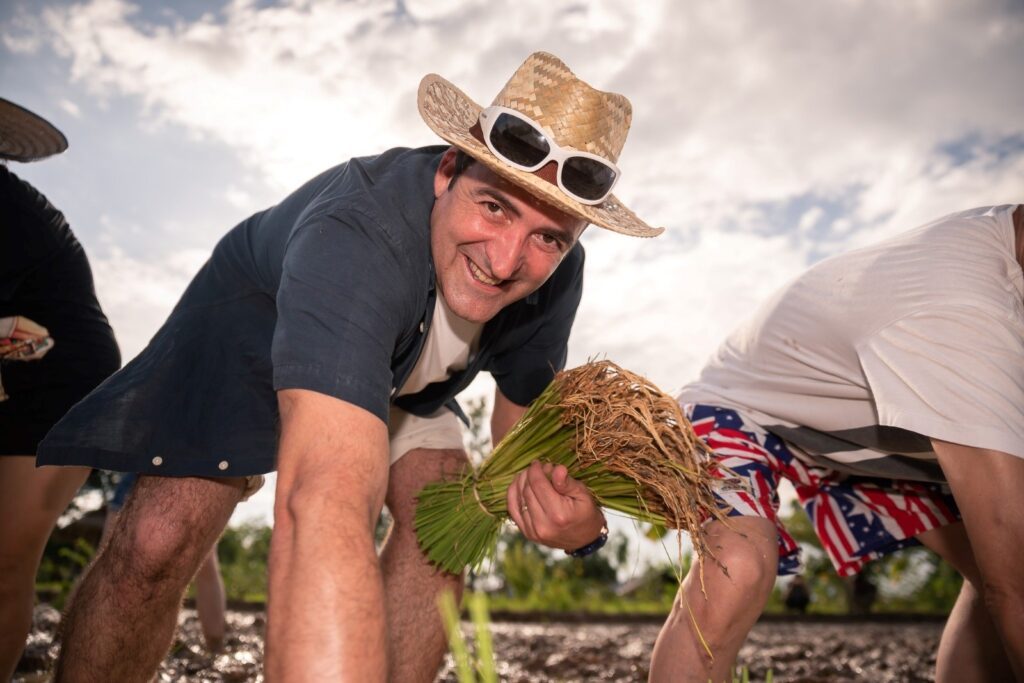 "Now entering our 12th year, Yenly Yours is Thailand's mango leader, in terms of our branch network and market share. Following this agreement, our new goal is to become the biggest mango dessert brand in the world. With this franchise contract, we plan to expand to at least 50 branches in Vietnam in the future. To grow our business effectively and with clear goals, we must have partners who share the same vision. This is an important step for us and we look forward to working with our new franchise partners and talented investors around the world," said Tawatchai Watsirisaree, Founder & CEO, Yenly Yours.
The expansion of Yenly Yours will take place alongside Exquisine Global's own ambitious growth plans. This passionate Bangkok-based company currently operates more than 70 full-service restaurants and grab & go outlets in 12 countries and territories worldwide, under eight of its industry-leading brands. These include three popular COCA restaurants in Vietnam (one in Ho Chi Minh City and two in Hanoi), plus two more outlets in the pipeline in Ho Chi Minh City: a Mango Tree Bangkok Eatery which is on track to open in two weeks, and a flagship Mango Tree restaurant which is scheduled to launch in January 2022.